Fergie Binge-Watches 'Scandal,' Waits for Soufflés, and Once Lost a Lasagna Cook-off to Josh Duhamel
Between working on a new solo album and launching her Avon Outspoken Fresh fragrance, the singer answers a round of "opposite" questions in rapid-fire fashion.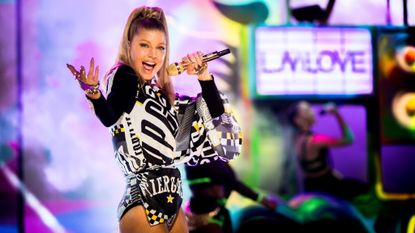 (Image credit: Getty Images)
Marie Claire Newsletter
Celebrity news, beauty, fashion advice, and fascinating features, delivered straight to your inbox!
Thank you for signing up to Marie Claire. You will receive a verification email shortly.
There was a problem. Please refresh the page and try again.
1. Would always: Spray perfume on the nape of my neck, wrists, and hair, then do a final walk-through before I exit the door. Would never: Put on two fragrances at the same time. One boyfriend told me I smelled like a whorehouse.
2. Picky about: [My son] Axl's bibs. I found this company called Bibbybubby that makes them in prints like camo and plaid. Not so much about: Where I go on date nights [with husband Josh Duhamel], whether it's the movies or a dive bar or Nobu Malibu.
3. I feel for: The homeless and the less fortunate. No sympathy: Backstabbers.
4. Early for: Nothing. Late for: Church.
5. Getting better at: Saying "no" to things. We can have it all, just not all at once. Getting worse at: Putting things back in their place. I don't have the time.
6. Totally get the appeal: Binge-watching Sons of Anarchy, Scandal, Ray Donovan, Nurse Jackie, The Wire, Breaking Bad, Lost—I could go on and on. Don't get at all: Texting at a group dinner.
7. Moment of triumph: Singing for more than a million people in Ipanema Beach on New Year's Eve in 2006. Epic fail: I tried to make my mom's lasagna in a contest with Josh. I didn't cook it long enough, so it was really soggy.
8. Perennially cool: Honesty. Never cool: Manipulating by fear or guilt.
9. Farthest vacation: Maldives for my honeymoon. Nearest: My house! Staycation.
10. Would try once: Hot-air ballooning. No, thanks: Shark-cage diving.
11. Career highlights: Opening for bands like the Rolling Stones, U2, the Police, and Metallica—I remember going to see them in high school. Low point: When I was in Wild Orchid at a fair performance in 1998 and only five people showed up.
12. Subject I won't shut up about lately: My next album, due out later this year. I'm so excited to be making the album that I'm supposed to make. Subject I avoid: Getting back to holiday texts.
13. Endlessly curious about: New fashion shows. I recently got to see my friend Jean Paul Gaultier's final ready-to-wear show in Paris. Zero interest: The McRib sandwich.
14. Worth the wait: Chocolate and Grand Marnier soufflés. Wherever they say it will take 45 minutes or an hour, I always stay and wait. No patience for: When people's actions don't back up their words.
This article appears in the April issue of Marie Claire, on newsstands now.
You should also check out:
Listen to Fergie's First Song in Forever 'L.A. Love (La La)'
Fergie Joins the Fight to End Violence Against Women
Miley Cyrus Told Off a Sexist Paparazzo, Regrets Dressing Like a Hippie, and Is a Conspiracy Theory Buff
Celebrity news, beauty, fashion advice, and fascinating features, delivered straight to your inbox!