Elizabeth Banks Took Her Alexander McQueen Shoes from the 'Hunger Games' Set Because Who Wouldn't?
She's also got some scoop about Pitch Perfect 2, so...she kinda has it all.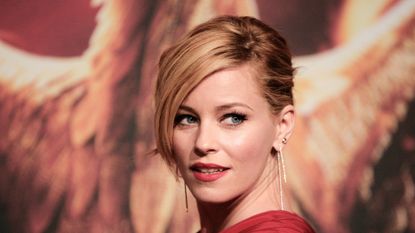 (Image credit: Getty Images)
Elizabeth Banks is a powerhouse. Starring in, producing, and directing Pitch Perfect 2, the 41-year-old mom of two also just wrapped the last film of The Hunger Games franchise. *And* she made time to talk to us about everything from her big new flicks to her involvement in the #ThankList project. Here's the scoop.
Pitch Perfect 2 is coming out very soon! What can fans (i.e. us) expect this time around?
"So many of the characters that people love are back, but what I really responded to in this film is that it's about that time where you lose your safety net. I can use Beca, Anna Kendrick's character, as an example—over time, I mean it was so great to see her beginning right in the first movie, you know she comes to college, she's having this really new experience, and everyone leaves home at some point to figure out what they're going to do with their life, but college is a very safe environment to sort of try out all kinds of things and this movie is about losing that. It's about that big bad world, really truly being a grown-up and what does that mean and what are the possibilities and who are you and what do you take with you, and I just thematically loved that notion of having created these amazing friendships but knowing that now you are all going to leave each other and go your separate ways and dealing with that emotionally."
We read that you and your announcer co-star John Michael Higgins spent filmed all your scenes in one day. Was that true?
"The first film…I guess yeah, maybe one or two days."
And was it rapid a pace this time around?
"No. [Laughs] We have a little more to do. I mean we didn't shoot every day, well, I shot every day, but as Gail, I think I played Gail for six days in the movie."
If you had to pick a song to sing a cappella, what song would you choose?
"Ah, you're putting me on the spot! Well, for Karaoke you have backup, so you don't have such a naked voice. The naked voice version of a song, I would probably pick Norah Jones, 'Come Away With Me.'"
Switching gears to The Hunger Games: Mockingjay - Part 2, which will come out in November. It was the last film where you got to play Effie. Did you take anything as a souvenir?
"I have a pair of Alexander McQueen shoes that are amazing, that are like really classically Alexander McQueen, too. You would know them on site, like 'Oh yeah, that's them.' So I love that. But really, I just took, like, more confidence in my dressing. Do you know what I mean? Like, 'Why am I wearing this Monique Lhuillier today?' Probably because of Effie. I would just be wearing a black dress otherwise."
Yes, she is definitely a character who is not afraid of color.
"She really taught me a lot about my body and what looks good on me and dressing for fun. All of it was such an amazing collaboration. I mean, we created a little fashion icon. It was very much a collaborative, creative experience that I'm not probably soon to have again."
Who is your favorite Hunger Games character, personally?
"Well, Katniss is my favorite. Katniss first, then Effie second. But yes, Katniss, of course, she's the moral center and the heart and the soul of the whole series and she kicks ass and so as a woman audience member, as a reader, as a mother, I'm just so thrilled to see that character succeed."
It seems like that were kind of in this upswing in Hollywood in regards to these badass heroines.
"I think we're in a really great time right now. There were articles in The New York Times and Variety about how the big blockbusters have some real competition from some movies that were really made for the 'ladies,' which I think is really interesting."
When looking at these two very different movies, what's been your favorite scene to film?
"Effie is amazing but it's not particularly fun to play her. It's very uncomfortable to film that character and they're pretty dark films, the subject matter is intense, and so the word 'fun' is not one I easily associate with the shooting of those movies. I had a lot of fun off the set with the cast and crew. Pitch Perfect 2, those scenes are super fun. It's just me and John Michael Higgins, and we've been friends for so long we just have the best time. Anything I do with him is some of my favorite stuff."
So what drew you to the #ThankList project?
"Well, I'm a fan of Barbara Kopple and she made these really beautiful, short films that are extremely moving. They can be viewed at ThankList.com, and they just drew me in in a really deep way, I mean you gotta break out the tissues when you're watching these videos, they're incredible.
And so, when they called me and said, you know, we're trying to promote this attitude of gratitude, fostering a culture of gratitude online especially, I loved the messaging. I really felt like it's all about connectedness and connectivity with other people. So even with American Greetings, they're looking at a time in the world right now where people don't send those cards as much, but people still have a need for that connectedness. And the connectivity really mattered to me. And I felt like, if there's a way for me to convince people to call their mom and say, 'Thank you for being my mom,' that's cool with me."
There was that Oscars speech by JK Simmons where it was a similar sentiment—"Call your mother!"
"Exactly, great moment. I also have a blog I really try for positivity at all times in that blog. And I just think there's so much negativity in the world and bullying and hate speech that it felt really easy to get behind something that promotes civility and gratitude and love."
You should also check out:
The 'Hunger Games' Hair: Behind-the-Scenes Secrets
Here's a New 'Pitch Perfect 2' Teaser and It Is Aca-Everything
Samantha Leal is the Deputy Editor at Well+Good, where she spends most of her day thinking of new ideas across platforms, bringing on new writers, overseeing the day-to-day of the website, and working with the awesome team to produce the best stories and packages. Before W+G, she was the Senior Web Editor for Marie Claire and the Deputy Editor for Latina.com, with bylines all over the internet. Graduating from the Medill School of Journalism at Northwestern University with a minor in African history, she's written everything from travel guides to political op-eds to wine explainers (currently enrolled in the WSET program) to celebrity profiles. Find her online pretty much everywhere @samanthajoleal.