The Fur Coat Girl from the 'Mad Men' Premiere? That Was Andie MacDowell's Daughter
Blink and you'll miss it.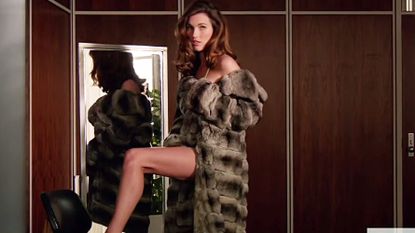 (Image credit: AMC)
The mid-season premiere of the seventh season of Mad Men on Sunday started with a shot of a beautiful young women sensually showing off her legs to Don Draper while clad in nothing but a $15,000 chinchilla coat, in what subsequently turned out to be an audition for a razor blade commercial...(Always a tease Mad Men, always a tease.)
If her face seems oddly familiar, it might be because she was Miss Golden Globe 2012. Or it might because she, Rainey Qualley, is actually the daughter of Andie MacDowell of Four Weddings and a Funeral fame.
While we've only seen a little bit of her acting chomps so far, but if we had to guess, we'll probably see more of Rainey soon enough. After all, the Talent Gene is a real thing in Hollywood.
You should also check out:
Every Amazing Song That's Ever Blow Your Mind on 'Mad Men' (opens in new tab)
25 Things You Never Knew About 'Mad Men' (opens in new tab)
The Best Looks from the Last-Ever 'Mad Men' Press Tour (opens in new tab)
My writing has regularly appeared in The New York Times, The Paris Review, Salon, VICE, Guernica, The New York Observer, BuzzFeed, Cosmopolitan, Seventeen, Esquire, Elle, Harper's Bazaar, and many more publications.

I was previously the Senior News Editor at Best Life Online and the Viral Content Editor in the Newsroom of Hearst Digital Media. My portfolio consists of a vast and diverse body of work that includes personal essays, lifestyle articles, breaking news posts, and viral content. My areas of expertise, however, are Russia, sex and relationships, and mental wellness.