"Beauty Isn't One Look, It's a State of Mind": Joan Smalls on Growing Up in Puerto Rico and How It Shaped Her POV
In this personal essay, the model talks about what it means to be beautiful.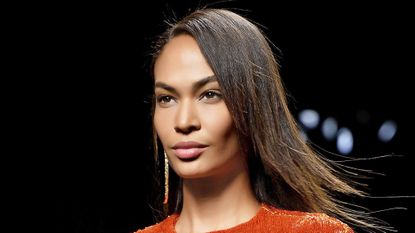 (Image credit: Getty Images)
"Growing up in Puerto rico gave me a really broad idea of what beauty is. In the islands, people come in all different sizes and shades, from light to dark and everything in between. In my case, I'm Afro-caribbean; my dad is from the island of St. Thomas and is of African and Irish descent, and my mom is from Puerto rico, with Spanish, Taíno Indian, and African roots. In my first modeling competition, I felt different from the other girls because I was too skinny, too tall, and looked more ...'ethnic,' let's say. But my parents instilled confidence in me and my sisters at a really young age. We always heard it from them: 'Know that you are beautiful.' So even if I felt different, I knew I had a unique type of beauty.
Later on, when I started working abroad, I was stereotyped; people didn't immediately realize I was Latina. Because I'm darker-skinned, they would assume I was African-American. Some people would try to make a big discussion [about my ethnicity] without understanding it. Coming from a place as diverse as Puerto rico, it was a bit confusing—like, Why does it even matter?
My views haven't changed: Beauty isn't one look, it's a state of mind. I think I feel my most beautiful when I'm at the beach, under the warmth of the Puerto rican sun. I feel more in touch with nature, and everything else washes away. I try to re-create that feeling of being on the island whenever I can. I cook tostones, which are fried green plantains, and eat queso blanco with guava paste. Or if I'm sick with a cold, I'll make a home remedy that my mom and grandmother used to do, with honey, lemon, and sábila, which is aloe vera. And whenever people ask what I am, I say, 'I'm Puerto rican.' Translation: I'm a little bit of everything!"
My Look:
"I usually fill in my brows with a pencil because I have a scar on my left brow that I got when I was a kid, running around like a hothead. And when I'm going out, I love to add a dark lip, like Estée Lauder's Decadent."
As told to Angie Romero
This article appears in the May issue of Marie Claire, on newsstands now.
You should also check out:
Fashion Resume: Joan Smalls (opens in new tab)
"I've Learned to Be Grateful Instead of Critical": Salma Hayek Opens Up About Embracing Her Body (opens in new tab)
Trans Women *Are* Real Women: Janet Mock on How Her Role Models Shaped Her Journey (opens in new tab)
Joan Smalls was born and raised in Hatillo, Puerto Rico with her two sisters. Growing up Smalls actively pursued modeling by entering local competitions in Puerto Rico and submitting photos to agencies in New York City and Los Angeles. Years later, upon graduating with a Bachelor's degree in psychology from the Interamerican University of Puerto Rico, an agent in New York City signed the lithe beauty. Over the years her illustrious career has included walking in over 400 shows for a slew of luxury labels and fronting a series of coveted advertising campaigns for the likes of Chanel, Ralph Lauren, David Yurman, Tom Ford and more. Smalls was also named the face of Estée Lauder cosmetics in 2011, becoming the first Latina model to hold the title.
Off-duty, Smalls channels her passions into important philanthropic efforts. She has been actively involved with Project Sunshine, a non-profit organization dedicated to providing free educational and social programs to children and families living with medical conditions, as well as the United Nations Girl Up Campaign, a global movement for gender equality through leadership development training. Then in June 2020 after seeing the actions taken against the Black community and the strides in the Black Lives Matter movement, Smalls decided to donate 50 percent of her earnings for the remainder of 2020 to Black Lives Matter organizations. The supermodel also took it a step further by founding her own organization, DonateMyWage.org, which highlights 11 organizations within the BLM movement and helps people calculate a donation amount based on their wages. Smalls firmly believes that in order to see true change in any aspect of life, we must all work together and be the change we must see.