"Beauty Isn't One Look, It's a State of Mind": Joan Smalls on Growing Up in Puerto Rico and How It Shaped Her POV
In this personal essay, the model talks about what it means to be beautiful.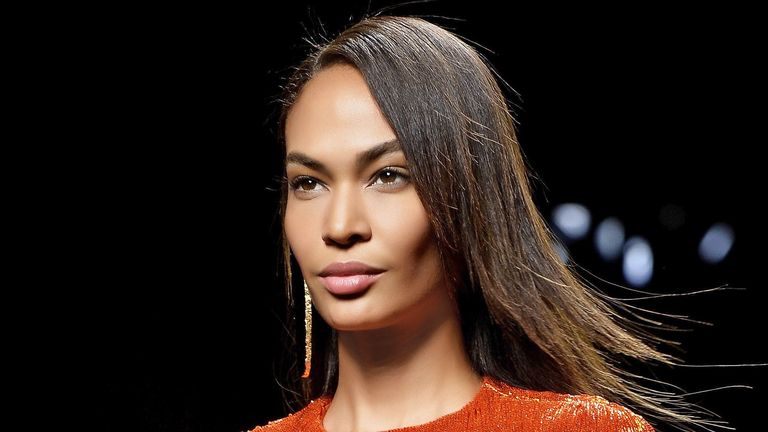 (Image credit: Getty Images)
"Growing up in Puerto rico gave me a really broad idea of what beauty is. In the islands, people come in all different sizes and shades, from light to dark and everything in between. In my case, I'm Afro-caribbean; my dad is from the island of St. Thomas and is of African and Irish descent, and my mom is from Puerto rico, with Spanish, Taíno Indian, and African roots. In my first modeling competition, I felt different from the other girls because I was too skinny, too tall, and looked more ...'ethnic,' let's say. But my parents instilled confidence in me and my sisters at a really young age. We always heard it from them: 'Know that you are beautiful.' So even if I felt different, I knew I had a unique type of beauty.
Later on, when I started working abroad, I was stereotyped; people didn't immediately realize I was Latina. Because I'm darker-skinned, they would assume I was African-American. Some people would try to make a big discussion [about my ethnicity] without understanding it. Coming from a place as diverse as Puerto rico, it was a bit confusing—like, Why does it even matter?
My views haven't changed: Beauty isn't one look, it's a state of mind. I think I feel my most beautiful when I'm at the beach, under the warmth of the Puerto rican sun. I feel more in touch with nature, and everything else washes away. I try to re-create that feeling of being on the island whenever I can. I cook tostones, which are fried green plantains, and eat queso blanco with guava paste. Or if I'm sick with a cold, I'll make a home remedy that my mom and grandmother used to do, with honey, lemon, and sábila, which is aloe vera. And whenever people ask what I am, I say, 'I'm Puerto rican.' Translation: I'm a little bit of everything!"
My Look:
"I usually fill in my brows with a pencil because I have a scar on my left brow that I got when I was a kid, running around like a hothead. And when I'm going out, I love to add a dark lip, like Estée Lauder's Decadent."
As told to Angie Romero
This article appears in the May issue of Marie Claire, on newsstands now.
You should also check out:
"I've Learned to Be Grateful Instead of Critical": Salma Hayek Opens Up About Embracing Her Body
Trans Women *Are* Real Women: Janet Mock on How Her Role Models Shaped Her Journey