Trans Women *Are* Real Women: Janet Mock on How Her Role Models Shaped Her Journey
And are continuing to pave the way.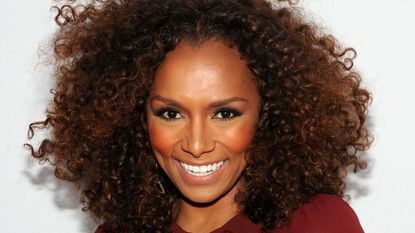 (Image credit: archives)
The first time I remember being struck by an ad campaign was in 1994. I was browsing the cosmetics floor of my local department store in Honolulu, clutching my beloved lanyard of Lip Smackers. Those tween-targeted balms were the only makeup I was allowed to wear at the time, but a floor-to-ceiling poster of a 7-foot-tall glamazon in red latex widened the boundaries of beauty for me and changed my brand loyalty instantly. "I am the MAC girl!" the poster proclaimed in its unabashed glory, as RuPaul—a gay man who waved the banner

of gender diversity as a glamorous drag queen in a bright blonde bouffant—took a stance as the first face of MAC's Viva Glam lipstick.
The campaign couldn't have come at a more fitting time in my own journey. I was 11 years old and just beginning to exert my identity as a transgender girl. I knew that RuPaul was not a trans woman; he donned femininity as a costume for performance. Still, those posters held power, offering me—and any other kid struggling with her differences—a semblance of hope for the future.
A year later, I told someone that I was a girl for the first time. Her name was Wendi, and she became my best friend after we bonded in seventh-grade band class. She didn't bat a lash when I shared this revelation, and I knew she wouldn't because she was just like me, the first of many young trans women I met in my native Hawaii.
The transgender community has always been a part of Hawaiian society, where people who don't conform to the binary system of man/woman, masculine/feminine are accepted or, at minimum, tolerated. This inclusivity can be traced to the native Polynesian culture, which, by the 1700s (and likely earlier), had carved a "third gender" space for people who identified as mahu (which loosely translates as "transgender"). Historically, mahu—or mahu vahine, fa'afafine, or fakaleiti, as they're known in Tahiti, Samoa, and Tonga, respectively—were assigned male at birth, embodied femininity, and took on traditional gender roles of both women and men. Mahu were revered in ancient Polynesia and celebrated in modern society with beauty pageants like the Miss Island Queen Pageant, which was first held in American Samoa in 1979, and Thailand's Miss International Queen. Today—and while I was growing up—kids might hurl the term as a slur on the playground, but that couldn't diminish the enduring presence of trans women in the islands.
This cultural acceptance served as a backdrop for my best friend and me as we embodied our womanhood, enabling us to transition through the halls of our high school and become who we knew ourselves to be. Journeying toward self-acceptance, I held on to that MAC image as an affirmation: If RuPaul was beautiful, then I could be, too. Yet I never stopped searching for images of trans women like myself who were happy, whole, and hailed.
And then, in 2001, just as I was preparing to graduate from high school, a trans girlfriend told me about a makeup campaign she saw while visiting family in South Korea. In a TV commercial for Dodo Cosmetics, a woman sits still as the camera scans her figure. Her hair is blowing. Her nails are long and slender. Her skin appears porcelain against a black background. Then, the camera focuses on her face, and the woman makes her first movement: She swallows, and her Adam's apple rises on her throat, prompting her to giggle as the viewer is confronted with her revelation.
The star of the ad was Harisu, then an unknown model who was tapped to promote Dodo's new line of facial powder. I was thrilled to see Harisu celebrated, even if the ad aimed to demonstrate how a product that could help a trans woman would be able to aid any woman. That gimmick ended up being the start of Harisu's career in South Korea; she went on to find success as a model, singer, and actress, and created a blueprint for other trans women to thrive in the spotlight.
Today, nearly 15 years later, America is finally following other cultures around the world and making an effort to celebrate the beauty of trans women. There's actress Laverne Cox, who hosted the Revlon-sponsored #GoBold Web series; reality star Carmen Carrera's sensual magazine spreads; and model Andreja Pejic, showcasing her medical transition for an upcoming eponymous documentary. But none have reached as high as Brazilian model Lea T, who was named a spokesperson for Redken late last year.
When I read the press release announcing the news, I expected the haircare brand to laud itself for making such a "brave" and landmark choice. Instead, the statement praised Lea T's "anti-bullying and equality" advocacy as well as her "undeniable spirit, striking looks, and stunning Brazilian hair." There was no mention that she—one of the world's most recognizable trans models—is transgender.
The company's decision to let her womanhood and beauty stand alone, sans qualifiers, is forward-thinking. As a visible and outspoken trans woman myself, I know that it's rare not to have your trans-ness lead the way for you in public spaces. It's something Lea T recognizes as well. "My campaign with Redken proves that anything is possible," she told me. She also has the opportunity to be herself, authentic about her identity yet fully visible on a global level without having that identity serve as the calling card for her success.
Redken isn't the only company bringing trans women to the forefront of the beauty industry. For years, New York City-based Obsessive Compulsive Cosmetics has quietly advocated for trans women and created campaigns fronted by trans actresses such as Jamie Clayton, who stars in Netflix's upcoming series Sense8.
Even with this progress, it's important to remember that the beauty world hasn't always welcomed trans women. In the '70s and '80s, British model Caroline "Tula" Cossey and American model Tracy Africa Norman had thriving careers that ended abruptly when they were outed as trans. Today, some still remain silent—even behind the camera.
I know a handful of celebrity makeup artists who are trans women, and only one agreed to speak to me (anonymously) about her career, which she says she's preserving by following a "Don't Ask, Don't Tell" approach. "Being trans has nothing to do with

my skills as an artist," she says. "This industry believes it's so open-minded because gay men have found success. But when it comes to the T, it's another story."
I mention the Redken campaign and other trans women making names for themselves, like Ojas Rajani, an Indian makeup artist who works with Bollywood stars, and Iranian-born makeup artist Niki M'nray, who has worked for Target and H&M, and the makeup artist just chuckles. "Everything is a trend in this industry," she says wryly. "Curves are in! Dark girls are having a moment! Now it's trans girls' time to shine! I just hope we get a few more cycles because it'll take time before we're truly accepted."
I agree: It will require years of visibility and education to undo the myths that plague the community, particularly the embedded belief that trans women are not "real women." And a life in the public eye remains complicated and conditional, even for successful women like Lea T. When I asked her to describe a moment in her life when she felt validated as a beautiful woman, she said, "That moment still has to come."
This article appears in the May issue of Marie Claire, on newsstands now.
You should also check out:
Andreja Pejic Is the First Transgender Model to Sign a Major Beauty Contract
11 Women Who Are Redefining Beauty
ModCloth Casts Its First Transgender Campaign Model
Ellen DeGeneres Makes a Moving Appeal About Transgender Issues
Celebrity news, beauty, fashion advice, and fascinating features, delivered straight to your inbox!