'Orange Is the New Black' Star Taryn Manning Takes on an Even Darker Role
It's a whole different kind of prison.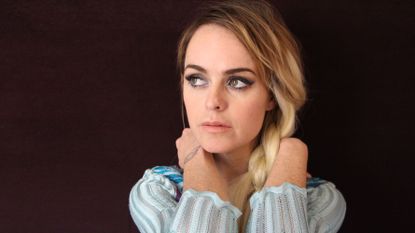 (Image credit: Tina Turnbow)
You know Taryn Manning as Orange Is the New Black's resident zealot with formerly former-meth-head teeth. But "Pennsatucky" has more up her sleeve.
The very talented Taryn is starring in new movie Cleveland Abduction premiering on Lifetime tomorrow. The film explores the true story of the Ariel Castro kidnappings that made headlines in 2002, when news broke that Castro had held Amanda Berry, Georgia DeJesus, and Michelle Knight against their will in his home for over 11 years.
It will come as no surprise to anyone who's seen her on OINTB that Manning has no problem really going there—and keeping you riveted every second of the way.
Here, she gives us the scoop.
What was your initial reaction to the script for Cleveland Abduction? It's such a dark story!
"Of course I had heard the horrific news about these poor women, and along with the nation, I was elated when they escaped and were finally found. So when I heard they were making a film about one of the victims, Michelle Knight, and I was being considered for the role to portray her, I was extremely conflicted as to whether I should act in this piece."
Did you feel anxious about stepping into such a horrific world?
"Yes. I don't think I have ever been so anxious or nervous in my career as an actress. But it was a different type of nerves that I truly cannot articulate. "
How did you prepare?
"I started by reading Michelle's book and finding anything I could about her as well as the other two victims. I also wanted to know more about the man that could do this to these innocent women. It was important to me that I learn as much as I could about the entire situation. "
How do you think was Michelle able to survive?
"I obviously can't speak for her but from my humble observation I think a lot of her strength comes from the way she was raised. I can relate to being a smaller person in stature like Michelle and because of that for me I know I have found inner strength as a way to protect, and maybe in a way to prove, that my body doesn't take away from my physical and mental strength. In my heart I believe seeing her son again was the ultimate source of her will power. "
In the end she forgave Ariel Castro. After you met and got to know Michelle, does that surprise you?
"Not in the least bit. Michelle's spirit has changed my life."
Are you happy this story will be viewed on TV in the intimacy of a home, rather than in a theater?
"Yes, I'm pleased by that, seeing as more people have access to TV in their own home. Taking the family out to the movies these days has turned into a financial burden, with how much theater tickets have gone up recently! "
You and your talent are a big part of bringing this story to life. Was it one of your more fulfilling roles?
"I've had an amazing career. Not to sound corny, but I'm truly grateful for this incredibly challenging and devastating career I have chosen . I love most of the roles I've been a part of but I will say this one definitely takes the cake."
Finally, pleeease share whatever you can about what we can expect from the next season of OITNB!?
"You're just going to have to watch and see!"
Makeup by Tina Turnbow, hair by Andrita Renee. Watch a clip of Cleveland Abduction here:
I have been a makeup artist for many years. I began interviewing and photographing some of my celebrity clients for T Magazine and the New York Times online. Interviewing such awesome talent, doing their makeup, and taking photos has become a huge passion of mine since then. I'm interested in grabbing a moment, a photo, that will paint a spontaneous honest portrait of the person I am featuring.