'Agent Carter' Star Hayley Atwell Just Won the World's Most Epic Dubsmash Battle
With a little help from Chris Evans.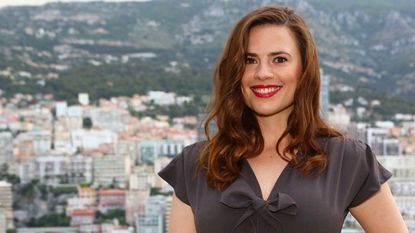 (Image credit: Archives)
Update, 5:30 p.m.: Oh, did you think that was it? Of course not—ever the overachiever, Atwell is back with yet another Dubsmash, which will henceforth be known as her victory lap. 🙌
For anyone who doesn't already see the *complex* layering of cheekiness occurring here, Agents of S.H.I.E.L.D. star (and therefore Dubsmash rival) Clark Gregg is married to Jennifer Grey, who you obviously know from Dirty Dancing, which of course is famous for "(I've Had) The Time of My Life" and the "baby in a corner" quote that Agent Carter star James D'Arcy is holding up here. That's...what...12 layers of oh-no-they-didn't?
Original story, 4:20 p.m.: In case you, say, choose to live like a cavewoman and do not have Twitter, you may be oblivious to the fact that Agent Carter star Hayley Atwell and co-star James D'Arcy have been waging all kinds of entertaining, hilarious, must-watch Dubsmash war on their Agents of S.H.I.E.L.D. friends.
After days of out-Dubbing each other, Atwell has thrown down the gauntlet.
Behold: The Dubsmash to end all Dubsmashes.
Yes, that is Chris Evans. May the Agents of S.H.I.E.L.D. bow down. #micdrop
(Oh, and if you need a refresher of the whole battle, here's a timeline of how it all went down:)
Team Carter:
Team S.H.I.E.L.D.:
#AgentsofSHIELD @ChloeBennet4 dubsmash war....calling you out @HayleyAtwell #JamesDarcy #AgentCarter #DJEZClark pic.twitter.com/I9kvDS8CqYJuly 11, 2015
See more
Team Carter:
Team S.H.I.E.L.D.:
@HayleyAtwell who wore it better tbh pic.twitter.com/A8lwyDJjSBJuly 13, 2015
See more
Team Carter:
This is what defeat looks like... #JamesD'Arcy @HayleyAtwell #AgentsofSHIELD #SDCC pic.twitter.com/ZDMGWPCXZEJuly 12, 2015
See more
...and now you know what she meant. Agent Carter out.
Celebrity news, beauty, fashion advice, and fascinating features, delivered straight to your inbox!
As the editor of Cosmopolitan, Jess oversees the editorial for all of Cosmo's efforts across print, digital, video, and emerging platforms. Previously she served as the digital director of Marie Claire, where she tripled the readership, and she's held print and hybrid posts at Glamour and Teen Vogue. In 2013 she launched an interactive e-commerce platform for a fashion-tech startup, and in a former life she was a ballet dancer and NYU film student. She lives in Manhattan with her scruffy dog George.