Caitlyn Jenner Stuns on the ESPYs Stage: She Is Poised, She Is Emotional, She Is Powerful
Watch her incredible first appearance.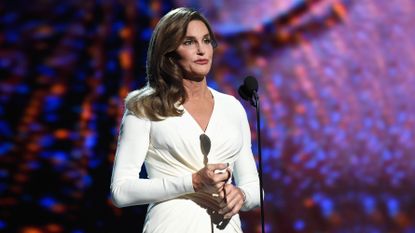 (Image credit: Archives)
It's been a long time coming, but Caitlyn Jenner has finally stepped, quite literally, onto the world's stage. At tonight's ESPY Awards, where she was honored with the Arthur Ashe award for courage, Jenner spoke—as herself—for the first time.
"The last few months have been a whirlwind of so many different experiences and emotions," Jenner said breathlessly after being welcomed by a standing ovation and assuming a confident place behind the mic. "I've never felt more pressure than I've ever felt in my life."
Dressed in an elegant white pleated custom Versace gown and sideswept, retro-glam waves, Jenner cut a striking figure on the stage. "Picking out this outfit...okay girls, I get it," she conceded, laughing. "It was exhausting!"
But this moment was about so much more than showing off; it became instead a rallying cry for activism. "All across this country right now, there are young people coming to terms with being transgender," Jenner said. "They're learning that they're different. They're getting bullied, they're getting beaten up, they're getting murdered, and they're committing suicide. It's the reality of being transgender today."
Jenner is here, as she stated time and again on tonight's stage, in the hopes to change that. "If there's one thing I do know, it's the power of the spotlight. And with attention comes responsibility. I'm here to promote a very simple idea: Accepting people for who they are. Accepting people's differences. My plea to you tonight is to join me."
As much of her family—Kim, Kourtney, Kendall, and Kylie—looked on, Jenner eventually broke down. "Here comes the tough part," she said as she started to cry. "I'd like to thank my family. Most of all, my family and my kids. I always wanted my children to be so proud of their dad. You guys have given so much back to me, so much support. I'm so, so grateful to have all of you in my life."
There is, of course, much more Caitlyn Jenner to come. "If you're wondering what this is all about—courage or controversy or publicity—it's about what happens from her," she said. "It's not just about me, it's about all of us, accepting one another. We're all different; that's not a bad thing. And while it may not be easy to get past the things you don't understand, I want to prove that it's absolutely possible. Thank you for this platform."
To see the moving tribute film shown at tonight's awards, watch below.
The recipient of this year's #ESPYS Arthur Ashe Courage Award, @Caitlyn_Jenner. Video: http://t.co/PIZMH3TlPnJuly 16, 2015
See more
As the editor of Cosmopolitan, Jess oversees the editorial for all of Cosmo's efforts across print, digital, video, and emerging platforms. Previously she served as the digital director of Marie Claire, where she tripled the readership, and she's held print and hybrid posts at Glamour and Teen Vogue. In 2013 she launched an interactive e-commerce platform for a fashion-tech startup, and in a former life she was a ballet dancer and NYU film student. She lives in Manhattan with her scruffy dog George.