Two Important Relationship Lessons Courtesy of Keegan-Michael Key and Gillian Jacobs
The Don't Think Twice costars school us on #RelationshipGoals.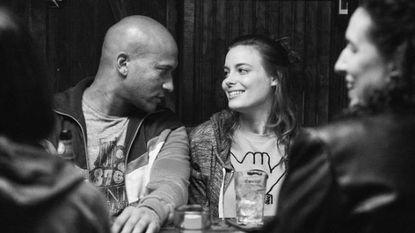 (Image credit: Courtesy of The Film Arcade)
First comes love, then laughs, tears, and resentment for on-screen couple Gillian Jacobs and Keegan-Michael Key in this month's Mike Birbiglia-helmed indie dramedy about a New York improv group, Don't Think Twice. The duo play members of the troupe and a couple living together who have to cope with all sorts of relationshit when one of them makes it big. We talked to Jacobs and Key about what they learned from their characters about having a happy (or, at least, happier) partnership.
Marie Claire: This is a funny movie starring some seriously funny people playing members of a comedy troupe vying for a spot on a Saturday Night Live-esque show—so what made you laugh the hardest on set?
Gillian Jacobs: We made up a song about [writer, director, and costar] Mike Birbiglia's character called "Miles Doesn't Know His Own Butt Strength." Ira Glass, one of our producers, contributed lyrics and took it very seriously. It was as if we were writing Hamilton 2.
Keegan-Michael Key: I have this little thing that people call Keegan-ese, where I don't speak English words at all. I just say stuff like, "You gotta toish the doish and you gotta maloish the hoish." And our first assistant director started copying and saying things like, "Guys! Let's get these cameras ready. We've got to maloish this doish before we spoish the snoish." Or, "If you are not paying attention, we're going to doish this entire day, and I can't afford that." It got to the point where I was saying, "What the hell are you talking about?"
MC: In Don't Think Twice, your characters live, work, and even audition together but ultimately realize they share different dreams. That's a lot to deal with, no matter the couple. Any lessons to be learned from your characters' relationship?
KMK: A lot of it is listening. It's hard to do in my own life, but when playing Jack, I had to be oblivious to what the other person was feeling, and I'm like: How can I be so aware of it acting, and then in my real life with certain relationships, ignore people's feelings? How do I notice it in make-believe land, and not notice I'm doing it in real life?
GJ: Also, it's sometimes hard to accept that the people you love and feel the closest to may have different dreams and goals from yours, and those are valid. And I've felt that way: accepting people's differences and recognizing them as valid choices even if they're different from your own. There's no right one way to go through life.
MC: One of the themes in the film is dealing with a friend's or partner's success and your own resentments and jealousies—any advice for coping with that?
GJ: Rather than just becoming embittered by your friends' success, I think it can motivate you. Like, Well, what else could I be doing? Maybe I have untapped potential. Or, I've been a bit complacent, and let's see what happens if I actually try and put myself out there more. Bitterness doesn't serve you any good. And it really tells you more about how you feel about yourself than anything you feel about your friends.
KMK: But also, shut your mouth. Don't offer information like, "And then Ryan Gosling and I did this!" Don't put salt in the wound.
[instagram id="BFpEvaZDZAE"]https://www.instagram.com/p/BFpEvaZDZAE/?taken-by=keeganmic&hl=en[/instagram]
MC: What should you never think twice about?
KMK: That's a hell of a last question. I'm making Gillian do all the work—
GJ: I try to not go over things from the past. Learn your lessons and then let it go. Accept your failure, move on, and don't torture yourself.
This article appears in the August issue of Marie Claire, on newsstands July 19.
Celebrity news, beauty, fashion advice, and fascinating features, delivered straight to your inbox!
As deputy editor, Jen oversees Cosmopolitan's daily digital editorial operations, editing and writing features, essays, news, and other content, in addition to editing the magazine's cover stories, astrology pages, and more. Previously, Jen was a senior editor at Marie Claire. Before that, she worked at GQ.