Yes, Marisa Tomei's Still Playing Gloria Steinem, and No, She's Not Opposed to Re-Igniting That Old 'Seinfeld' Flame
The Oscar winner is still just as relevant as ever.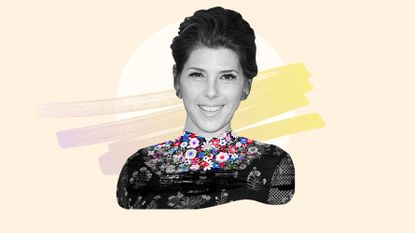 (Image credit: Design by Mia Feitel)
Where were you when Marisa Tomei's classic Seinfeld episode aired? Probably on your parents' couch (it was 1996 after all), but twenty years later, it's *still* one of the funniest episodes of television ever. Such is the lasting influence of Marisa Tomei, whose killer performances have earned her three Oscar nominations—not to mention a role in the upcoming Spider-Man: Homecoming.
MarieClaire.com spoke to Marisa about the hilarious story behind her Seinfeld role (spoiler: she wants to make another TV show with Jason Alexander), breathing new life into Spiderman's Aunt May, and her friendship with Gloria Steinem. Because yep, she's still playing the feminist icon in HBO's Ms., and we're pretty sure it qualifies as the"role of a lifetime."
Marie Claire: When I mentioned I was speaking with you to friends, the reaction was unanimously "Oh my god, you have to ask about Seinfeld."
Marisa Tomei: I just got so lucky that they asked me to participate. I think it didn't even have anything to do with me specifically, they just liked the way my name sounded. Because when I got there I did ask Larry David, "How did I get so lucky? How am I here?" He just said, 'Well, when you say your name over and over it just has a really strong rhythm: "Marisa Tomei. Marisa Tomei." Jason and I really want to do a show together—we just had such a good time on that, and we run into each other all the time and are like, "We should just do a TV show with us."
MC: Now is totally the time for it; there's such an interest in nostalgia. What do you make of your earlier work speaking so strongly to a millennial generation?
MT: We really really want that, just putting it out there into the world. But yeah, I am really touched and surprised that your generation feels that way, and I'm really happy the work stands up. But that show is going to stand up for all time: it's one of the greatest things that has ever been written, and still speaks to the quirks of being a human being no matter what the era.
MC: You're slated to play Gloria Steinem in HBO's Ms. which is about the launch of Ms. Magazine. Have you been spending time with her in order to jump into the character?
MT: It's still in its nascent stages, so it's something we hope will be coming to the screen soon. I'm the luckiest women because I do get to spend a lot of time with her, and not necessarily talking about the show–but talking whatever she's working on, and going to events with her. In cultural history, the civil rights movement came before the women's movement. So there's a pattern of the pathway opening in a certain way. We stared thinking, there's so many wonderful films about civil rights movements, but there isn't even one yet about the women's movement? It's hard to capture because it's so sprawling, and it's an ideology. There were moments where people took the to streets and small rebellions, but ultimately it's a change in consciousness—so how do you capture that and bring the piece to light?
MC: What do you think women's media can learn from Ms. Magazine and Gloria Steinem's influence on journalism?
MT: Letting journalism be from the perspective of the journalist. It's usually a no-no, and journalists are encouraged to be completely objective. But a lot of times being "completely objective" means seeing the world through a patriarchal eye. That's some of what Ms. took to task. Those stories weren't being written at all— stories about women's inner lives and outer activism. We've come miles and miles, but we still don't have an equal rights amendment yet. We don't have equal pay yet. There's a lot of blind misogyny that's not personal, but institutionalized. We still have work to do, but even just looking at those old Ms. Magazines is a cool thing to do—to see how daring they were. They just went right into the belly of the beast.
MC: You won an academy award for a comedy, which is pretty uncommon. I wanted to get your take on the comedic process.
MT: There's a lot of musicality to comedy, because there's a lot of timing involved I think of it as something that's scored, but the score is in your own head. It's hard to transfer one person's type of comic timing or approach to another person's. It's something you innately hear like a rhythm in your ear. It's been such a great thing that I get to do both things, I'm always dying to do more comedic parts, I love it when I get to do something really overblown like Crazy, Stupid, Love that can just be silly. There have always been hilarious women, but I love that they are getting more and more attention.
MC: You're playing Aunt May in Spiderman, which is traditionally played by an older actress. This is the youngest incarnation of the role. What's it like stepping into a total reimagining of that character—I love the idea that Aunt May isn't a stereotypical grandmotherly figure.
MT: I'm figuring it out as I go along, actually. It's really fun working on this Marvel movie. The essentials of Aunt May are that she's helped raise Spiderman and she's his moral compass. Her values and his traumas are kind of what's defined him as a young boy and now that he's becoming a young man, she's there to provide that safe place where he can still be a kid if he needs to be, or know that he has a home base as he's going through all these physical changes. So as long as those essentials are there, we can work on finding the character together.
MC: You recently became a spokesperson for Allergan, which makes Restasis for Chronic Dry Eye. Why is this the cause you're aligning yourself with—what does it mean to you?
MT: I was taking a lot of eyedrops three times a day and I realized I should have it checked out, that's when I was told I had a type of Chronic Dry Eye. Restasis has really worked for me and made my life easier. They're also partnering with Guide Dogs for the Blind, it's a beautiful thing where they're donating a dollar for every quiz taken on Restasis.com. It provides the blind and visually impaired with dogs, and it doesn't have government funding so what Allergan is doing really makes a difference. I'm so happy to be supporting that very inspiring organization.
FYI, you can head over to Restasis.com and take their Dry Eye quiz. For every quiz taken through December 31, Allergan will donate $1 to Guide Dogs for the Blind. 👊
Follow Marie Claire on Facebook for the latest celeb news, beauty tips, fascinating reads, livestream video, and more.
Celebrity news, beauty, fashion advice, and fascinating features, delivered straight to your inbox!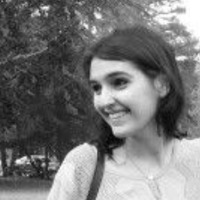 Mehera Bonner is a celebrity and entertainment news writer who enjoys Bravo and Antiques Roadshow with equal enthusiasm. She was previously entertainment editor at Marie Claire and has covered pop culture for over a decade.