Zendaya Effortlessly Recreates the Famous Lift Scene from 'Dirty Dancing'
NBD.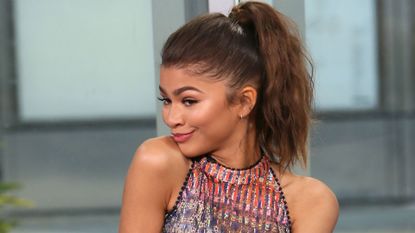 (Image credit: Getty Images)
We've all tried it, but few can actually say they've succeeded at recreating the famous lift from Dirty Dancing's iconic dance scene. You know the one:
Attempts to copy it usually end in flailing limbs and many bruises, physically and otherwise.
That is not the case for the ever-amazing Zendaya. With a little help from her trainer/Patrick Swayze stand-in, Mike Aidala, the actress casually executed the move like it was NBD. And get this, she did it in the middle of a New York City sidewalk. Most people can't even do it in a pool, never mind on a concrete sidewalk with cars and people whizzing by.
Zendaya shared the impressive moment on Instagram, captioning her high-flying moment "We poppin in these NY streets😏"
Meanwhile, we'll be over here like:
Follow Marie Claire on Facebook for the latest celeb news, beauty tips, fascinating reads, livestream video, and more.
I am an experienced editor, writer, and creative strategist, specializing in fashion, beauty, and lifestyle content for digital media outlets, as well as video and social platforms. While I currently operate as a freelance contributor/consultant, with such clients as The Zoe Report, my 10+-year background in the industry was cultivated at the dot-coms of elite publications, including Harper's BAZAAR, ELLE, and Marie Claire.