Here's How That Massive Oscars Mistake *Really* Happened
Don't blame Warren Beatty.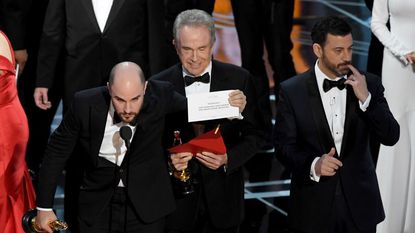 (Image credit: Archives)
The moment when presenters Warren Beatty and Faye Dunaway accidentally announced the wrong Best Picture winner has overshadowed this year's Oscars, and will no doubt go down in the books as one of the biggest Academy Awards flubs in its 89-year history. But how the hell did it happen?
It all comes down to the envelopes. As you can see here, Beatty was given the wrong envelope to read from—this reads "Actress in a Leading Role," not "Best Picture":
Envelope in Warren Beatty's hands read "ACTRESS IN A LEADING ROLE" when announcing Best Picture. https://t.co/naq6LCfSrE #Oscars pic.twitter.com/YmXWXcudfuFebruary 27, 2017
See more
Beatty said he believed there to be a "misprint" on the card he was reading, but backstage at the awards, Stone caused further confusion when she revealed that she had the Best Actress card in her hand when the incorrect winner was read out:
"I also was holding my Best Actress in a Leading Role card that entire time," she said. "So whatever story...I don't mean to start stuff, but whatever story that was, I had that card. So I'm not sure that happened."
The real story? They're both correct—there were two sets of "Best Actress" cards, and while Stone got one, Beatty was handed the other.
In an interview with Market Watch, Brian Cullinan and Martha Ruiz—partners at PricewaterhouseCoopers, the auditing firm that calculates the Oscar winners and oversees the announcement of the awards—confirmed that the cards were duplicates. "From a security perspective, we double up everything," Cullinan said. "That's why there's two of us. We have two briefcases, that are identical, and we have two entire sets of winning envelopes."
In order to safeguard the identities of the winners until they're revealed, the PwC partners travel to the show separately and carry the envelopes in briefcases down the red carpet before they each take their places on opposite sides of the stage. As presenters come on from either side, they are meant to be handed their corresponding cards, and each partner has a pile of backup cards for the presenters who are meant to enter from the other side, just in case there's a mixup in where the stars are supposed to go or in who needs what.
And that's how it happened: Cullinan, in what his boss told Variety is a mistake he's "very upset" about, accidentally grabbed from his backup pile, not his primary one, and handed Warren Beatty the envelope for Best Actress instead of Best Picture.
It wasn't until nearly two minutes later that the mistake was corrected. As La La Land producer Jordan Horowitz recounted to The Hollywood Reporter, "Guys in headsets starting buzzing around. They took the envelope I had. It said 'Emma Stone, La La Land' on it. It was clear there was something wrong. They started looking for the best picture envelope. Nobody knew where it was. Then it appeared. They opened it next to me and it said 'Moonlight.' And so I grabbed it. I had to fix the situation."
You actually SEE @briancullinan_ (one of the two PwC handlers) come on stage with what appears to be the correct envelope. pic.twitter.com/dC3YtizEJNFebruary 27, 2017
See more
PwC said there isn't a formal strategy in place for when things go wrong, hence the on-stage scramble. "We would make sure that the correct person was known very quickly," Cullinan told The Huffington Post last week in an eerily prescient article titled "What Would Happen If A Presenter Announced the Wrong Winner at the Oscars?". "Whether that entails stopping the show, us walking onstage, us signaling to the stage manager—that's really a game-time decision, if something like that were to happen. Again, it's so unlikely."
A few hours after the mix-up, PricewaterhouseCoopers issued an apology:
We sincerely apologize to "Moonlight," "La La Land," Warren Beatty, Faye Dunaway, and Oscar viewers for the error that was made during the award announcement for Best Picture. The presenters had mistakenly been given the wrong category envelope and when discovered, was immediately corrected. We are currently investigating how this could have happened, and deeply regret that this occurred. We appreciate the grace with which the nominees, the Academy, ABC, and Jimmy Kimmel handled the situation.
For now, PwC might take comfort in the fact that this isn't the only oversight to take place at the Oscars this year. The "In Memoriam" segment included the photo of someone who's still alive, and in January, when the Academy Awards were announced, Amy Adams was listed instead of Ruth Negga in the Best Actress category on the Oscars mobile site.
At the end of the day, La La Land producer Jordan Horowitz has the right approach. Backstage, when he was asked by the Los Angeles Times how it felt to be given a prize only to have it taken away, he said: "It's an award. It's just an award."
Follow Marie Claire on Facebook for the latest celeb news, beauty tips, fascinating reads, livestream video, and more.
Celebrity news, beauty, fashion advice, and fascinating features, delivered straight to your inbox!