This Is Jennifer Hudson's Favorite Song (and 12 Other Fascinating Facts You Can Learn from Looking at Her Phone
The love she has for her son will make you 😍 .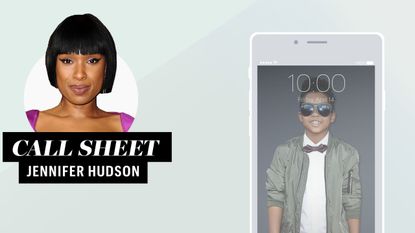 (Image credit: Design by Betsy Farrell)
Ever wondered what's on your favorite celebrity's phone (ya know, in a non-weird way)? MarieClaire.com teamed up with Sandy Wexler star Jennifer Hudson to unlock some cellular secrets, and got details on the actress/singer's unpublished texts, photos, and even her lock screen. Let's collectively swipe right, shall we?
What was the last random thing you screen-grabbed? "I snapped this random picture of John Legend as Frederick Douglass inUnderground. I like to keep up with things and remind myself what to watch."
What's your weirdest phone habit? "Let me tell you. You've got to listen closely. When I'm out to dinner with my friends, and they're stuck in their phones, I pick my phone up, face it towards myself so I can see myself, and interact with myself. That way I feel like I have someone looking at me. No one else wants to talk to me at the table because they're too busy with their own phones, so I'm my own companion."
What's the newest photo on your phone? "It's actually a video of my son and his dad. His father's birthday is today so he's singing him happy birthday."
What's your phone's lock screen photo? "My son. He will not have it any other way and neither would I. He's also my phone case. And if his picture is not up there, he's like 'Uhhh, where am I?' It's completely reserved just for him."
What do you have filed away in notes? "My weight. Every day I weigh myself. I write my weight, and the time I weigh myself. I always have to have a backup for trackers, because sometimes you cant get to those things—so I always put it in my notes."
Who was the last person you called? "The last person I called was [my fiancé] David [Otunga] to wish him a happy birthday."
What's the most high profile number in your phone? "I've got some high profile numbers in my phone. That's tough. Who do I go with...I don't know if I can tell you that, I'm going to keep it to myself!"
What's your most played song? "Probably my new song 'Remember Me,' actually. And also "Unsteady" by X Ambassadors, I LOVE that song. Hudson started singing to me.
What was the last thing you Google searched? "Some clothes. I was shopping—I'm looking for new sites to shop on."
What was the last thing you bought using your phone? "The last thing I bought was Tyra Banks' Top Model—her latest season. I was literally downloading it so I could watch it on the airplane. It's my show."
How many unread messages are in your little red bubble email counter right now? "That thing always drives me crazy. It says 12. But where are they? I don't see emails to even check."
What was the last text you sent? "My last text message was to my son. He wants his dogs to come home, so I responded 'we're working on getting your doggies home.'"
What's the oldest photo on your phone? "It's a picture of my grandfather and his sister dancing when they were young. I love to look back at old photos."
Watch the trailer for Sandy Wexler below.
We're nominated for a Webby Award—but we need your vote to win! Vote for the Women and Guns project here.
Mehera Bonner is a celebrity and entertainment news writer who enjoys Bravo and Antiques Roadshow with equal enthusiasm. She was previously entertainment editor at Marie Claire and has covered pop culture for over a decade.