Chelsea Handler Screen-Grabs Guys on Raya, and 12 Other Things We Learned from Her Phone
Including the fact that her dog is insanely adorable.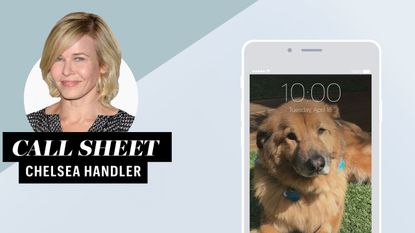 (Image credit: Design by Betsy Farrell)
Ever wondered what's on your favorite celebrity's phone (ya know, in a non-weird way)? MarieClaire.com teamed up with Chelsea Handler to unlock some cellular secrets, and got details on the comedian's texts, photos, and even her lock screen. Let's collectively swipe right, shall we?
What's your favorite account on Instagram? "My best friend Mary McCormack (opens in new tab). Because she doesn't really know how to use it, and it's fun to watch her."
What was the last random thing you screen-grabbed? "Some guy on that dating website Raya. I sent it to my friend showing her my options. You're not supposed to do that though—every time you take a screen grab they say you're being reported."
What was the last text you sent? "I said to my friend, you guys have to watch Homeland's depiction of Steve Bannon where they changed his name to Brett O'Keefe."
What's the oldest photo on your phone? "It's of on the first day of my old show with my nieces and nephews in my office. Oh, they were so little! Awww, that was when they were innocent."
The newest? "The things in my makeup drawer at home, so I could tell my assistant I was missing my Latisse. I was showing him where it usually is because he said it was in my drawer, and I sent him a picture saying it's not here."
Your most played song on Spotify? "Probably Aretha Franklin. I have an Aretha Franklin playlist that I work out to. 'Respect.'"
Who was the last person you called? "My assistant."
What was the last thing you Google searched? "I Googled the word 'secular' because I was confused about non-secular and secular. They mean the opposite of what you'd think they would mean. I was reading an article, and I realized secular is non-religious and non-secular is religious. Which I feel like is counter intuitive. We've been saying it wrong the whole time."
What was the last thing you bought using your phone? "I don't know how to do that. I bought a coffee this morning at the studio when I walked in...but not on my phone. I don't know how to do that. "
What do you have filed away in notes? "Vocabulary words and good quotes that I read. I get Word of the Day, and they have a quote at the bottom. If it's really good, I save that."
What's your phone's lock screen photo? "Chunk, my dog."
How many unread messages are in your little red bubble email counter right now? "30. I'm a little anal. 30 is a lot for me."
And finally, what's your weirdest phone habit? "I take my phone in the sauna with me a lot, which is probably not good for it. When it shuts off becuase of heat, you know it's probably a bad situation."
Watch Season 2 of Chelsea's self-titled talk show every Friday on Netflix.
We're nominated for a Webby Award—but we need your vote to win! Vote for the Women and Guns project here. (opens in new tab)
Mehera Bonner is a celebrity and entertainment news writer who enjoys Bravo and Antiques Roadshow with equal enthusiasm. She was previously entertainment editor at Marie Claire and has covered pop culture for over a decade.