'Odd Mom Out' Creator Jill Kargman's DGAF Attitude Is Literal Goals
"If you want to judge me, awesome, go for it."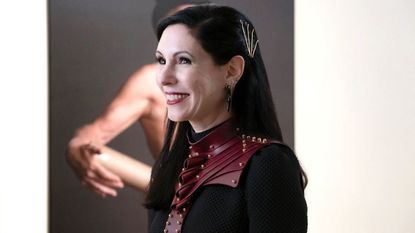 (Image credit: Christopher Saunders/Bravo)
Forget what you think you know about Bravo's hit scripted series Odd Mom Out. In fact, as show creator and star Jill Kargman says "It's not about moms. And it's not about parenting." Talking over coffee on a sunny June afternoon, Kargman looks like she's just stepped off the set of her IRL-inspired comedy: she's impeccably outfitted in her signature Karl Lagerfeld-meets-Wednesday Addams style, and is just as funny, foul-mouthed, and full of real talk as her onscreen alter-ego. "It's about fitting in," Kargman explains. Turns out, you can take the girl out of high school, but you can't take the cliques, gossip, and self-confidence crises out of the girl—er, mom. Here, Kargman chants about being "perfect," how she does it all without going crazy, and what we can look forward to in season three of Odd Mom Out, which premieres July 12.
On the World's Most Cliché Question: How Do You Do It All?
"It's always a juggle and I'm always dropping balls on the floor, but I just do the best I can. What I don't understand is how moms who have the same demand all year do everything. For me, my kids know that I'm going to have an insane four months of shooting where I'm not going to be there for them, I'm going to miss the sports thing, or the art exhibition, or whatever it is—but then I make up for the other eight months. It kind of balances out. My answer is really just compartmentalizing and letting everyone around me know, I'm not going to have dinner for four months. For my husband, I'm too tired to have sex, or go out to a date, or do so much Monday to Friday when I'm shooting. I'll make it up on the weekends."
On Dealing with Fan Criticism (AKA Pissed Off Moms)
"Because I'm so busy, I'm so much less sensitive. When I was a stay-at-home mom, there were comments from people that would get under my skin. The very first season, I got to school and this mom was like, 'Y'all have been MIA, I've barely laid eyes on you this year! You haven't been at one pick-up.' I was shaking, defensive that she was lobbing some accusation about my parenting, and then I was like, F*ck you, you sit around and have lunch all day, go to SoulCycle, and get a blowout, I don't care what you think. If you want to judge me, awesome, go for it. Now, none of that really bothers me. I feel so happy working—to have conversations with toddlers versus the stimuli of being on set with 150 awesome, smart, funny people. It's not for everybody, but it's definitely for me."
On Preferring 'South Park' to Wellness
"I just read about these spas where you just go and close your eyes, and you pay somebody to let you meditate. Could you f*cking vomit? I have friends who are very into Transcendental Meditation, swear by it, but I'm not wired that way—I'm manic and I can't sit still. My version of that is just flopping in bed and watching SpongeBob SquarePants with my kids, or South Park with my husband. I find that better for my soul. There's so much f*cked up shit going on in the world that I can't escape when I'm just in my own head, whereas if I'm laughing at it— because South Park is such a mirror to everything—I actually feel totally okay. My reset button is South Park. My shrink is South Park. That is everything to me. And Last Week Tonight with John Oliver."
On Drawing Inspiration from Real Life
"Most of the show is based on real life. It's based on two of my books: my novel Momzilla, and Sometimes I Feel Like A Nut, my non-fiction book. I really made no bones that it came straight from my life. One example is that when my kids were in nursery school, there was this spate of divorces centered on this one sommelier company that did tastings for men on lower Madison Avenue, and it turned out it was a Latvian hooker ring. I was telling people at school, and there were all these moms standing at pick-up, and I said, 'If your husbands start getting really into wine and hires a sommelier to curate your personal wine cellar, she's probably sucking his dick.' And this mom was like, 'We have a new personal wine sommelier,' and she blanched. We have an episode on that whole thing. These are things plugged from my life, because you cannot make that shit up."
On Everything We Can Look Forward to in Season 3
"The first episode sets up this general theme for the season, which is having a daughter who's coming of age. My real-life eldest daughter is 14. In my show, she's 11. It's great because I'm steps ahead, and I can take notes and process it, and have time to digest everything and write about it. It's this relationship with a tween daughter trying to be older, my husband trying to keep her a baby, and me trying to walk the line in the middle and be an understanding mom who's not too old-fashioned, pressuring her to wear smock dresses. The second main theme is my relationship with my mother-in-law. For most people, that's a troublesome relationship; I would say that's the rule and not the exception. But because of the sort of Bernie Madoff fallout at the end of season two, she is living with us.
On 'Odd Mom Out' Changing Her Relationship with IRL Mommy Gangs
"People always say, 'Are they mad at you?' But I don't think it's a mean-spirited show. I mean, there are people who definitely are the Brooke Von-Weber type who have said, 'Oh, I love the show. I totally relate,' and I'm like, 'You do?!' But I think it's not about how you look; it's how you feel. And there are these blonde tits-on-sticks types who feel insecure around their friends because if you are labeled 'perfect,' then you feel like you have to keep up. I actually think that's more pressure than just sort of being like, I can't keep up. That's okay. I'm different. It's fine."
Odd Mom Out premieres July 12:
Follow Marie Claire on Facebook for the latest celeb news, beauty tips, fascinating reads, livestream video, and more.
Celebrity news, beauty, fashion advice, and fascinating features, delivered straight to your inbox!
As deputy editor, Jen oversees Cosmopolitan's daily digital editorial operations, editing and writing features, essays, news, and other content, in addition to editing the magazine's cover stories, astrology pages, and more. Previously, Jen was a senior editor at Marie Claire. Before that, she worked at GQ.