Every Single Secret Beyoncé and Jay Z Have Hidden in Their Music About Their Relationship
"Family Feud" is not the first time they've spilled tea in song.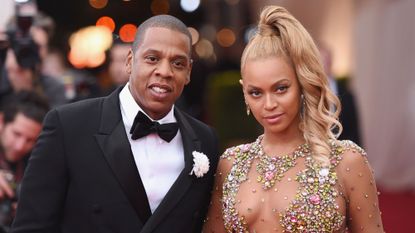 (Image credit: Getty Images)
Marie Claire Newsletter
Celebrity news, beauty, fashion advice, and fascinating features, delivered straight to your inbox!
Thank you for signing up to Marie Claire. You will receive a verification email shortly.
There was a problem. Please refresh the page and try again.
Jay Z dropped his new album, 4:44 this week and it definitely made an impact. The album, which was Jay's 13th, is all we've been able to listen to/think about since it dropped. The Bey Hive (/the whole of the world) is buzzing hard about one track in particular—"Family Feud."
Beyoncé is featured on the song, which would be enough to get us excited, but on top of that, Jay addressed (and apologized for) his infidelity. This particular reveal might have left us reeling, but it's far from the first time the power couple have shared secrets about their relationship in song. Here's a history of their musical tea-spilling.
2002: "03 Bonnie & Clyde"
The 2002 track was Jay and Bey's first collaboration and even though they weren't together yet (or at least not ~officially~), Jay rapped about being with the "thoroughest girl"—possibly an early clue about his feelings for Beyoncé.
"All of my dates been blind dates / But today, I got my thoroughest girl with me / I'm mashing the gas, she's grabbing the wheel, it's trippy how hard She rides with me."
2003: "Crazy in Love"
In 2003, it was Beyoncé's turn to drop clues about the relationship, in their duet, the aptly titled "Crazy in Love."
"When I talk to my friends so quietly / 'Who he think he is?' look at what you did to me / Tennis shoes, don't even need to buy a new dress / You ain't there, ain't nobody else to impress."
2003: "That's How You Like It"
Jay was featured on another song on Bey's debut solo album, Dangerously in Love. In "That's How You Like It," he raps about being together even when people tried to warn her to stay away from him.
"I know you've heard I'm a gangsta / They say 'Stay away from them gangstas' / They never change up, or pull they pants up / Well, baby girl, put ya foot down / Don't let 'em push you around, you know what you like / Baby thug, you know wrong from right. Most of all, they like my honesty, integrity, my loyalty / Young Hova and the letter B, how you like that, huh?"
2006: "Lost One"
In 2006, Jay referenced troubled times for the couple in "Lost One," in which he rapped about struggling with Bey prioritizing her career over him.
"I don't think it's meant to be, B / But she loves her work more than she does me / And honestly, at 23, I would probably love my work more than I did she / So, we, ain't we, it's me and her / 'Cause what she prefers over me, is work / And that's where we differ, so I have to give her free time, even if it hurts."
2006: "Deja Vu"
The couple collaborated again on 2006's "Deja Vu," and Jay made it clear he was with Bey all the way.
"I used to bag girls like Birkin Bags / Now I bagged B."
2012: "Glory"
In 2012, Jay dropped "Glory," about the couple's daughter, Blue Ivy. In the lyrics, he slipped in a reference to their struggles with miscarriages.
"You don't yet know what swag is / But you was made in Paris / And Mama woke up the next day and shot her album package / Last time the miscarriage was so tragic / We was afraid you'd disappear / But nah, baby, you magic."
2013: "Part II (On the Run)"
On 2013's "Part II (On the Run)" (another collab, for the record), Jay referenced the matching tattoos the couple got instead of traditional wedding rings.
"I'm an outlaw, got an outlaw chick / Bumping 2Pac, on my outlaw s**t / Matching tats, this ink don't come off / Even if rings come off."
2013: "Rocket"
In "Rocket," Bey got very personal about the, um, feeling of loving Jay.
"Your love feels like all four seasons growing inside me / Life has a reason, swimming in my love, your love lifting / Higher, harder, got me screaming to the Lord, boy."
2013: "Mine"
One of the biggest relationship bombshells that Beyoncé dropped in song came in 2013's "Mine," when she hinted at a possible split.
"Been having conversations about breakups and separations / I'm not feeling like myself since the baby / Are we gonna even make it? / 'Cause if we are, we're taking this a little too far."
2016: "Hold Up"
By 2016, the reveals in "Mine" didn't seem that dramatic after all. With the release of Beyoncé's world-shaking visual album, Lemonade, came lots of insights into the couple's troubles. In "Hold Up," she talked about discovering Jay's infidelity.
"I smell your secret and I'm not too perfect / To ever feel this worthless / How did it come down to this? / Going through your call list / I don't wanna lose my pride, but I'mma f**k me up a b**ch / Know that I kept it sexy and know I kept it fun / There's something that I'm missing, maybe my head for one."
2016: "Don't Hurt Yourself"
Lemonade brought other relationship secrets too—like how Bey had considered moving on.
"Who the f**k do you think I is? / You ain't married to no average b**ch, boy / You can watch my fat a** twist boy / As I bounce to the next d**k, boy / And keep your money, I got my own / Get a bigger smile on my face, being alone."
2016: "Sorry"
The most notorious reveal on Lemonade probably came in "Sorry," when Bey introduced the world to "Becky with the good hair."
"He only want me when I'm not there / He better call Becky with the good hair."
2016: "All Night"
In "All Night," Beyoncé hinted that reconciliation was possible, in spite of everything she and Jay had been through.
"Oh nothing real can be threatened / True love breathes salvation back into me / With every tear came redemption / And my torturer became a remedy."
2017: "Family Feud"
After all of the bombshells Bey dropped in Lemonade, we should have expected some kind of response on Jay's next album—and he did. On the 4:44 track, "Family Feud," he owned up to and apologized for his infidelity, complete with a Becky reference of his own.
"Yeah, I'll fuck up a good thing if you let me / Let me alone, Becky."
Follow Marie Claire on Facebook for the latest celeb news, beauty tips, fascinating reads, livestream video, and more.
Celebrity news, beauty, fashion advice, and fascinating features, delivered straight to your inbox!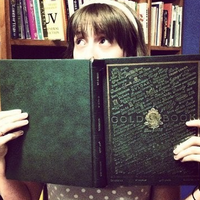 Kayleigh Roberts is a freelance writer and editor with more than 10 years of professional experience. Her byline has appeared in Marie Claire, Cosmopolitan, ELLE, Harper's Bazaar, The Atlantic, Allure, Entertainment Weekly, MTV, Bustle, Refinery29, Girls' Life Magazine, Just Jared, and Tiger Beat, among other publications. She's a graduate of the Medill School of Journalism at Northwestern University.