And the Oscar for Best Wine Goes To...
With GrapeFriend's suggestions, choose your Oscar night wine based on your favorite Best Picture nominee.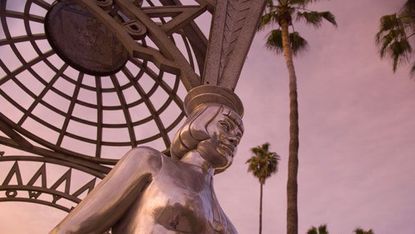 (Image credit: Getty Images)
Oscar parties: We're mostly there to gossip about what everyone's wearing and tear up the winners' speeches, but there's food too and — even better — drinks! If you're hosting or heading to an Oscar soirée, grapefriend (opens in new tab) suggests pouring a wine based on your favorite Best Picture nominee.
The Artist: In black and white, silent films, people always seem to be drinking bubbly. I don't blame the filmmakers — a glass does look better with bubbles in it, in any shade. Why not kick off Oscar night with some sparkle?
Indie film budget: Prosecco's gives the perfect for a celebratory feel without shilling out major Champagne coin. Caposaldo Prosecco, $13, is light, a little green apply — let the games begin.
Blockbuster budget: Mumm Napa 2003 DVX, $55, is almond-y and honeyed. It's made from 50 percent Pinot Noir (a "black" grape) and 50 percent Chardonnay (a "white" grape) — perfect for this black and white movie! It also deserves some cute points for the little champagne glass hanging off the neck.
The Descendants: This one's kind of a tortured story — a guy has to take over as the main parent to his two distant kids after his wife has a boating accident, and then he finds out that she was cheating on him. Upsides are that the film is set in Hawaii, and Clooney looks amazing as always. But, the wine pairing only came to me when I realized that its director, Alexander Payne, also did Sideways. So, you could totally honor that movie's favorite grape variety, Pinot Noir.
Indie film budget: I'm obsessed with Pinot Noir from Oregon, especially the yummy Cloudline, $17, with its ripe dark cherries.
Blockbuster budget: But, to keep it more California (where Sideways was shot), go for Sanford Pinot Noir Santa Rita Hills 2009 or Sea Smoke Southing Pinot Noir, $52, both of which were featured in the movie. One scene was even filmed at Sanford Winery's tasting room, when Miles teaches Jack the nuances of tasting wine. Maybe in the sequel, they can bring Clooney along.
Hugo: Between the orphan Hugo secretly living in a Parisian train station and Méliès' fantasy movies, you need something French magical to drink.
Indie film budget: M. Chapoutier Luberon La Ciboise 2009 (Rouge), $16, is a Grenache/Syrah blend that's produced biodynamically, meaning that the farming's attuned to the spiritual forces of the cosmos, phases of the moon, or positions of the planets — all very mystical-magical.
Blockbuster budget: I love the name Les Enfants Terribles for a wine and it's perfect for this movie — Hugo's well-meaning, but he does mischievously steal croissants and mechanical parts. Try the spicy 2010 Dashe Cellars Les Enfants Terribles Grenache, $24. Or if you loved Dante Ferretti's amazing train station set, go for the 2009 Lasseter Chemin de Fer ("railroad"), $40. It's a Grenache, Syrah, Mourvèdre blend made by John Lasseter, who has also made some magical movies like Toy Story and Cars.
Midnight in Paris: As Gil time travels between the past and the present, he learns that Hemingway and Fitzgerald make better party companions than his fiancée. But at least she takes him to a wine tasting, where they drink lots of amazing Bordeaux. In honor of that, pour a wine made from Bordeaux's main grapes.
Indie film budget: The super smooth Folie Deux 2010 Sonoma County Merlot, $17, has great black cherry flavors.
Blockbuster budget: For a more typical Bordeaux blend, try the dark cherry and cocoa Franciscan Estate 2007 Magnificat Napa Valley, $50, which is Cabernet Sauvignon, Merlot, Petit Verdot and Malbec.
Moneyball: Brad Pitt tries to stage a massive comeback for his Oakland A's team, just like many grapes go in and out of popularity. I'd pair this plot with one of the grapes that is also enjoying a big resurgence.
Indie film budget: Thanks to a bunch of artists rapping about it, sales of sweet Moscato have recently skyrocketed. Many are too sweet for my taste, but the one from Lange Twins, $13, is lovely and refreshing. Lots of cantaloupe and the classic Moscat orange blossom taste.
Blockbuster budget: Keeping in line with the M's of Moneyball and Moscato, another comeback wine has been Malbec. This grape used to be popular in Bordeaux, but is now giving Argentina some major wine shine. Try the dense Catena Malbec, $24, from Mendoza.
Tree of Life: Brad Pitt gets all contemplative about the meaning of life, switching between the present with his kids and memories of his overbearing dad.
Indie film budget: Keep up the tree theme with the earthy Dreaming Tree Cabernet $15, which is from Dave Matthews' new wine line from California. (His other winery Blenheim is in Virginia).
Blockbuster budget: As a tribute to family tradition, try the yummy Krug Family Reserve Generations $50, which is mostly Cab with a little Merlot and Cab Franc to balance it out.
Extremely Loud and Incredibly Close: After his father's death, an 11-year-old boy finds a key of dad's and goes on a huge journey to determine what the lock it opens. In that spirit, go on a little wine discovery of your own, and try something you've never had before.

Indie film budget: How much more of a discovery wine can you find with a sparkler made from Chinebuli, Mtsvane, and Tsitska grapes? They're all native to the country of Georgia, which has been making wine for 5000 years. The sparkling Bagrationi 1882 Classic Brut, $14, has a taste best described as country white bread and limes.

Blockbuster budget: Fort Ross Vineyard Pinotage. Pinotage is a South African hybrid grape, rare to find in the U.S. But, the owners of Fort Ross are from South Africa, and planted Pinotage in their Sonoma Coast vineyard. The wine has a great leathery aroma, and tastes like black tea and plums.
War Horse: The horse, Joey, starts out in the cavalry in World War I but then gets into the combat, so go for a Petite Sirah which is a bold, workhorse grape.
Indie film budget: The 2010 Oak Grove Petite Sirah, $9, has deep, inky color and great cherry, black pepper, and spice flavors.
Blockbuster budget: Quivira Vineyards 2009 Petite Sirah, Dry Creek Valley, $26, has flavors of black currants, pepper, and spice that are definitely as bold as this movie's horse.
The Help: While the maids are deciding if they want to spill their stories to Skeeter, they're serving up lots of yummy fried chicken and southern food. Rosé would be a fantastic choice — there's something about it that's perfect for fried foods. It's usually heavier than white, so it holds up to weightier food. Nonetheless, it's still cool and refreshing with all that delicious, greasy stuff.
Indie film budget: Charles & Charles, $11. I absolutely love this rosé, which is my go-to in the summer (though I do drink rosé all year-round). It tastes like a mix of watermelon and strawberry, and it's just yummy, juicy and fruity. By the way, the winery's motto is, "Yes, you can drink rosé and still be a badass." Love it!
Blockbuster budget: I haven't had that many rosé's made with Sangiovese (the Italian grape makes "rosé" turn into "rosato"), but the 2010 Silverado Rosato di Sangiovese, $25, is a great option if you like your rosé on the drier side. Also, the vineyard's called Soda Creek Ranch, which is just fun.
Honorable Mention: My Week With Marilyn wasn't nominated for Best Picture, but since Michelle Williams is up for Best Actress I figured I could get in a quick mention of this Marilyn Merlot wine, $30. 2011 marked the 25th anniversary of the wine, so the bottle is a silk-screen printed with Marilyn's picture and signature.
For more wine fun, head to grapefriend.com (opens in new tab)!