Sweatin' with the Real-Life Richard Simmons
One longtime fan gets the chance to dance it out with the legendary workout guru in all his spandex glory.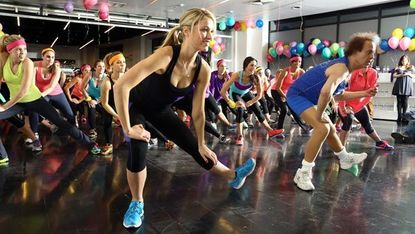 (Image credit: Marie Claire)
Marie Claire Newsletter
Celebrity news, beauty, fashion advice, and fascinating features, delivered straight to your inbox!
Thank you for signing up to Marie Claire. You will receive a verification email shortly.
There was a problem. Please refresh the page and try again.
As a kid, I remember many mornings started with me — in my neon Lycra leggings and giant tube socks that served as makeshift leg-warmers — moving our living room coffee table out of the way as my mom popped in the VHS tape of Sweatin' to the Oldies with Richard Simmons.
Looking back, dancing along to "Great Balls of Fire" and "It's My Party and I'll Cry if I Want to" with my mom in our improvised aerobics studio in front of the TV was probably my very first experience with exercise. I always, always looked forward to it. It was fun.
Fast forward to my adult years, when working out is much more stressful. Am I taking the right classes? Are my workout clothes lame? Why am I so much worse than everyone in here? Did I accidentally walk into the professionals-only Zumba room? I'd recently stopped hitting the gym altogether, but when I got an email about an "upbeat aerobics class" led by workout guru Richard Simmons, I decided to make an exception.
When I arrived at Aerospace studio last night, the gym was packed with many old friends from my (short-lived) fitness editor days. These friends — who normally won't show up to a workout unless there's a guarantee of a 1,000-calorie burn — were more starstruck by the sight of Richard Simmons playing with colorful balloons than any hot new celebrity trainer. Even a star herself, 30 Rock's Katrina Bowden, showed up, not because of some conspicuously concocted public relations ploy, but because, as she said, "this is once in a lifetime."
And it was. The 30-minute workout involved as many finger snaps and electric slides as lunges and squats. I could keep up with the "choreography" (basically whatever silly, lyric-specific moves the 64-year-old Simmons came up with on the fly), and I felt as if I was that girl in cardio hip hop class who everyone else hated for ruining the curve. Well, everyone in this class was that girl. It felt good. It was fun.
I chatted with Simmons — who was decked out in his usual tube socks, spandex biker shorts, and a matching blue bedazzled tank top by Old Navy, the retailer that outfitted the entire class in their new Active collection — about breaking a sweat in style.
Your workout gear is almost as famous as you are. Do you remember how it came to be?
I was watching the Harlem Globetrotters and loved their uniforms. I was a compulsive eater. I weighed over 200 pounds as a kid. So when I lost more than 100 pounds, I had extra skin, so I like shirts that have a curve at the hem to keep from seeing my belly, and biker shorts. It was 1988 when the outfit started.
And it hasn't gone out of fashion yet! What are your secrets to looking good while working out?
It's all about bright colors. Fuchsias, pinks, and the color of passion, purple. You have to feel good about what you're wearing. I hate seeing the dark colors — all black and gray. A lot of women ask, "Does this make me look thinner?" Um, who cares. It's all about feeling good, and that happens in bright, happy colors.
You've been sweatin' to the oldies for nearly 30 years. Who's on your playlist now?
Oh, everything from Pitbull to Rihanna to Justin Bieber to Katy Perry. I listen to 40 songs a day. Anything that lifts my spirits up. I even write my own music.
What are your tips to get someone to work out who's more than a bit unmotivated?
You have to be honest. Look at yourself and get on the scale. The scale doesn't lie when you eat too much pie! And don't complain. Whiners get big behinders! And when you work out, really go for it. Sweat 'til your underwear is wet!
Celebrity news, beauty, fashion advice, and fascinating features, delivered straight to your inbox!