Happy 15th Birthday, Sex and the City! A Look Back at Our 5 Favorite Episodes
Sex and the City's very first episode premiered on this day in 1998, and we've been memorizing, quoting, and alluding to episode-after-episode ever since. We watched — and re-watched — our five all-time favorite episodes. Which five made the c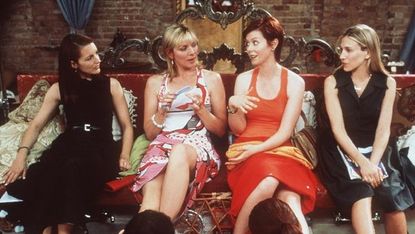 (Image credit: Marie Claire)
Marie Claire Newsletter
Celebrity news, beauty, fashion advice, and fascinating features, delivered straight to your inbox!
Thank you for signing up to Marie Claire. You will receive a verification email shortly.
There was a problem. Please refresh the page and try again.
Womankind — and a small percentage of mankind — has a lot to thank HBO for in the last 15 years. Sure, their programming has been largely unparalleled in the past decade and a half, but we're talking about Sex and the City, here. SATC's very first episode, so aptly titled "Sex and the City," premiered on this day in 1998, and we've been memorizing, quoting, and alluding to episode-after-episode ever since. In honor of SATC's legendary 94-episode history, we watched — and re-watched — our five all-time favorite episodes. Which five made the cut? Without further ado...
#1: "The Turtle and the Hare" (S1, Ep. 9)
Is there anything more divine than Stanford Blatch's old-money, Chanel suit-wearing grandmother? We definitely wouldn't mind marrying into this family, especially if it meant having Stanford as our gay-BFF.
#2: "Shortcomings" (S2, Ep. 15)
Long before Justin Theroux became Mr. Jennifer Aniston, he played Carrie's one-episode love interest as a writer with a perfect family — and a premature excitement problem. And when I say the perfect family, I really do mean the perfect family. Their intelligent, witty dialogue over an extravagant lox-spread brunch — at their extravagant brownstone home — just doesn't tire.
#3: "Just Say Yes" (S4, Ep. 12)
I first saw this episode when it aired live the summer before I turned 13. Since then, I have yet to come across a pop culture proposal as innately authentic and swoon-worthy as Aidan's. I'm not sure whether it was the music that accompanied the proposal — a soundtrack used in that episode, and that episode alone — or the simple, romantic spontaneity of it all. Each time I re-watch "Just Say Yes," a part of me harbors a smidgen of hope that Carrie won't do what she does three episodes later.
#4: "Anchors Away" (S5, Ep. 1)
"Anchors Away" was the first episode to be filmed after the events of Sept. 11, 2001, and serves as a subtle homage to the city that made SATC what it was. This Season 5 premiere was chock-full of classic, patriotic tunes at the annual Fleet Week party, like "Feelin' Alright" by Joe Cocker and "Try A Little Tenderness" by Otis Redding. It gets me up and grooving every time.
#5: "One" (S6, Ep. 12)
Miranda has been my least favorite character on the show for 15 years (for no explicable reason), but this episode is one of my favorites because of her. For six seasons, Steve served as a breath of fresh air amongst a constant rotation of shady, indecent male characters, but the adorable bartender stuck around. There was never any question how perfectly imperfect Steve and Miranda were for each other, and their series-long game of cat-and-mouse was tolerable to watch because we genuinely rooted for his earnest dedication.
Which episodes would you have added? Tell us in the comments!
Celebrity news, beauty, fashion advice, and fascinating features, delivered straight to your inbox!