47 Really and Truly Adorable Celebrity PDA Moments
You guys!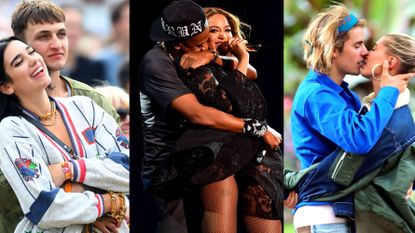 (Image credit: Getty Images)
Marie Claire Newsletter
Celebrity news, beauty, fashion advice, and fascinating features, delivered straight to your inbox!
Thank you for signing up to Marie Claire. You will receive a verification email shortly.
There was a problem. Please refresh the page and try again.
No offense to the normal people, but if we have to be subjected to PDA, it better be at the hands (or lips) of at least one A-lister, preferably two. No one really wants to see you swapping saliva on public transportation, okay? But PDA in Tinseltown isn't new, and it's been going on for as long as we can remember. As to why it's the only form we can stand, well, that question remains unanswered. Some celebrity couples here are repeated offenders, but we don't mind
So if you're feeling lonely or just want to be reminded how cute John Legend and Chrissy Teigan are, or are looking to reflect on what was once Chris Pratt and Anna Farris at a movie premiere together, let this be your guide. Take it from these snaps—you can't help but swoon over the most adorable pecks, loving embraces, and innocent hand-holding from these celeb couples. Here are 47 times we didn't find ourselves cringing as celebrities fully participated in PDA.
1/47
Blake Shelton and Gwen Stefani
The Voice judges shared a private joke together at a pre-Grammys Gala in Beverly Hills in 2016.
2/47
Michael Douglas and Catherine Zeta-Jones
At the Hollywood Walk of Fame ceremony for Douglas, he shared a smooch with his wife of 20 years, Zeta-Jones. Cute!
3/47
Beyoncé and Jay-Z
During her 'On the Run Tour' in her hometown of Houston, Bey's husband and collaborator, Jay-Z got cozy on stage.
4/47
Dua Lipa and Anwar Hadid
The couple with blessed genetics (I mean, have you seen Anwar's sisters!?) swayed at a concert in Hyde Park in London in July 2019.
5/47
Barbara Palvin and Dylan Sprouse
The Disney Channel star and Victoria Secret Angel showed some red carpet PDA at a 2018 event in New York City.
6/47
Ashley Graham and Justin Ervin
Spotted out on date night in a dress I would move mountains for, Graham and her husband of 10 years, Ervin, shared a sidewalk-kiss before heading to dinner.
7/47
Camila Cabello and Shawn Mendes
We all could feel the tension in their music video for their song Señorita, so naturally they had to bring the heat to the stage at the 2019 MTV Video Music Awards.
8/47
Jennifer Lopez and Alex Rodriguez
I am still saying "Awww" years later at this 2018 photo of the both of them at the Met Gala, and I don't see when I will stop.
9/47
Scarlett Johansson and Colin Jost
The Marriage Story actress and Saturday Night Live cast member locked lips at the 77th Golden Globes.
10/47
Cardi B and Offset
This list could be filled with photos of this couple, but one of our favorites has to be this one. I mean a leg-grabbing kiss? Someone try to top this!
11/47
Priranka Chopra and Nick Jonas
I would like this photo of the two of them at the 2019 Vanity Fair Oscars' afterparty tapped on my fridge asap.
12/47
Justin Bieber and Hailey Baldwin
We have a park on a cool autumn day and you expect the people not to kiss? Wrong!
13/47
Lisa Bonet and Jason Momoa
At the premiere of Aquaman the two lovebirds shared a kiss and it made me love them even more.
14/47
15/47
Nicole Kidman and Elle Fanning
Even though their characters competed for the affections of Colin Farrell's wounded soldier in The Beguiled, there was nothing but love between the costars on the red carpet.
16/47
17/47
Gisele Bündchen and Tom Brady
They probably didn't play "Crazy in Love" at the Met Gala, but you know everybody was thinking it.
18/47
19/47
Amy Adams and Darren Le Gallo
She was SNUBBED at the 2017 Oscars, but they don't seem to mind here.
20/47
Nicole Kidman and Keith Urban
I...feel like we shouldn't be seeing this.
21/47
Jessica Biel and Justin Timberlake
This happened *during* his performance at the Oscars. Meanwhile, some of us can't even get a text back.
22/47
Heidi Klum and Naomi Campbell
Friends 👏 should 👏 show 👏 affection 👏 without 👏 fear 👏 of 👏 having 👏 their 👏 sexuality 👏 questioned 👏 especially 👏 boys 👏 amen.
23/47
Sofia Vergara and Joe Manganiello
We didn't get invited to the wedding either, but it's chill.
24/47
Kylie Jenner and Tyga
They're no longer together, but this pic!
25/47
Sophie Gregoire and Justin Trudeau
26/47
27/47
Zayn Malik and Gigi Hadid
The couple that does the fashion cyborg look together, stays together. Also, that face touch awwwww.
28/47
John Legend and Chrissy Teigen
WE GET IT.
29/47
Emily Blunt and John Krasinski
The epitome of #relationshipgoals, we were beside ourselves when Blunt sat on her hubby's lap during the Critics' Choice Awards.
30/47
Kate Middleton and Prince William
At London's Velodrome during the 2012 Olympics, the royal couple celebrated the British team's gold medal victory in each other's arms.
31/47
George and Amal Clooney
At the premiere of Tomorrowland, Clooney was a perfect gentleman/trophy husband as he kissed his wife's hand.
32/47
Matthew Broderick and Sarah Jessica Parker
As happily married as ever, Parker gives her husband a sweet kiss on the cheek.
33/47
Chrissy Teigen and John Legend
Perpetually blissful, it's no surprise the couple likes to cozy up courtside.
34/47
Joshua Jackson and Diane Kruger
35/47
Kanye West and Kim Kardashian
West makes no secret of his enthusiasm for his wife's curves—especially not at the Grammy Awards.
36/47
Beyoncé and Jay Z
Before accepting the Michael Jackson Video Vanguard Award at the 2014 MTV Video Music Awards, Beyoncé planted one on Jay-Z who held a clapping Blue Ivy in his arms.
37/47
Jessica Simpson and Eric Johnson
Johnson can't help but swoon over Simpson in her slinky gold gown.
38/47
David and Victoria Beckham
Captured by the KissCam at an LA Lakers basketball game, the pair shared a giggle as they puckered up.
39/47
Neil Patrick Harris and David Burtka
The stylish couple shares a peck at an event in NYC.
40/47
Alec and Hilaria Baldwin
At Cannes Film Festival, Baldwin literally sweeps his wife off her feet.
41/47
Portia Del Rossi and Ellen Degeneres
After finding out that DeGeneres won the Outstanding Talk Show award at the 2008 Daytime Emmy Awards, the couple celebrates with a passionate kiss.
42/47
Drew Barrymore and Will Kopelman
They've been married since 2012, but the two still act like newlyweds when they hit the town.
43/47
Nicole Kidman and Keith Urban
Head over heels for one another, Urban whipped out a hand kiss during the 2013 Cannes Film Festival.
44/47
Elsa Pataky and Chris Hemsworth
The two lovebirds couldn't keep their hands off of each other at the premiere of Rush.
45/47
Behati Prinsloo and Adam Levine
The downtown-cool pair shares a playful embrace that really says, "my pockets are your pockets."
46/47
Dax Shepard and Kristen Bell
Shepard and Bell casually manage to make the usually cheesy prom pose look like the cutest thing ever.
47/47
Ryan Reynolds and Blake Lively
During Cannes Film Festival, all eyes were on this genetically blessed couple as they remained attached at the hip.
Celebrity news, beauty, fashion advice, and fascinating features, delivered straight to your inbox!
I'm the Digital Visuals Editor for Marie Claire and I help pick the most interesting, relevant and prettiest photos for our site.