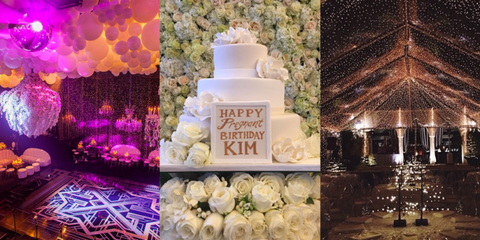 Even the haters have to admit it: the Kardashian-Jenners know how to throw a party. From on-the-fly nuptials to North West's 1st birthday, a celebration of epic proportions is always in order. And thanks to Instagram and the paparazzi, we get to live vicariously through all the Kardashian fêtes. So let's rank them, shall we?
1. Kim and Kanye's Wedding
After a pre-wedding party at Versailles, the pair headed to Florence, Italy for the nuptials at the Forte di Belvedere. Andrea Bocelli sang "Con te Partitó" as they walked down the aisle and floral arrangements alone cost $100,000. Need we say more?
The couple in a carriage at Versailles.
Oh, and Lana Del Rey performed at their wedding reception. NBD.
2. Kim and Kris Humphries' Wedding
Kardashian's wedding to Kris Humphries was so over-the-top it cost an eye-watering $10 million (the flowers alone cost $2 million), but she didn't pay a cent of it thanks to some lucrative deals, like a $2.5 million one with People Magazine and an estimated $12 million to $15 million for the special that aired on E!.
Eat your heart out, Jay Gatsby! For the Kardashian-Jenner matriarch's 60th birthday, the girls planned a Roaring Twenties-inspired bash complete with decadent art deco decor and live performances from Kanye West, Charlie Wilson, El DeBarge, and David Foster.
All the famous partygoers.
The Kardashian-Jenner girls giving their mom a toast.
4. Khloé and Lamar's Wedding
After only knowing each other for a month, the pair got married at a private residence in Beverly Hills underneath arches of white roses. The reception was black tie, but nightclub themed complete with a 10-piece orchestra. Kris Jenner had only a week to plan the wedding, but pulled it off flawlessly, natch.
Lamar with the bridal party.
At Kylie's 18th birthday party at Bootsy Bellows nightclub, her boyfriend Tyga ever-so-casually gifted her a $320,000 Rolls Royce. Not too shabby, considering she also had Fetty Wap and Post Malone perform at the bash.
Before the party, Kylie and the crew dined at Italian mafia themed restaurant The Nice Guy in West Hollywood.
Kris Jenner is famous for her annual Christmas Eve party, and in 2015 she really outdid herself. The theme was 'Candy Cane Lane' and the scene was so festive it could've put the North Pole to shame. How many Christmas trees does one house need, after all? Kris has three in her foyer alone.
Ever inch was *fully* decked out.
Evergreen wreaths and palm trees? It is California...
There were even live reindeer! (Santa was there, too.)
The gang's all here and glitzed to the max. Other famous guests included Drake and Jennifer Lopez.
For West's 38th birthday, Kim threw him a surprise birthday party, renting out the Staples Center so that her hubby could play ball with NBA superstars like Russell Westbrook, as well as Justin Bieber, Tyga, 2 Chainz, and James Harden.
8. Kanye and Kim's Engagement
To ask Kim to be his wife, Kanye rented out the San Francisco Giant's stadium and had a 50-piece orchestra play her favorite Lana Del Rey song as "PLEEEASE MARRY MEEE!!!" flashed on the jumbotron. Needless to say, she said yes.
Kim showing off her ring.
West threw Kim a surprise birthday at the Westlake Cinepolis Theater in California, giving her and closed ones a private viewing of Steve Jobs. What's more is that he had all of her friends and family dress up in their favorite "pregnant Kim" looks, baby bumps et al.
Kim looks genuinely surprised, which must've been hard to pull off.
Naturally, West had to bring in white, flower-covered walls.
The Kardashians love Christmas, so naturally Kris had to throw one of her out-of-this-world holiday parties complete with a tent decked in fairy lights, Belevedere vodka bottles in spades, Santa Claus, and chic fashion.
Kendall and Kylie cuddle up to Santa.
Kendall getting down on the dance floor.
The fam threw Kylie a large-scale sweet 16 at the AT&T Center in downtown L.A. and she has the ULTIMATE surprise present: a performance from Drake, which had the entire party getting decidedly turnt.
For Nori's first birthday, her parents threw their own Coachella for kids. Kidchella came complete with a ferris wheel, multiple stages, bouncy house, tie-dye wristbands, face-painting, and many a famous face.
The view from the ferris wheel.
Kendall and her new Range Rover.
14. Penelope and North's Mermaid Party
It would be hard to top North's epic Kidchella party from birthday #1, but her joint bash with cousin Penelope definitely came close. The soirée was mermaid princess themed and had everything you could need to create that 'under the sea' vibe. And Kim got to break out her mermaid costume from several Halloweens ago.
Is this not every little girl's (and our) fantasy birthday party?
It helps when your backyard is basically an oasis already.
Oh, don't mind the mermaids swimming in the pool.
The best use of balloons in party decor ever?
What more could you want when you're *several* months pregnant than to stay in your pajamas and have a massive slumber party? Kim's baby shower while pregnant with Saint was Troop Beverly Hills themed, complete with canvas tents and matching pastel PJs all around. It was glamping at its finest.
Guests were treated to the finest of desserts.
North had her own toddler-sized tent, and seemed to be totally digging it.
More treats and snacks, because we are celebrating a pregnancy here, after all.
Just a casual afternoon with the Kardashian-Jenner sisters.
16. Kourtney's Baby Shower
The family threw Kourtney Kardashian a surprise baby shower inspired by her favorite movie, Breakfast at Tiffany's. From the sumptuous floral arrangements to the Robin egg blue boxes adorning the tables, it was an elegant, Holly Golightly-worthy affair.
The girls enjoying brunch.
Kourtney even had her own diamond tiara.
At their annual Christmas Eve party, the Kardashians were both naughty and nice amidst the dreamy mega-sized tent, North-Pole-worthy Christmas decorations, and cheeky photo booth.
The entryway of the Kardashian-Jenner homebase.
Pretty accurate for these two, no?