Live Blog: Project Runway, Episode 2
Get up-to-the-minute recaps of what's happening on the latest episode of Season 8!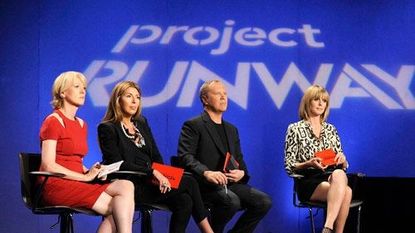 (Image credit: Barbara Nitke/Lifetime Television)
One down, 16 more designers to go! In tonight's episode of the hit show, Project Runway, our very own Joanna Coles — the editor-in-chief of Marie Claire, the fashion book that will open up its pages to the winning designer when all's said and done — makes an appearance. Last season, the Marie Claire challenge involved Heidi Klum on the mag's cover. So what will this ep bring? Follow along with our live blog right here as we find out what's in store for the designers.
PLUS: Follow us on Twitter at @marieclaire as we live-tweet each episode!
(Tune in to Project Runway on Lifetime at 9 p.m. EST every Thursday.)
9:01 p.m. And we're off! With McKell the first to go, who's next?
9:05 p.m. Joanna Coles introduces the first challenge. They'll need to design a look that tells the audience in "a single, brief glance who the Marie Claire woman is" — a confident, sexy, fashion-forward yet practical chick. What will the winner get? Their look featured in a billboard campaign in New York's Times Square! 40 feet tall!
9:11 p.m. After heading over to Mood, the designers get to work. Peach is already nervous about her polka dot fabric. Valerie talks up a storm. A.J. refuses to help Casanova create his silhouette, who says he "doesn't take in personal." Draaama.
9:15 p.m. Gretchen draws battle lines, deciding that Valerie is her top competitor.
9:17 p.m. Jason tries to explain his figure-eight/infinity/season-8 dress concept to Tim. Tim is concerned.
9:23 p.m. Tim announces a "new element" to the already high-pressure challenge. They'll each have a photo shoot with the Marie Claire photographer. Sounds fun, but some of the designers seem extra-stressed about it. Who doesn't love getting their picture taken?!
9:29 p.m. Peach begins working on, like, Dress No. 3.
9:31 p.m. How do the lady designers get along so well when on every other reality show they are at each other's throats in the first five minutes of camera time?
9:33 p.m. Mondo breaks down and says he's lonely, hasn't found anyone he connects with, and has "never been loved for who I am." No, Mondo! We wuv you!
9:40 p.m. The designers prep for the Marie Claire photo shoot. "Editorial, everyone," Tim says. We hope they know what that means...
9:42 p.m. Michael Costello calls Jason "creepy." Yikes.
9:47 p.m. Marie Claire senior fashion editor Zanna Roberts Rassi and photographer Mark Liebowitz go to town with the models. Lots of jumping for the camera. Lots of criticism over Jason's safety pin, um, embellishments.
9:52 p.m. Nina and Heidi give some intense stares during the runway show. Michael Drummond is officially freaked.
10:05 p.m. Heidi doesn't approve of Peach's "ladies at lunch" look. Joanna says it looks like there's "an animal climbing down the back." Don't think that's a compliment. Valerie's bright red number, however, gets all the judge's approval. (And Joanna nearly matches her!)
10:12 p.m. Mondo shares his creative inspiration: Mary Tyler Moore! The judges love it, and Joanna admits it's the first time she and Nina (Marie Claire's fashion director, of course) have ever agreed.
10:22 p.m. Gretchen wins again! The second week in a row, the designer takes home the prize — a billboard in Times Square! Her reaction? "I feel really prideful!"
10:25 p.m. Nicholas, Peach and Jason arere in the bottom three. And it isn't much surprise to anyone that Jason's out. What is surprising is that he leaves before saying by to Tim! Why would you do that?!
10:27 p.m. Woah! Two casualties tonight! Nicholas doesn't make the cut, either.
10:30 p.m. Gretchen hits up the official photo shoot for the billboard, and guess who's wearing her sexy navy jumpsuit? Model Coco Rocha! Not too shabby whatsoever.
Tell Marie Claire: What do you think of the ep so far? Share your thoughts in the Comments section below!
Previous Recaps:
For More: