Live Blog: Project Runway, Episode 3
Get up-to-the-minute recaps of what's happening on the third episode of Season 8!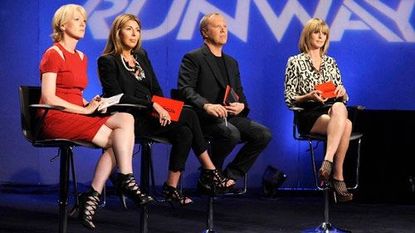 (Image credit: Barbara Nitke/Lifetime Television)
What will this ep bring? Follow along with our live blog right here as we find out what's in store for the designers. See you tonight ...
PLUS: Follow us on Twitter at @marieclaire as we live-tweet each episode!
(Tune in to Project Runway on Lifetime at 9 p.m. EST every Thursday, starting July 29.)
9:00 p.m. Hey PR junkies! Everyone ready for another 90 minutes of workroom drama? Get in your Tim Gunn pjs and settle in with a glass of wine—it's magic time.
9:01 p.m. Let's recap shall we? Last week Creepy Bowler Hat (Jason) and over-enthusiastic Nicholas went home while Gretchen reigned supreme for the second challenge in a row.
9:02 p.m. Gretchen's naivety about the other contestants feelings towards her may be her downfall.
9:04 p.m. Tim! Mr. Gunn introduces an unconventional challenge: $100 to go to town at Party Glitters and create an outfit using party supplies. I'm already picturing a dress created entirely from cocktail toothpicks.
9:06 p.m. AJ, or Sobby McSobberson, is claiming this is his challenge. His audition tape backs that up as he's shown holding up what must have been Gaga's prom dress--pink, tulle, and numerous birds hot glued to it.
9:07 p.m. I'm just going to say it, I understand every third word Cassanova says. Also, his name is Cassanova--discuss.
9:22 p.m. Gretchen "I am a force to be reckoned with" Jones may find she won't have any friends to eat lunch (chicken nuggets, anyone?) with if she can't keep her opinions to herself. That said, she still might be my Girl Crush. And Michael C.'s snarky commentary is priceless.
9:26 p.m. Tim's in the workroom with a pocket full of Gunnisms. Uh oh, AJ's always backtracking about his abilities. Valerie--so close last week, girl!—seems to be right on track, while Kristin gives Tim a giggle fit with her kooshball disaster. Only Rosie O'Donnell would be interested in that mess.
9:32 p.m. Ooh--Tim told CutieCollins he got chills from his sparkly skirt. Actually, everyone so far has had a big thumbs up from the Silver Savior—except Cassanova, who has committed PR's mortal sin #1, ignoring Tim's advice. We smell trouble. And a surprise twist.
9:42 p.m. The twist is in—create an accessory from the party materials provided. Moans all around. Loving the loopy look of the workroom this week—tons of color, frills and more. Have I mentioned my love of Mondo? He's like the nerdy kid in science class you have one wacky conversation with and then wonder why the hell you haven't been talking to him all year.
9:48 p.m. Andy's dress looks badass—but he's never gonna finish.
9:52 p.m. It's runway time! Will balloon gloves sweep the streets this fall? Let's see what the judges have to say.
9:55 p.m. Betsey Johnson is the guest judge! Let's hope she does her trademark cartwheel!
9:56 p.m. Michael D. thinks he nailed Alice in Wonderland-more like a Flower Petal Doll from the 80s. Kristen Stewart would kill to wear Andy's spiked number. Hello Kitty threw up on AJ's frock. I do see some Carolina Herrera in his scarlet number. Girl Crush did well—but I might lose the boots. Mondo's sculpted pink top is adorably superhero worthy. Oh Kristen, we made that mess for our Barbie out of an old hula skirt when we were 12 (and it was just as well constructed). April, aka Topknot, has a dress that rivals Andy's on the Scale of Fierceness. And Valerie has another top contender with her colorblocked number.
10:15 p.m. Valerie's napkin number earns high marks for its modern cut. As if Betsey wasn't already awesome enough, she suggested using the skirt at a party to wipe her mouth after too many snacks. LOVE her. Meanwhile MKors thinks Rihanna would be all over Andy's frock—but Betsey thinks it's missing the funk.
10:17 p.m. "Transvestite flamenco dancer going to a funeral" is a quote from a critique. And why this show rocks.
10:22 p.m. What does everyone else think about watching the contestants bicker backstage this season?
10:26 p.m. Valerie—so close again! But Andy wins for his edgy, one shouldered number, and bounces back to the workroom.
10:28 p.m. What?! Cassanova's in and Sarah's out?! This is why you have to watch to the very end, folks!
10:29 p.m. Sarah seemed like a grounded, even-tempered chick--maybe one reason she didn't last long. Gunn gives his goodbye, and--wait, what's this? An ambulance?
10:30 p.m. Ivy's passed out in the hallway and on her way to the hospital. The last shot is the ambulance going down the road. Will Ivy be back? With no chance of her in next week's teaser, what does it all mean?

Tell Marie Claire: What do you think of the ep so far? Share your thoughts in the Comments section below!

Previous Recaps:
For More: