Catching up With Project Runway Winner Gretchen Jones
Catching up With Project Runway Winner Gretchen Jones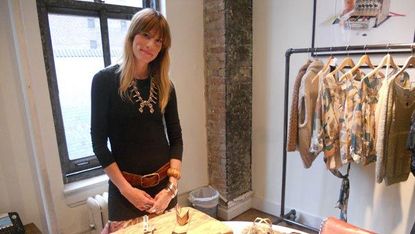 (Image credit: Elana Fishman)
"My girl is an urban bohemian," explains the statuesque redhead herself as we sit down in front of two antiqued wooden trunks, a makeshift display podium for some of the coolest baubles and bangles I've seen recently. "She dances in between the lines of street and elevated day looks…nonchalant, yet pulled-together." It's a rainy Thursday afternoon, and less than a week after her first-ever trunk show, Gretchen's invited me down to lower Fifth Avenue for a private peek at her jewelry collection.
Full disclosure: while Jones' printed silk jumpsuits, slouchy knits, and earthy color palettes certainly made an impact during her stint on the Lifetime series (and clearly won the approval of the show's judging panel), it was her handmade accessories that had really caught this editor's eye from the get-go.
To my delight, the hammered-silver chevron bracelets and breastplate-style necklaces seen on the series are out in full force today, along with some beautiful new pyrite pendants and a pair of dramatic drop earrings fashioned from porcupine quills. "These I may have to introduce gradually and revisit later," she laughs. "Not sure if people are going to get them, you know?" As Jones proved onscreen late last year, sometimes controversy paves the way for cool.
Project Runway may have served as Jones' launching pad, but from the instant you strike up a conversation with the Colorado-raised designer, it's clear that her several-month stint on television already feels like a distant relic of the past. "At the end of the day," she admits, "I went on the show to gain as much advice as much as I could from Michael Kors, from Nina Garcia. I was hoping to learn what I was lacking as a designer, and to get feedback from people who've been in the industry for years."
From the looks of the pieces on display today, it's clear she's taken much of what she's learned to heart. The asymmetrical arrow-print maxiskirt and navy cape coat hanging from a nearby rack are completely wearable, bohemian in tone without looking the least bit costumey. Jones names Lauren Hutton and Jane Birkin as two of her personal style heroes (she's obsessed with 70s-era femininity), but as for the girls she'd most like to see rocking her designs today? "Alexa Chung, I think, has made women want to actually look pretty again," she notes with a smile. "And Chloe Sevigny has mastered the art of dressing with reckless abandon." On the designer's frequently updated Tumblr, fans can check out a hodgepodge of Jones' other sources of inspiration, from personal snapshots and nature photography to music videos and editorial scans. It's just one example of how the 28-year-old is in tune with today's designers' need to be digitally aware, to cultivate a brand network. But to hear the girl say it herself, "it's really just about connecting with people." It's for the same reason she favors smaller presentations over big-budget runway shows—"they enable me to be an artist, not just a designer."
She may have made a name for herself crafting teensy rompers and draped tanks that would look right at home amongst Brooklyn's haute-hipster set, but Jones is hoping that with her growing focus on accessories, she'll attract a slightly older clientele as well--always with a eye on accessibility. "At the end of the day, I just want to make clothes that women want to wear," she reasons. "I'm not trying to reinvent the wheel here!"
Celebrity news, beauty, fashion advice, and fascinating features, delivered straight to your inbox!