Project Runway Season Premiere: Our Favorite Moments
The tenth season kicks off with a record-breaking runway show and more than a few conflicting personalities.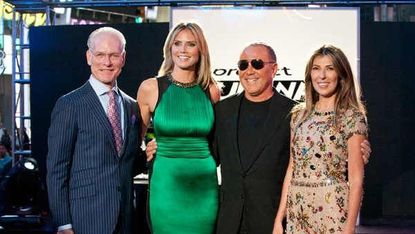 (Image credit: Marie Claire)
Summer just isn't summer without Project Runway, so we couldn't get wait to get out of the heat last night to catch up with Heidi Klum, Nina Garcia and the gang. Now in its tenth season (which, as Michael Kors likes to point out, is "more seasons than I Love Lucy"), the premiere was definitely a bit retrospective. The designer's lounge is a scrapbook to seasons past and the workroom features photos of past winners (hellloooo, Anya, Gretchen and Christian Siriano!).
But within the first few minutes of the season premiere, it was all about the 16 new designers. Here, our favorite moments from the first ep.
1. The biggest runway presentation in Project Runway history. Last season, the contestants kicked off the season with the show's very first public presentation, but this year they kicked it up a big notch. Not only was this first runway show in public, it was at the center of the universe in New York City's Times Square. Sure, not our favorite place in the world, but that's kind of a big deal.
2. The very first feud. As friendly as the contestants might try to be, there's always a few diva moments. Our favorite so far is between 22-year-old Gunnar Deatherage and 24-year-old Christopher Palu. Not only do the kinda-sorta look alike, but Gunnar admits that Christopher is "very similar to my personality." As Gunnar throws a fit in the first 10 minutes of the show, Chris exclaims, "This isn't Project Obnoxious!" Can't wait to see how this goes. (Honorable mention feud goes to Dmitry Sholokhov and Buffi Jashanmal. That's definitely going to blow up soon.)
3. Kooan Kosuke. The Japanese-born designer looks like he arrived at Parsons straight out of anime and his street fashion reminds us a bit too much of Saturday Night Live's "J-Pop America Fun Time Now!" bit. During his workroom visit, Tim Gunn never looked more confused.
4. The guest judges. Project Runway brought back the show's very first guest judge, costume designer Patricia Field, and welcomed Lauren Graham, an actress we just adore. I mean, who wouldn't listen to the advice of Lorelai Gilmore?
5. Christopher's winning dress. The judges dolled out the compliments on his floor-length, fabric-manipulated frock. Heidi called it "awesome." Michael Kors said it was "really, really well done." And, Nina, the show's toughest critic, was especially complimentary: "You took a fabric that looks … okay and you made it look remarkable. It completely changed my perspective of you immediately." A little back-handed, but we'll take it!
Project Runway airs Thursday nights on Lifetime at 9 p.m. EST.
Celebrity news, beauty, fashion advice, and fascinating features, delivered straight to your inbox!