The Flowers on Queen Elizabeth's Casket Featured Myrtle From Her Wedding
Every part of the Queen's funeral bouquet held a special meaning.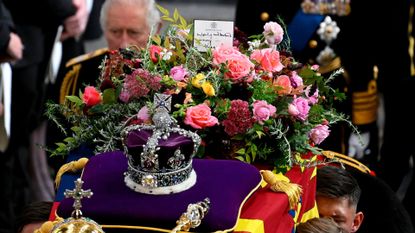 (Image credit: Gareth Cattermole/Getty Images)
The funeral bouquet atop Queen Elizabeth's casket held special meaning, thanks to King Charles III. Not only did each flower serve its own purpose, but the myrtle used in the bouquet was grown from the same myrtle the Queen carried in her wedding bouquet when she married Prince Philip in 1947.
"At The King's request, the wreath contains foliage of Rosemary, English Oak and Myrtle (cut from a plant grown from Myrtle in The Queen's wedding bouquet) and flowers, in shades of gold, pink and deep burgundy, with touches of white, cut from the gardens of Royal Residences," a tweet from Buckingham Palace read.
Each aspect of the bouquet was chosen with intention. The rosemary represents remembrance, the English oak symbolizes the strength of love, and the myrtle represents a happy marriage. Additionally, the floral arrangement contained sweet peas, a favorite of the queen's and the flower of her birth month, April, along with dahlias, roses, autumnal hydrangeas, sedum, scabious, and scented pelargoniums.
The flowers were all cut from the gardens of Buckingham Palace, Clarence House, and Highgrove House. Also at the King's request, the funeral wreath was sustainably made without the use of floral foam.
The flowers sat alongside the Imperial State Crown, the Sovereign's Sceptre, and Sovereign's Orb. The bouquet also contained a note from Charles that read, "In loving and devoted memory. Charles R."
During the queen's funeral services, the coffin was transported via gun carriage from Westminster Hall to Westminster Abbey, where it was laid in the center of the chapel.
Westminster Abbey is a significant place for the queen as it held two important ceremonies—the queen's wedding to Prince Philip in 1947 and her coronation in 1953.
Brooke Knappenberger is the Editorial Fellow at Marie Claire, where she writes across the board from fashion and beauty to books and celebrities. As a pop culture junkie, Brooke obsessively consumes and writes about the latest movie releases, streaming TV shows, and celebrity scandals. She has over three years of experience writing on fashion, beauty, and entertainment and her work has appeared on Looper, NickiSwift, The Sun US, and Vox Magazine of Columbia, Missouri. Brooke obtained her Bachelor's Degree in Journalism from the University of Missouri's School of Journalism with an emphasis on Magazine Editing and has a minor in Textile and Apparel Management.