Zendaya Just Shared a Rare Public Photo of Tom Holland on Instagram
The couple is notoriously private about their relationship.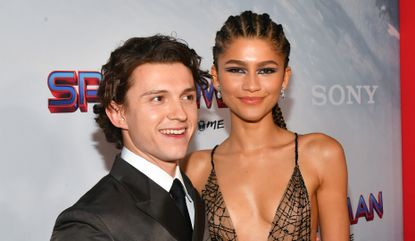 (Image credit: Getty Images)
Marie Claire Newsletter
Celebrity news, beauty, fashion advice, and fascinating features, delivered straight to your inbox!
Thank you for signing up to Marie Claire. You will receive a verification email shortly.
There was a problem. Please refresh the page and try again.
Zendaya has done the unthinkable: She shared a photo acknowledging her relationship with Tom Holland outside of a press junket.
OK, so maybe "unthinkable" is overstating it a bit. The couple, who started dating after appearing in the Spider-Man franchise together (he as the titular man spider and she as his bestie/love interest Mary Jane, a.k.a. M.J.), tends to keep their relationship out of the spotlight in a major way. You can imagine this is probably a difficult feat, since they are two of the most famous people in the world and also have to sit for hours of press junket interviews side-by-side, resulting in some delightful banter but not a public reveal of their love.
But on Friday, Zendaya shared a picture to her Instagram Stories that put off-duty Tom front-and-center. It appears to be a snap from a nonprofit event with the charities Oaklandish, which promotes public art in Oakland, The Backboard Project, which renovates public basketball courts, and the Hoopbus, a touring project which builds community through basketball. The Hoopbus even shared a video of Zendaya tossing the ball to another player who then scores:
Zendaya also decided to give the nod to Tom Holland at the event, sharing a photo that he posted on his own Instagram (without actually tagging any of his social media) to her Instagram stories:
It's a subtle shout-out to their love, but one that anyone watching will instantly recognize.
Keeping their relationship out of the public eye has been a challenge that Zendaya acknowledged as recently as last week, in an interview with Clover Hope for Elle: "I can't not be a person and live my life and love the person I love," she told the magazine. "But also, I do have control over what I choose to share. It's about protecting the peace and letting things be your own but also not being afraid to exist. You can't hide. That's not fun, either. I am navigating it more than ever now."
Though it's unclear exactly how long they've been dating, they were first cast in Spider-Man together in 2016, and denied dating rumors on the press tour following its release. In 2021, a photographer snapped them kissing in a car—a confirmation of the long-rumored relationship.
With this Instagram story, it seems like Zendaya is coming around to the idea of making their relationship more public.
Celebrity news, beauty, fashion advice, and fascinating features, delivered straight to your inbox!