10 Important Life Lessons We Learned From Clueless
Cher Horowitz's wisdom still inspires us 19 years after the film's release.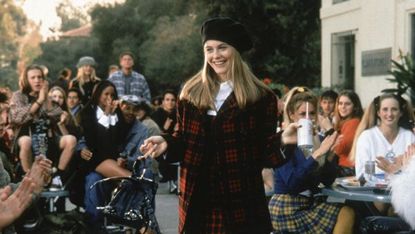 (Image credit: Archives)
1. You can always make the best of a bad situation. So your credit card got declined—now you finally have an excuse to update last season's clothes using those DIY tutorials you keep pinning. You'll have even more options for your digital fitting room (opens in new tab).
2. Words hurt. It's hard enough to take back an insult when there's pretty much a record of everything, so be kind. Plus, it's hard to forget a dig like "You're a virgin who can't drive." Way harsh, Tai. (opens in new tab)
3. Life is full of challenges. For some, that includes driving (especially if you're a New Yorker who doesn't have a driver's license). There will be a lot of issues you encounter in your life, but that doesn't mean you can't conquer them head on. It just takes a little practice.
4. You should never settle. You only deserve the best. And, you should absolutely never settle for a grabby Elton-type, no matter how cute, rich, and well-networked he is...even if you have no other way home from a party in the Valley.
5. An outfit can make or break your day. We've all had mornings where we're like, "Where's my white collarless shirt from Fred Segal? It's my most capable-looking outfit!" Looking good can make you feel good and therefore prepared to take on the world.
6. You should always consider the consequences. So maybe next time you decide to go hard at happy hour with your co-workers, keep in mind that you'll be seeing them bright and early the next morning. And, if you don't pay for your three outstanding tickets, you will get a second notice. Because the ticket was the first notice. And then your dad will say no more cruisin' around with Dionne in the Jeep.
7. If you want to wear a crazy hat, do it. Or if you want to wear a bright yellow plaid jacket and skirt, do that too. When worn with confidence, anything looks good.
8. The person you've been looking for all this time could be right in front of you. It's sappy, but it's true—and he's always liked you for who you are, because he knows the real you chilling in sweatpants on the couch.
9. Every girl needs a killer catchphrase. Think of it as personal branding (opens in new tab).
10. The most important thing in life is having people who will be there for you. Whether you're bonded because you both know what it's like to have people be jealous of you, or because she gets that breaking in your purple clogs means you had a good day, a good BFF is everything.
Bonus: If you are true to yourself, this could be you. #winning
Related:
Why Clueless is Important For Women (opens in new tab)
This is What the Cast of Clueless Looks Like Now (opens in new tab)
The 10 Clueless Quotes That Changed Your Life (opens in new tab)
Katy Perry Hopes to Star in the Clueless Musical (opens in new tab)
Photo Credit: Paramount/The Kobal Collection, GIFs via Giphy