8 Secrets to Successful Self-Promotion and Building Your Own Brand
A selfie-made millionaire isn't just a pipe dream anymore.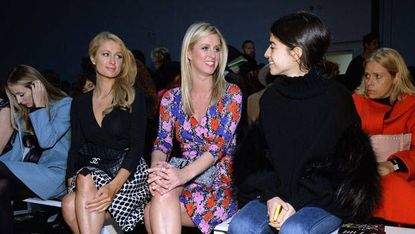 (Image credit: Larry Busacca/Getty Images)
Photo Credit: Getty Images
Whether or not you realize it, you are a brand. We all are. Branding is not reserved for just celebrities and big name products and services – we all have individual brand equity. Personal branding as a term is almost as ubiquitous as taking selfies. There is no ignoring either of them!
Essentially – the art ofpersonal branding is marketing yourself – your work, your career, your business, the same way Coca-Cola, L'Oreal, or JetBlue market themselves as products or services. Personal branding is deliberate, creative and skillful self-packaging. Especially now, personal brands emerge at rapid pace and tools to build your brand are more readily available than ever before. These channels have helped individuals launch businesses around their personal tastes and interests, so with some tricks and investment of your time you can build a brand that truly represents what you have to offer. We are our own best PR Ambassadors!
We chatted with the Marie Forleo, creator of the award-winning show Marie.TV and Founder of B-School. Here is what she had to say about creating your own inimitable and successful personal brand:
Personal Branding Is More Relevant Than Ever Before

Whether you realize it or not, you're always selling something: Your ideas, your passions, or your work. Since everybody Googles, first impressions are often made online. So whether you're a student, professional, artist, or entrepreneur - your personal brand is everything.
You get to create (and evolve) your brand by sharing what you most care about. It's a living, breathing demonstration of your passion, creativity, values, aspirations, network, and the unique perspective you offer the world. The best news is that it's 100% in your control. If you want to take charge of your success and the opportunities you're able to enjoy now and in the future, make your brand a priority.
Everyone Can Be a Brand

Realize that if you're not consciously building your own brand, you're letting the world brand you.
For example, if you're non-existent online or worse -- the only things people can find are selfies after you've had too many margaritas -- it sends a certain message to prospective employers or partners. If you're non-existent, people may infer that as you don't take initiative or that you're not legit. Are you fun and lively or just a party girl looking for a good time? In today's day and age, you need to be conscious of how you want to be perceived and ask yourself, what do you want to be known for? Celebrities like Beyoncé, Chelsea Handler, and Tina Fey all embody genuineness, accessibility, and a sense of humor; important characteristics that work together to create successful brands.
How It Works as an Entrepreneur Versus as an Employee

If you're a business owner, your brand is everything. You should be actively building your brand and engaging with customers all the time! For an employee, building your personal brand is still very important - it's a fantastic way to express your creativity, build your network, and buffer against an uncertain work environment. Though in this case, it may require less active time and a lot more caution. As an employee, take extra care to ensure you're not violating any agreements you've made under your employment contract or doing anything that could damage the reputation of the company you work with (and you!).
Don't Overlook Good Old-Fashioned Personal Connection!

When you're at a party or any in person event - are you constantly looking at your phone or are you present and engaged with the real human beings around you? With so many people addicted to their screens these days, taking a genuine interest in networking with others goes a long, long way in building personal brand equity.
Ready to consciously create your personal brand? Here are Marie's secrets to get started:
1. Get Clear. When I'm working with artists and entrepreneurs, I often tell them it's not so much about what you sell, it's about what you stand for. What do you value? What are you working on? What's inspiring you? It's equally as important to decide what types of ideas, messages, and photos you're not going to share. Since everything stays online and could be shared publicly with a simple click, remember that every update, email, tweet, and text is a building block of your personal brand. Share wisely.
2. Claim Your Domain(s). Choose the platform(s) that are best aligned with your ambitions and scoop up your name if you can. Business owners tend to be active on multiple platforms - they maintain a blog, and engage with customers on Pinterest, LinkedIn, YouTube, Facebook, Twitter, and others. If you have less time, choose one platform that suits you and stick to it.
3. Share What You Love. Think about what you'd like to be known for and what topics or ideas you most want to share with the world. If you create things, share your work and your process. Don't forget to share other people's work you admire. Look for ways to actively engage with them on their platforms as well as share their work with your own network.
4. Keep It Fresh. As you evolve and grow, make sure you update your bios, graphics and photos, and keep it consistent across platforms. Tweak anything that's outdated and ensure your messaging reflects who you are now and where you're going.
Remember – there is no one more unique and able to be you than you! Staying true to yourself and what drives you and sharing your gifts with the world is your greatest personal power. Claim it!
Related:
How to Start Your Own Business

Launch Your Own Clothing Label in 7 Steps

Meet the Woman Behind the Tibi Brand

Running the Show: Women Behind Iconic Male Brands

About Marie Forleo:

Named by Oprah as a thought leader for the next generation and by Forbes.com as one of the Top 100 Websites for Entrepreneurs, Marie's mission is to help you realize your greatest potential and use your gifts to change the world. She's the creator of the award-winning show MarieTV, founder of B-School and has been featured in Entrepreneur Magazine and Fast Company, among others. Marie's mentored young business owners at Richard Branson's Centre of Entrepreneurship. Through her Change Your Life, Change The World® initiative, each for-profit training program is tied to a for-purpose partner who supports women, the environment and entrepreneurship.www.MarieForleo.com
Celebrity news, beauty, fashion advice, and fascinating features, delivered straight to your inbox!