Why Clueless is Important For Women
It's way existential.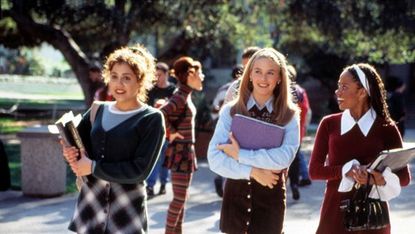 (Image credit: Cluless)
July 19, 1995 was a very important day for society: It was the official release of the movie Clueless, a reimagined portrayal of Jane Austen's 1816 novel Emma. This film, however, is far more than an eternally quotable comedic love story centered on mega-rich Beverly Hills teenagers—it's a strong and empowering look at women and their friendships with one another.
Even 19 years later, the film's feminist undertones are as clear as ever. At surface-level, Cher may appear like a ditzy and spoiled girl living in her own reality. But, in her own words, as if. Our female protagonist has good character and proves herself to be way loyal to the other people in her life.
[RELATED] 10 Important Life Lessons We Learned From Clueless
She starts out by playing matchmaker for two lonely and unahppy teachers, Mr. Hall and Miss Geist. At first it's a ploy to receive better grades, but she then gets personally invested in it and becomes a real part of their lives (she's a bridesmaid, for god's sake). Then, she takes in new girl Tai under her wing, seamlessly adding a third girl into the usual Cher-and-Dionne duo. And let's not forget how she fiercely takes charge of the Pismo Beach disaster relief effort.
Clueless' central theme of female friendship is completely critical to the point of the entire movie. Cher goes out of her way to bring in Tai into her circle of friends, including her on all the fun that is beauty regimens, workouts, and mall excursions—plus, she protectively looks out for this girl she's hardly known for a few months, even coming to her rescue when she gets hit with a flying shoe at that party in the Valley. And when Cher and Tai fight, their teary-eyed and love-filled make-up shows the strength of their bond (only true friends go down a "shame spiral" if they feel like they've been unsupportive of the other). These kind of real-life woman-to-woman friendships are still largely underrepresented in the media, but Clueless shows what other movies still don't reflect today.
Clueless also does something right when addressing its characters sexualites. When Cher, Dionne, and Tai discuss their respective levels of sexual experience—Tai has had sex, Dionne is "technically a virgin," and Cher is "saving herself for Luke Perry"—it's a totally open and honest conversation, free of judgment. No one dwells on the fact that some girls are virgins and others aren't (although the P.C. term is hymenally challenged). As Cher says, "You see how picky I am about my shoes and they only go on my feet." You go, girl.
[RELATED] This is What the Cast of Clueless Looks Like Now
Let's applaud Cher: She acts as a role model to all women when she makes it clear to the gross and handsy Elton that no means no as he tries to force himself on her in the car. And when she finds out her crush, Christian, is gay, she's basically like whatever, now I've got a great guy friend to shop with. No hard feelings here.
The women of Clueless care about their appearances, and that's perfectly fine. To value hair, makeup, and clothing isn't disempowering, but actually very third wave—they own their interests and don't feel shame for expressing that. So if Cher's "main thrill in life is a makeover because it gives her a sense of control in a world full of chaos," then good for her for knowing what makes her happy.
Clueless is certainly a celebration of unapologetic femininity. The main character takes responsibility for her actions, cares for her loved ones, and constantly goes after what she wants. Cher, Dionne, and Tai are confident women who are empowered by their personal choices and through their friendship with one another to be the best versions of themselves they can be. And we love them for it.
Related:
14 Things You Should Never Say to a Feminist
10 Signs That You're a Feminist
Leighton Meester Sounds Off On the Feminist Undertones in Of Mice and Men
Photo Credit: Paramount/Courtesy Everett Collection
Celebrity news, beauty, fashion advice, and fascinating features, delivered straight to your inbox!