Hollywood's Hottest Men Are Mashed Up To Create The Ultimate Hunk
Gosling, Clooney, and Styles, oh my!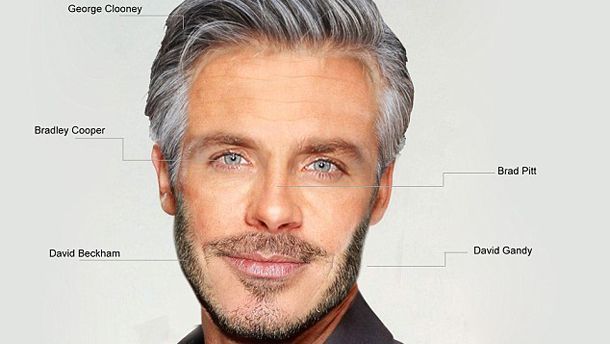 (Image credit: AOBPR)
George Clooney's hair and Brad Pitt's nose are two of the most desirable qualities, as determined by a survey.
It's an undisputable fact: Every heterosexual woman has a celebrity man crush. Chances are, she has more than one. And it's understandable why—choosing between the well-sculpted abs of stars like Zac Efron and Ryan Gosling or the smoldering icy stares of Bradley Cooper and George Clooney isn't an easy task. To make this ultimate dreamboat a bit easier to picture, one company is has mashed up the faces of some of the most lust-worthy male celebrities to create the perfect man.
The results? A little weird, but not incredibly so. There are two mashups. One is for those under the age of 30, and the other is over. The former highlights Harry Styles' messy mop, Robert Pattinson's scruff, and Fifty Shades of Grey star Jamie Dornan's nose. For the more mature set, you'll notice George Clooney's salt and pepper locks and David Beckham's beard. While we may prefer each of them in their own handsome glory, we can't deny that the mashups aren't the least attractive thing we've ever seen.
See each feature identified by its owner, below.
Related:
The Hot Guys of Game of Thrones
Images via Splash/CrownClinic.co.uk
Diana is a producer at ELLE.com. She previously wrote for MarieClaire.com. Diana is a Syracuse grad and a Chicago native, and therefore a pro at dealing with cold weather. She's also an Anglophile, which means she love all things British—especially Downton Abbey, London, and Will and Kate (and Prince George!)