Female Hosts DOMINATE Award Show Season
And we're not the least bit surprised.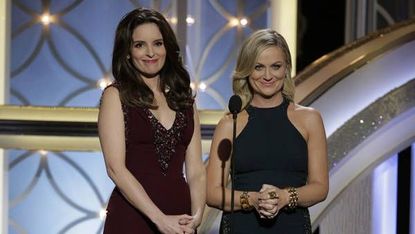 (Image credit: Getty)
Marie Claire Newsletter
Celebrity news, beauty, fashion advice, and fascinating features, delivered straight to your inbox!
Thank you for signing up to Marie Claire. You will receive a verification email shortly.
There was a problem. Please refresh the page and try again.
The 2014 award shows may just be getting underway, but the season may serve as the perfect response to the sexist stain Seth MacFarlane left on the 2013 Oscars: Months filled with predominately female hosts who have been owning the stage, raking in ratings, and turning otherwise boring shows into smashing successes.
On Sunday, best friends Tina Fey and Amy Poehler nailed their entertaining gig for a second time at the 71st Annual Golden Globes in Los Angeles, where they skewered everyone from George Clooney to Meryl Streep. In fact, their joke about Gravity being a movie about Clooney's preference of dying in space rather than spending "one more minute with a woman his own age" may go down as one of the funniest lines in Globes history. Their performance was showered with praise by fans and critics alike, making it no surprise that the night's event drew the biggest audience for the annual show in a decade with an average of 20.9 million viewers. Is it any wonder that the awards show has signed them on to emcee for a third time next year? The accolades for Fey and Poehler are especially notable, given the number of critics who took to Twitter to blast the Golden Globes for a lack of diversity in nominees and winners on this year's program.
Of course, Fey and Poehler aren't the only duo to have won audiences over this year. Just last week, Kat Dennings and Beth Behrs, the stars of the CBS comedy 2 Broke Girls won rave reviews for their performance hosting the People's Choice Awards. It was a debut for both presenters—though you'd be forgiven for thinking they were pros from the all-star cast that made an appearance in their opening sketch, which involved Dennings and Behrs reprising their sitcom characters—this time in the company of celebs like Big Bang Theory star (and former People's Choice Awards host) Kaley Cuoco, Christina Aguilera, and Heidi Klum. Later in the evening, Behrs offered her take on popular tunes both past and present (think: The Hills Are Alive, Wrecking Ball, Baby Got Back), which wowed everyone in the crowd...except for Dennings, whose sarcastic response to her admittedly peppier co-host made for the perfect balance all evening long.
But let's not get carried away reminiscing about the past. After all, the best part of this recent domination by female awards show hosts is the fact that it's not over yet. Sasha Alexander of Rizzoli & Isles fame was named this year's Social Media Ambassador for the Screen Actors Guild Awards, which takes place on Saturday. For those keeping count, that leaves the Grammy Awards, which will be hosted by LL Cool J on Jan. 26. Perhaps a female host will takeover in 2015 dependent on the laughs and ratings the rapper draws.
In a few weeks time, Ellen Degeneres will host what's arguably the most important ceremony of the batch: the Academy Awards on March 2. It'll be the comedian and television host's second time presenting (DeGeneres made her Oscars debut in 2007), and if we've learned anything about second-time hosts (hello, Tina and Amy), we're in for an epic night of laughter. And just who will be the butt of her jokes? We'll likely get a good idea on Thursday, when Oscar nominees are announced.
Celebrity news, beauty, fashion advice, and fascinating features, delivered straight to your inbox!