11 Times Pop Stars Reminded Us They Can Actually Sing
In case you had any doubts.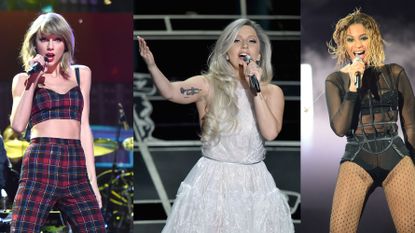 (Image credit: Archives)
Don't let the radio or iTunes-downloaded album fool you. Behind the auto-tune and song editing, recording artists are famous for a reason: They've mastered the whole do-re-mi-fa-so-la-ti-do schtick. Allow us to refresh your memory about just how beautiful and straight-up incredible these vocal powerhouses are with a microphone.
Lady Gaga's Tribute to the Sound of Music
This moment from the Oscars will live on forever. She hugged Julie Andrews, she made us cry all the happy tears, and she received a standing ovation—all well-deserved. Rewatch the magic here.
Miley Cyrus' Cover of "50 Ways to Leave Your Lover" by Paul Simon
We don't know who she's singing this to—Liam? Nick Jonas?—nor do we care. Her unfiltered rendition of the 1975 Western-beat-meets-sultry-country is sublime.
Adele's "Chasing Pavements"
The video looks like it was recorded on a phone, so you know it's authentic. Oh, Adele, where have you been—COME BACK!
Beyoncé's Super Bowl XLVII Halftime Show
Remember when the world flipped its shit because Beyoncé sang along to a recording of the national anthem during the President's 2013 inauguration? Do you also recall that she shut everyone the hell up during her concert, err, the Super Bowl? We do.
P!nk's "Perfect"
She's says what we're all thinking in the song title. Perfect.
Christina Aguilera on The Voice
This is not a plug for the NBC show. We're just saying that if you want to see raw talent—without any music playing in the background—tune in to hear her belt out songs during her coaching sessions.
Demi Lovato's "Skyscraper"
Immediate chills. You can instantly feel the emotion behind her song and it's astounding.
Taylor Swift Singing Three Songs from Her Album Red
To be honest, we've always known Taylor was a musical genius since her days sporting below-the-shoulder-length curly hair. This performance just solidified it.
Lea Michele's Cover of "Rain on My Parade"
I mean, she was hired on Glee as Rachel Berry because she can belt out the final note like a seasoned veteran. No offense Matthew Morrison, but skip ahead to 3:30 for her performance.
Ellie Goulding's "Anything Could Happen"
If we didn't know she was singing on Ryan Seacrest's radio show, we'd think this was her album version.
Carrie Underwood's "Something in the Water"
She won American Idol—a singing competition for god's sake!
You should also check out:
Watch Katy Perry, Ariana Grande, and Other Music Celebrities Read Mean Tweets About Themselves
The 11 Most Unforgettable Music Videos of 2014
Celebrity news, beauty, fashion advice, and fascinating features, delivered straight to your inbox!
When I'm not stalking future-but-never-going-to-happen husbands on Facebook, you can catch me eating at one of NYC's B-rated or below dining establishments—A-rated restaurants are for basics. Fun fact: Bloody Marys got me into eating celery on the regular. And for your safety, please do not disturb before 10 a.m. or coffee, whichever comes first.