'Jem and the Holograms' Star Audrey Peeples Spills on Her Big-Time Role and Tap Dancing Skills
"I'm always that person, tap-dancing down the aisle in the grocery store."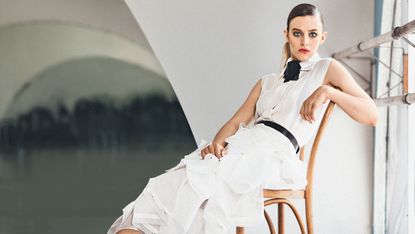 (Image credit: Shane McCauley)
Rocking the lead role in this month's Jem and the Holograms, 21-year-old Aubrey Peeples holds center stage as a tap dancer, too. Here, she talks about her new movie, making her stage debut, and throws out her dream acting part to the universe.
On learning how iconic her latest project is: "I was a '90s kid, so I missed Jem and the Holograms. But once I delved into the whole world of it, I realized it's iconic. There's incredible dancing in the movie, too."
On when she knew she wanted to be a performer: "When I was 4, my parents took me to see a musical and I was like, "I want to do that!" I started doing all sorts of musical camps and a lot of professional theater. I took dance classes for 10 years, too—I was never the most amazing kid in the other classes, but tap stuck with me for some reason."
On her stage debut: "My first role was in the George Gershwin musical Crazy for You at the Orlando Repertory Theatre when I was 11—I grew up in Florida—and I wasn't old enough to be in it, but they let me anyway. I was just this little shrimp in a leotard."
On why she loves to tap dance: "I love the rhythm of tap dancing. It's sharp and quick. Plus, the sound is very appealing."
On the secret behind tapping: "The complicated moves are mostly composed of easy steps, so you just put them all together and the next thing you know … I mean, I'm not Nigel Lythgoe [from] or anything."
On tapping's old-fashioned aesthetic appeal: "I have always wanted black-and-white wing-tip oxford tap shoes. But they stopped making them! One day, I'm determined to find a pair."
On her dream role: "I still tap whenever I can. I'm always that person, tap-dancing down the aisle in the grocery store. ENCORE! I really, really hope they bring back Heathers: The Musical—I'd love to play Veronica. Just throwing that out there, universe!"
This article appears in the October 2015 issue of Marie Claire, on newsstands now.
Follow Marie Claire on Instagram for the latest celeb news, pretty pics, funny stuff, and an insider POV.