12 New Things You Can Do With Siri That Are *Actually* Useful
There's so much more to Siri than answers about the meaning of life.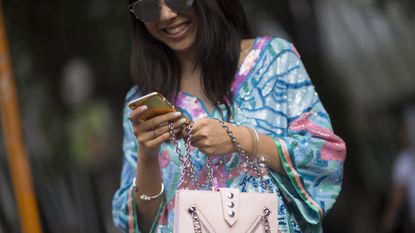 (Image credit: Archives)
With Apple's new iOS 9 and iPhone 6S comes a bevy of features to make everyone feel outdated with their current model and entice us all to upgrade. Naturally, we're obsessed with the better camera and battery life the new device and it's accompanying software offer. This time, however, we're also excited about what's new with Siri. Seriously.
This feature on Apple devices has never made it into our daily use before. Beyond silly questions about the meaning of life and how to divide 0 by 0, the limited scope of Siri's abilities included voice calling (which inevitably was misunderstood and you'd end up dialing the wrong person) or informational questions that Siri would redirect to a clunky Safari search. In other words, Siri was, for all intents and purposes, useless. But the latest incarnation of the personal assistant is different. Siri has gone to school, learned a few social skills, and stepped up her game as your indispensable handheld helper.
Not only is Siri more conversational—it will offer quick and easy answers to questions like, "Do I need an umbrella today?", "What's an 18% tip on $54?", "How do you spell 'conscientious'?", etc.—but it's more intelligent in ways that will actually make day-to-day activities easier. Here are fifteen new things you can do with Siri that will make the feature your new best friend.
1. Search for photos by date and time or location.
No more scrolling endlessly to find those photos from your friends' birthday party. Oh, and did we mention you can specify to search for selfies too?
2. Activate Siri without pressing the home button, even if your phone isn't plugged in.
With the new iPhone 6S device, you can call out to Siri without the restrictions of buttons or power cords. In other words, finding your phone in a mass of sheets and pillows is as simple as saying 'Hey Siri!'
3. Get public transit directions.
Plus, recommendations for restaurants, bars, stores and other hotspots you might want to check out nearby your destination.
4. Find out your ETA.

Good to know, even if you do still tell your friend you'll be there in 5.
5. Teach Siri to pronounce names correctly.
A skill Siri has *definitely* struggled with in the past—often to disastrous results.
6. Suggested IDs for unknown numbers.
Siri will search through your Mail and Messages to find out who that unidentified caller might be. So you can screen calls the smart way.
7. Look up the title of a song that's playing.
*So* much easier than opening Shazam.
8. Update your Facebook status or post to Twitter.
For those times when you have something to say, but you know opening the app will result in hours of procrastination.
9. Discover in-app search results directly from Spotlight.
Find flights on Kayak without ever launching the app.
10. Automated functions that anticipate your daily routine and habits.
For example, plug in your headphones and the Music app will launch with the last song you listened to.
11. Easily convert units of measurement and currencies.
Siri can help you with that faster than it takes to open Safari and Google it.
12. Get reminders to read articles, emails, messages, etc. at a different time or location.
Because we're all guilty of saying we'll respond to that email as soon as we're at work and then totally forgetting the moment we step foot in the office.
I am an experienced editor, writer, and creative strategist, specializing in fashion, beauty, and lifestyle content for digital media outlets, as well as video and social platforms. While I currently operate as a freelance contributor/consultant, with such clients as The Zoe Report, my 10+-year background in the industry was cultivated at the dot-coms of elite publications, including Harper's BAZAAR, ELLE, and Marie Claire.