Meet the Woman Who Helped Bring 'Hamilton' to the Stage
Jill Furman, one of the Tony-winning producers of the epic show, talks about her crucial role.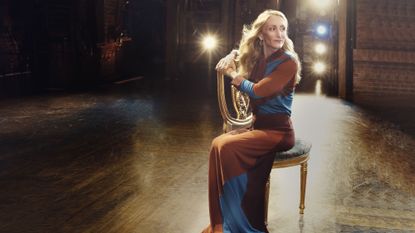 (Image credit: ERIC OGDEN)
Marie Claire: You graduated from Brown with an Art History degree. What was your plan?
Jill Furman: I grew up in Manhattan, going to the movies and theater, and I always wanted to be a producer. When I was young, I wanted to win an Oscar as producer for best film. My father was an investment banker with a specialty in media and entertainment, so my sister and I were exposed to the business at a very young age. He would bring home the movie grosses, and we would guess them. We're an entertainment-crazed family. After college, I started at [talent agency] ICM, working for an agent, and then went out to Los Angeles for three and a half years. Then I got my MBA at Columbia.
MC: Do you need an MBA to be a producer?
JF: I wanted to start a production company, and I thought it would be helpful because I was always sort of scared of numbers. I wanted to make it easier for myself to look at spreadsheets, to be able to understand investing. I'm glad I did it, because when I started out raising money, I could walk the walk and talk the talk. One thing I wish I could tell my younger self would be to have more confidence. I now have a lot of confidence, but when I was younger, I didn't—there are probably a lot of women who feel similarly. Also, I'm tiny. I've always looked younger than I am. So I think [the MBA] did help me.
MC: How did you break into theater?
JF: My father left investment banking and joined forces with two other producers to start a company that produced two shows on Broadway. I associate-produced those shows. I helped raise money and was involved in marketing and advertising. I had been doing notes on scripts in Hollywood for so long, so I felt like I could analyze scripts and help give notes and shape something creatively. Being an associate producer is a way to dip your toe in the water.
MC: The producer is also responsible for finding investors, right?
JF: It's a large piece insofar as you cannot produce your show unless you raise the money. I will ask anyone for money. The MBA helped with that, too, because I feel at ease discussing numbers, but I think most people I ask for money feel this way, too. They want to sup- port me and theater. I'm selling my passion for a project. But there's a saying in our business: You can't make a living, but you can make a killing. Producers don't make money until a show is up and running. But 80 percent of shows don't work. I look at all these shows as if they're startups. From what I understand, startups have the same success rate. It is super-risky.
MC: How did you meet Lin-Manuel Miranda, the creator and star of Hamilton?
JF: In 2003, I went to an early reading of In the Heights [the musical written by and star- ring Miranda, which went on to win the Tony for Best Musical in 2008]. What I heard on that stage completely blew me away. I have chills talking about it now. I sat forward in my seat in a way that I never do—he was rapping about his community, his bodega, his friends. It was lyrically dense and smart, and the music was refreshing—I just hadn't heard sounds like that on the stage before. I thought, I need to be in this person's life. The thing I'm most proud of is that I discovered Lin very early, and I trusted my gut and I believed in his talent.
MC: I'm always surprised by how long it took to get In the Heights to Broadway.
JF: It took years and years of development— we weren't on Broadway until 2008. Lin was teaching English during that time and dancing at bar mitzvahs. [The other producers and I] invested several hundred thousand dollars, over the course of a couple years. That paid for space, actors, presentations. I gave feedback: what worked, what didn't, what needed to be strengthened. In theater, the writer is king or queen, but if you're working with producers who really believe in you and know what they are doing, they're looking out for your best interest. So there's a give-and-take.
MC: How did Hamilton come about?
JF: Lin thought he was just going to write a hip-hop concept album. The more he wrote, the more he realized that, well, maybe this is something. And in 2012, he performed 12 songs at Lincoln Center. Holy moly. I was just blown away. People were losing their minds. I knew I was going to be involved in it. Yes, I was lucky, certainly. But luck is the residue of design. And I believed in someone's talent. I recognized it early, and I put my money where my mouth is.
MC: There are only a few producers on Hamilton. How does that differ from other big musicals?
JF: Oftentimes, you'll see 10, 20 names of producers above the title of the show—the "general partners," who are in control of the project, and then the coproducers, who come on board to help raise capital, who are listed beneath them. On Hamilton, there are only four producers: three general partners (Jeffrey Seller, Sander Jacobs, and me) and The Public Theater, where the show was originally produced and presented. We knew we had a special piece and were lucky that we didn't need to bring on any additional producers to help finance the move to Broadway.
MC: You've also produced an updated version of Cinderella and the Drowsy Chaperone—and now, Hamilton, widely considered one of the greatest Broadway musicals in history. How do you decide what shows to produce?
JF: I always say I want to do something that's going to surprise people, that's unique, that feels fresh—but it has to be commercial. I have to believe that it's going to appeal to an audience, because this is a business. I'm not interested in just doing little niche projects that I think are cool.
MC: What have you lined up next?
JF: I want to do something a little different, so I am going to produce this movie by a friend of mine, a screenwriter. And I'm also in discussions with a cable network to produce a live musical with them. I've never produced live television. So it just feels new and exciting. A big part of my life is also that I'm a single mother to a 16-month-old boy. I gave birth in December 2014, and we started Hamilton in January 2015. Those were like the two greatest productions of my life.
This article appears in the June issue of Marie Claire, on newsstands now.
Celebrity news, beauty, fashion advice, and fascinating features, delivered straight to your inbox!