Required Listening: The Best Albums of 2018
Two words: Cardi B.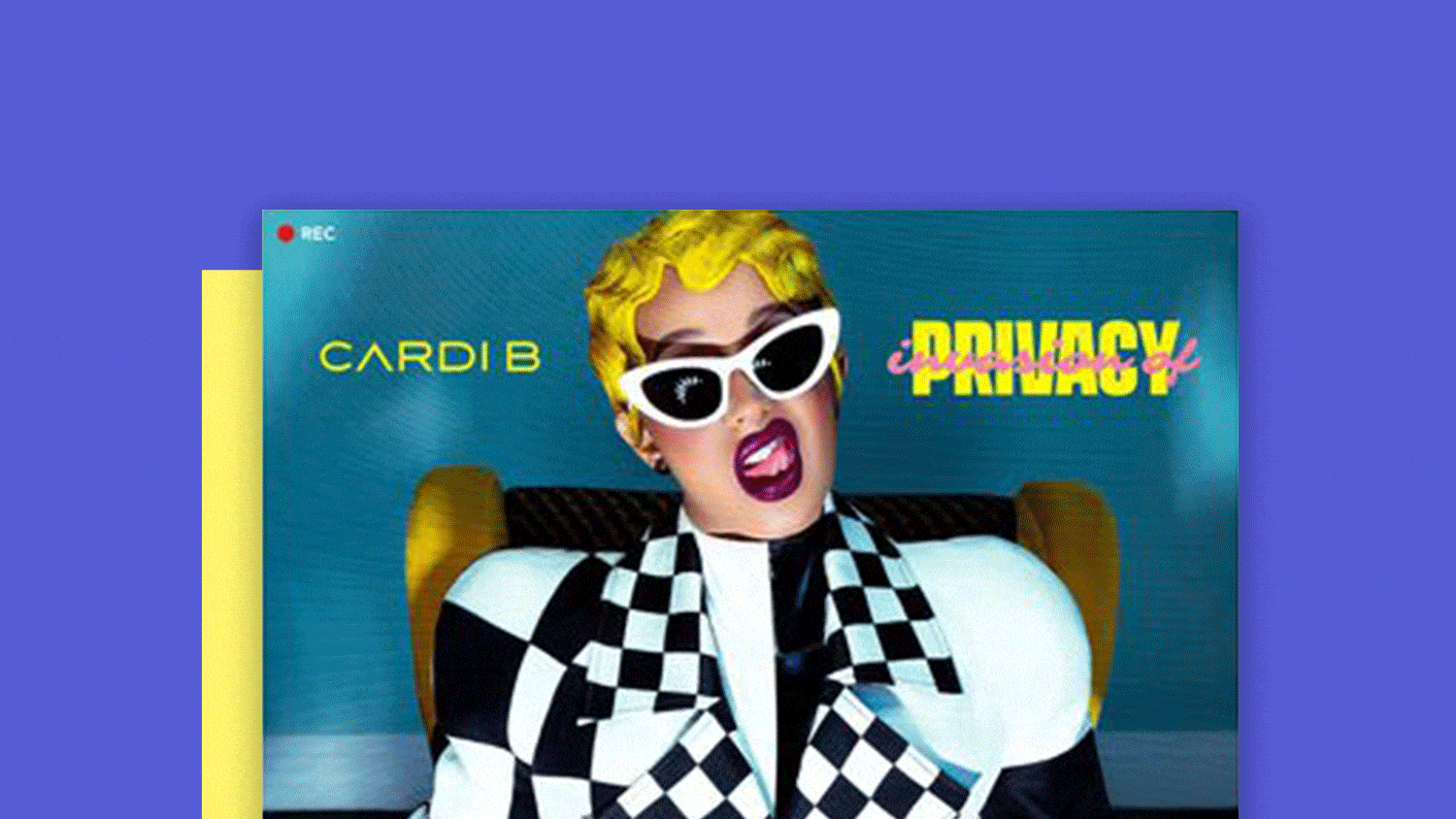 (Image credit: Design by Morgan McMullen)
If you're having trouble figuring out what could have possibly been "good" about 2018, reminder: Cardi B released her debut studio album, The Weeknd (unofficially) dedicated a six-track mini album to his still-ex Selena Gomez and then-ex Bella Hadid (opens in new tab), and the world finally understands the musical genius of Kali Uchis. These artists, plus 13 more, dominated the sound waves this year. Behold: the best albums of 2018.
Scorpion - Drake
After dropping "God's Plan" and "Diplomatic Immunity" earlier this year, Drake released his much-anticipated 25-track album, Scorpion. Fans continue to debate about whether it's his best, with some arguing he should have focused more on fewer songs, while others cite viral hits like "In My Feelings" and "Nice for What" as evidence that it didn't hurt the album. Still, what they can agree on is that it's his most vulnerable yet: Alas, the resident good guy confirms he has a son (opens in new tab) and addresses his years-long struggle with his public perception.
Favorite song: "Sandra's Rose"
Sweetener - Ariana Grande
Without knowing it at first, Sweetener became a raw representation of The Old Ariana Grande. Just two months after the album's release, Grande's ex Mac Miller passed away (opens in new tab) and then she broke up with fiancé Pete Davidson, who has a song named after him on the album. Although Sweetener might not be a total reflection of Grande anymore, it still blessed audiences with some of the best pop songs of the year (opens in new tab). The 25-year-old is slowly beginning to rediscover herself, shown in her most recent single, "Thank U, Next." (opens in new tab) Heard of it?
Favorite song: "God Is a Woman"
Astroworld - Travis Scott
Travis Scott's third studio album, Astroworld, is rife with the featured artists of dreams (opens in new tab)—including Drake, The Weeknd, Frank Ocean, and James Blake—but at the end of the day, Scott is the one to push his own artistic boundaries. The proof lies in tracks like "SICKO MODE," on which he and Drake brilliantly execute the mashup without sacrificing their individual styles.
Favorite song: "SICKO MODE"
Camila - Camila Cabello
After more than a year in the making, Camila Cabello launched her debut studio album, Camila. Surpassing expectations following Cabello's exit from Fifth Harmony last year, it effortlessly combines her Latin roots in pop jams like "Never Be the Same" and "Havana." That's not all, though—her vocals truly shine on songs like "Consequences," a vulnerable reflection on the high's and low's of a previous relationship. Cabello recently told Marie Claire (opens in new tab) the album was a combination of both sides of her: "the introverted, shy one—and then there's the sexy, overly confident one."
Favorite song: "Consequences"
High As Hope - Florence + The Machine
Keeping up with the theme of vulnerability, Florence + The Machine gave the world a stunning 10-song album "full of secrets she never thought she'd share (opens in new tab)" that discusses Welch's own personal fears, hopes, and dreams. She still holds on to the same humbleness she's had since her 2009 debut album, Lungs, and she's crafted an album that's incredibly relatable. It's feel-it-in-your-soul good.
Favorite song: "Sky Full of Song"
Swimming - Mac Miller
Just a month before his death, Mac Miller released his fifth studio album, Swimming. Now, it's seen as an emblem of the rapper's incredible evolution since his Blue Slide Park days, and a tragic reminder of how much beautiful art the world will now miss out on. Miller was never one to shy away from putting his struggles on display and continued to do so in songs like "Perfecto" ("I'm treading water I swear / That if I drown I don't care / They callin' for me from the shore, I need more") and "2009" ("And sometimes, sometimes I wish I took a simpler route / Instead of havin' demons that's as big as my house, mhmm").
Favorite song: "Self Care"
Invasion of Privacy - Cardi B
With her seamless mix of hip-hop and latin, Cardi B is almost unrecognizable—in the best way possible—on her debut album, Invasion of Privacy. It's the home of popular singles "Bodak Yellow" (opens in new tab) and "Bartier Cardi," (opens in new tab) and features a range of collaborators including SZA, 21 Savage, Migos, and Chance the Rapper.
Favorite song: "Thru Your Phone"
Ruins - First Aid Kit
They may not be as recognizable as Cardi B, but don't dismiss the Swedish sister-duo Klara and Johanna Söderberg just because you don't read about them on websites like, well, this one, every day. The women got their start covering songs on YouTube about a decade ago, and have since produced four albums. Their most recent 10 track-album, Ruins, can be best described as a mix of folk and old soul. I felt like I was in a dreamland listening to them at Coachella, laying in the grass.
Favorite song: "Fireworks"
Beerbongs and Bentley's - Post Malone
Post Malone: a classic case of "Can you hate the artist but still enjoy the art? (opens in new tab)" His intentions are frequently questionable (opens in new tab) (he told Rolling Stone (opens in new tab) that guns are "fun, practical, and bad shit happens...If you hurt me, I'm gonna hurt you back"). But both of his albums are undeniably really good, and his latest, Beerbongs and Bentley's, broke Spotify records (opens in new tab) when it was released in April. I had to ask someone if I was actually listening to Post Malone when I heard "Stay"—a slower, emotional track that stands out in the wide array of pop-rap hits.
Favorite song: "Ball for Me"
Dirty Computer - Janelle Monáe
Call Dirty Computer Janelle Monáe's (opens in new tab) coming out album (opens in new tab)—a reflection of her newfound freedom since revealing she identifies as pansexual. The 32-year-old triple threat (yes, she can sing, act (opens in new tab), and dance) lets her authenticity shine in a sexy, raw, 14-track neo soul (soul music incorporated with jazz, hip-hop, electronic, pop, etc.) record. She notes that Prince worked on her album with her (opens in new tab) before he passed away, which is reason enough to download it.
Favorite song: "Make Me Feel"
KOD - J. Cole
A friend I won't @ once referred to this album as "elevator music," but if you know J. Cole, you know his tracks are as therapeutic in their creation as they are in their consumption. In his fifth studio album, J. Cole creates a genius follow-up to his 2016 4 Your Eyez Only, referencing his trouble with alcohol, the internet, and women. However, he says he wants fans to interpret the album in their own way.
Favorite song: "KOD"
KOD. 3 meanings. Kids on DrugsKing OverdosedKill Our DemonsThe rest of the album I leave to your interpretation.April 19, 2018
See more
Culture II - Migos
There isn't an artist featured on this 24-track (!) hip-hop/trap album that you don't know. The epic group includes 21 Savage, Drake, Gucci Mane, Travis Scott, Ty Dolla Sign, Big Sean, Nicki Minaj, Cardi B, Post Malone, and 2 Chainz. Culture II is a sequel to Migos' 2017 album, Culture, and offers up all of the bangers you could possibly want from trio Quavo, Offset, and Takeoff.
Favorite song: "Walk It Talk It"
My Dear Melancholy - The Weeknd
Selena Gomez and The Weeknd broke up last October (opens in new tab), and The Weeknd somehow whipped up a six-track mini album titled My Dear Melancholy by March. In one song, "Call Out My Name," he proclaims, "I said I didn't feel nothing baby, but I lied / I almost cut a piece of myself for your life" seemingly referencing Gomez's kidney transplant (opens in new tab). It doesn't match his 2016 album Starboy in any way, but it's still a top album, er, EP.
Favorite song: "Wasted Times"
Isolation - Kali Uchis
The 24-year-old Colombian-American singer is finally getting the recognition she deserves with her debut album, Isolation. The introspective songs are a mix of reggaeton, bossa nova (a genre of Brazilian music), and neo soul. Come for the soulful energy, stay for the Kali x Tyler the Creator collaboration that was made into an even better music video (opens in new tab).
Favorite song: "After the Storm"
Golden Hour - Kacey Musgraves
Country singer Kacey Musgraves continues to rise in popularity with her country pop album, Golden Hour. She lets her softness and sincerity shine through her powerful vocals on this 13-track album and continues to break country music taboos (opens in new tab) by delving into topics like smoking weed and taking down the patriarchy.
Favorite song: "Slow Burn"
Good Thing - Leon Bridges
You may know him from his sultry single "River," (opens in new tab) but Leon Bridges proves he's an ever-expanding R&B/soul master in his second album, Good Thing. Rolling Stone (opens in new tab) describes the Texan singer as "a uniquely modern vision of classic soul," and the characterization couldn't be more accurate.
Favorite song: "Bet Ain't Worth the Hand"
RELATED STORIES
Rachel Epstein is a writer, editor, and content strategist based in New York City. Most recently, she was the Managing Editor at Coveteur, where she oversaw the site's day-to-day editorial operations. Previously, she was an editor at Marie Claire, where she wrote and edited culture, politics, and lifestyle stories ranging from op-eds to profiles to ambitious packages. She also launched and managed the site's virtual book club, #ReadWithMC. Offline, she's likely watching a Heat game or finding a new coffee shop.