The New Horror Film 'Hereditary' Might Be This Year's 'Get Out'
It's brilliant, but be warned: You can't unsee it.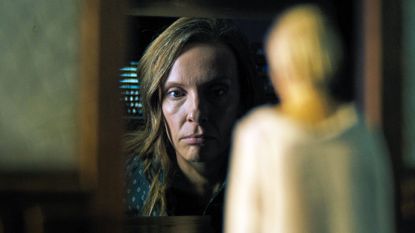 (Image credit: A24)
Heads up: There are some very minor spoilers for Hereditary below, so stop reading if you're a stickler for that kind of thing.
When Get Out scored three Oscar noms (and a Best Original Screenplay win), it transcended the horror label to become a full-on cultural phenomenon. Jordan Peele's vision of a white suburban community that tries to ensnare a young black man gave us a lot to unpack. Its impact was so major that people who aren't typically into horror flicks went to the theater in droves—enough to make it one of the most profitable films of 2017.
And while one horror hit, A Quiet Place, has already made plenty of noise this year (it presently holds 4th place in 2018's overall box-office), it's a safe bet that the new movie Hereditary, in theaters today, is going to freak more people out. After riding a similar wave of critical praise, Hereditary became 2018's most talked-about fright flick from its freaky trailer alone.
Writer and director Ari Aster plunges viewers into a grieving household where Annie Graham (Toni Collette) grapples with the mysterious legacy of her recently-deceased mother. Annie sneaks out to a grief support group (telling her husband she's catching a movie) and vents about her mom's lifelong mental instability and secretive habits, doing her best to spare her husband, her teenage son, Peter, and her daughter, Charlie, from the fallout of that relationship. In turn, Annie's husband shields her from an upsetting call from the cemetery about her mom's grave site being desecrated. Basically, the Graham's are walking on eggshells, barely able to look each other in the eye. It's heartbreaking, and there's a creeping feeling that the center cannot hold.
Adding to that palpable sense that something's amiss is diminutive Charlie (Milly Shapiro), who walks around in a dazed state, crafting macabre puppets (sometimes with dead animal parts). It's possible she just takes after her mom, who spends hours creating miniature tableaus as if she's trying to piece together the mysterious details of her life. Audiences will be puzzling it out, too. You'll want to keep an eye on Charlie: Her bizarro behavior feels as revelatory as the nighttime sprints of the Groundskeeper in Get Out.
That's not all the two films have in common. Both are debut features for the writer-directors—Peele cut his teeth in TV sketch comedy, while Aster first made darkly funny short films. And each screenplay takes inspiration from a '70s slow-burn classic: Get Out borrows from The Stepford Wives, while Hereditary samples from Rosemary's Baby. Pacing-wise, both films play their cards close to the vest for the first half, building towards some truly messed up twists you won't see coming—and a gut-punch of an ending that will give you plenty to talk about with friends. Or your therapist.
And those lead performances! Even the greatest genre films have a long history of getting snubbed by the Academy, but Daniel Kaluuya's Oscar nod gives us hope that Toni Collette will get recognized this awards season. She delivers a fevered portrayal of a mother determined not to let outside influences hurt her family, yet she's painfully aware that she might be the one who ends up damaging them the most.
It's upsetting to watch dark forces chipping away at someone with such good intentions, just like it was hard to see Get Out's hero, Chris, let micro-aggression after micro-aggression slide in the hope that he could rise above the situation. Of course, the only "rising above" that happensin Hereditary is some freaky levitation during the finale when things have already spun terrifyingly out of control.
Where Get Out was attuned to covert racism, Hereditary nods to the insidious nature of the patriarchy and the measures people will take to keep it alive. Early on, Charlie says that her grandmother "wanted me to be a boy," an odd line that takes on a more sinister connotation as the plot unravels. But since it lacks the razor-sharp social commentary that made Get Out feel so plugged into the current climate, it'll be interesting to see if Hereditary enjoys the same crossover success (or awards season acknowledgment). Instead, it's more interested in rattling the nerves of willing audiences. And it will, so be warned: This movie is chock full of disturbing imagery that you can't unsee, and the sense of evil lingers long after you've gone home.
Even if you don't end up feeling more woke after seeing Hereditary, you might hesitate before falling asleep.
RELATED STORY
Marie Claire email subscribers get intel on fashion and beauty trends, hot-off-the-press celebrity news, and more. Sign up here.
Carl Kelsch is the Managing Editor of Harper's Bazaar. He's also a screenwriter whose short films of varying quaility can be found smattered among the interwebs.