Lin-Manuel Miranda's 'Gmorning, Gnight!' Is the Little Book of Pep Talks You Need
You'll be able to pick it up this fall.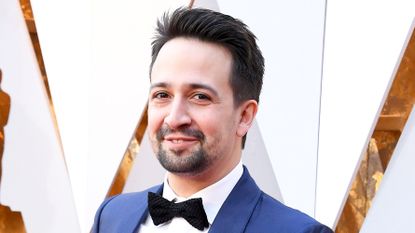 (Image credit: Getty Images)
If you don't already follow Lin-Manuel Miranda on Twitter, please stop everything and do so immediately. Yes, Miranda is known best for his groundbreaking creation of Hamilton, but the composer is also the king of Twitter affirmations. Don't believe me? This fall—at the request of his massive fan base—Miranda is compiling his most-loved Tweets into a book.
Gmorning, Gnight! Little Pep Talks for Me & You will feature a curation of Miranda's now-famous morning and evening affirmations. "Before he inspired the world with Hamilton and was catapulted to international fame, Lin-Manuel Miranda was inspiring his Twitter followers with words of encouragement at the beginning and end of each day," the press release reads. "He wrote these original sayings, aphorisms, and poetry for himself as much as for others."
Better yet, the collection will feature custom illustrations by Jonny Sun (another Twitter artist). "I could not be more excited for this and i'm so happy with it and so excited for everyone to see it and i'm so grateful to @Lin_Manuel," Sun confirmed on Twitter. "We've been working on it in secret for so long!!!"
Gmorning! A bit of news—At YOUR request, we made a book of the Gmornings & Gnights!Illustrations by @jonnysun!Available October 23!We love you!https://t.co/ZSMEA8E7lU pic.twitter.com/uLLXY3JPXPJuly 17, 2018
See more
And while you'll have to wait until Oct. 23 to snag your official copy, you can join me right this very second in reading through some of Miranda's most-inspiring affirmations, below.
Good morning.Do NOT get stuck in the comments section of life today. Make, do, create the things.Let others tussle it out. Vamos!October 12, 2016
See more
Good night. Take a breath. Then another. Repeat. Shake off the day.Sweet dreams.September 26, 2016
See more
Gmorning.You're burning up. Apply kindness, like a cool washcloth on the back of the neck.Walk away from your screen every 4-6 hours. Liquids.Popsicles. Kindness. Rest, loveJuly 13, 2018
See more
Gnight from the older version of you Who remembers the very moment you are in right nowAnd is grinning from ear to ear, becauseyou have no idea about the wonders aheadJuly 12, 2018
See more
Good morningI know it seems like everyone left w/o you for the party& those stepsisters suck but us woodland creatures are on your sideMarch 16, 2017
See more
RELATED STORY
Celebrity news, beauty, fashion advice, and fascinating features, delivered straight to your inbox!
Ruby was the beauty editor at Cosmopolitan, where she covered beauty across print and digital. Her work has appeared on The Zoe Report, Fashionista, and StyleCaster. Follow her on Instagram.