To Honor 'Mamma Mia: Here We Go Again,' ABBA Should Have the Song of This Summer
Hear me out.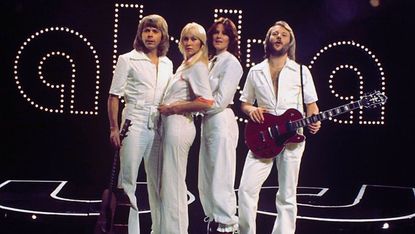 (Image credit: Getty Images)
Marie Claire newsletter
Celebrity news, beauty, fashion advice, and fascinating features, delivered straight to your inbox!
Thank you for signing up to . You will receive a verification email shortly.
There was a problem. Please refresh the page and try again.
Towards the end of July, the collective culture usually has a pretty good idea of what the Song of the Summer (opens in new tab) is going to be. And yet, despite some great suggestions, there isn't really a single song that has risen above the others this season to be crowned the ultimate victor. That's why, in time for the release of Mama Mia: Here We Go Again, I want to make a suggestion: Let's just ditch the whole argument and listen to ABBA.
See, ABBA first came to international prominence representing Sweden in the Eurovision Song Contest in 1974 with the song "Waterloo." And they won, marking their first entry into Song of the Summer. The competition video is great, despite the announcer making a creepily sexist comment in the beginning:
So there's historical precedent for this, you understand. But which song of theirs is the Song of the Summer for 2018? Um, how about all of them? Some of the criticism around the new Mamma Mia prequel/sequel has been that it recycles songs from the first movie, which came out 10 years ago. This is not a valid criticism. Among the revisited jams are the aforementioned "Waterloo," "Mamma Mia," and "Dancing Queen"—all just as good on the second (or third, or 40th) go-round as they were the first time.
ABBA songs are bonkers-catchy, easy to memorize, covertly horny, and sparkling in the same way that summer nights are. You like them as much as your parents do. The best ABBA jams work for weddings, house parties, grocery shopping, yachting, lip-syncing for your life, gardening, babysitting, spontaneous choreographed dance numbers, and military parades.
Shall I narrow it down more? Here are five song suggestions that—screw it!—should be 2018's Song of the Summer, despite the fact that they came out decades ago.
"SOS"
I heard you like baroque keyboard solos, so here's a track that will work for you throughout the remaining warm weeks. The reason this song works for summer is that it's extremely dramatic but then bursts forth at the chorus in this way that's both satisfying and a little desperate, not unlike the way you try to get the most out of the end of summer.
Pro Tip: This song brings the house down at karaoke.
"Lay All Your Love on Me"
This might be a little controversial, but the Beatles wish they wrote a song as good as "Lay All Your Love on Me." It's deliciously retro and has the kind of singalong chorus that makes the entire party stop what it's doing to shout the words.
"Dame! Dame! Dame! (Amor Esta Noche)"
In English, this song goes by the name of "Gimme! Gimme! Gimme! (A Man After Midnight)," and it's an excellent 1979 addition to the band's oeuvre. But ABBA released a Spanish-language version of the same track in 1980 to promote their album Gracias Por La Musica and I would argue that the Spanish version rages even harder. That keyboard line is iconic and instantly recognizable, which makes hearing that sexily demanding chorus in Spanish an awesome surprise.
Can we take a moment to give props to ABBA for recording in so many languages? They spoke and frequently recorded in Swedish, wrote tons of massive English-language hits, and then did it in Spanish. This is Swedish soft power in action!
"Sitting in the Palmtree"
Is it weird that I think Vampire Weekend should cover this song? It's an island-inflected, yacht-rock love song that would pair well with a frozen daiquiri and a lawn chair. It's the second song on the 1974 album Waterloo, the band's second full-length (and the one they won Eurovision with, of course). I don't know why it's become a modern-day sleeper hit but it's a fabulous summer jam and we would do well to remember it thusly.
"Waterloo"
The Battle of Waterloo was fought in June of 1815, when the French army—led by Emperor Napoleon Bonaparte—was defeated by the British and Prussian allied forces under the command of the Duke of Wellington. It was the decisive battle of the Waterloo Campaign and marked the end of the Napoleonic Wars. The British lost 15,000 men to Napoleon's 26,000 (though many other thousands deserted) in the battle. Napoleon, despite his storied military prowess, abdicated four days after the battle, on June 22, 1815.
That makes Napoleon Bonaparte the Deposed Leader of the Summer.
The song "Waterloo" doesn't have a lot to do with that, but my goodness is it a bop.
Cady Drell is a writer, editor, researcher and pet enthusiast from Brooklyn.