The Plain White T's "Hey There Delilah" Is Going to Be a TV Show
But, like... huh?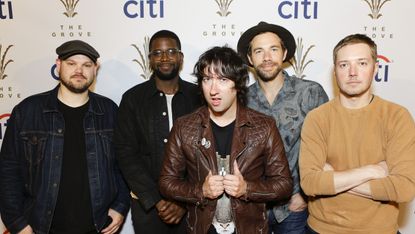 (Image credit: Tiffany Rose)
In 2005, Tom Higgenson of the Plain White T's promised Delilah DiCrescenzo that he'd write a song about her. From that promise, we got "Hey There Delilah," (opens in new tab) which was on Time magazine's Top 10 Songs of 2007, no. 1 on Billboard Hot 100 in 2007, and nominated for two Grammys in 2008 (Delilah herself accompanied the band to the Grammys).
Now, according to the Hollywood Reporter (opens in new tab), the band is working on a script for a romantic dramedy TV series based on a long distance relationship between an NYC college student and a singer-songwriter.
Delilah spoke out about her relationship with Tom Higgenson in an article for ESPN (opens in new tab). Here are some things y0u probably didn't know as you hummed this song and yearned for love in 2007: She is a professional runner; she was—and still is—in a serious relationship when she met Tom; they're both from the Chicago area and Tom dropped a CD with the song at Delilah's front door; they met at the House of Blues in Chicago and messaged on AOL Instant Message for years after.
The show is still being written and pitched, meaning a network may pick it up. I have faith in this long-distance love story between two people who barely know each other, one in a serious relationship with someone else...right?
RELATED STORY
Zoe is a contributing writer at MarieClaire.com; she covers celebrity and news. She loves sneakers and nicely organized bookshelves.