The Best John Mayer Songs of All Time
It's your last day on Earth—do you slow dance in a burning room or stop this train?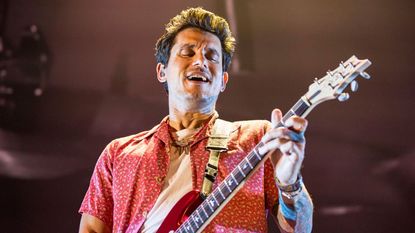 (Image credit: Daniel Knighton)
Marie Claire Newsletter
Celebrity news, beauty, fashion advice, and fascinating features, delivered straight to your inbox!
Thank you for signing up to Marie Claire. You will receive a verification email shortly.
There was a problem. Please refresh the page and try again.
It's hard to define the moment John Mayer became an icon. (Yes, the word is thrown around a lot, but I mean a true icon.) Perhaps it's when he publicly declared that Taylor Swift's 2010 "Dear John" "humiliated him" with its "cheap songwriting," or when he moved to a ranch in Bozeman, Montana, to repent for his sins. No, it's definitely when he decided to use a Bar Mitzvah video production company to create the visuals that accompany his 2018 single, "New Light." John has been on a two-decade mission to escape the egotistical, bad-boy stereotype he defined for himself (see: his Instagram stories for reference). But whether you love or hate him, there's no denying that his music has been and always will be pure magic.
Here, the 20 best John Mayer songs of all time.
20) "Wildfire," 2013
Why am I crying in the club? Mayer was featured on Frank Ocean's debut studio album, Channel Orange, so he decided to return the favor and had Frank display his vocals solo (until the end when we get a little bit of harmony) on "Wildfire." The song, which would have been most popular on the Tumblr platform, finds itself a home on Mayer's sixth album, Paradise Valley. Really, it's John and Frank's world—we're all just livin' in it.
19) "Carry Me Away," 2019
In the middle of his magical summer tour (I went...seriously, it was unbelievable), Mayer released "Carry Me Away," a nostalgic single dedicated to those of us questioning the quiet disappearance of our rebel days. "I'm such a bore / I'm such a bummer / There must be more behind the summer."
John explained the brainwork behind his summer creation on Instagram: "I didn't see it coming that this tour would have so much life and energy in it, so when it was time for a two week break, I found myself wanting to create. My desires for vacation were simple: to live in shorts and a t-shirt and play with my dog in the sun and live a simple happy normal life, all while writing this song I had swirling around in my head. I present to you 'Carry Me Away,' which was made with the same love you've sent my way on this run. I hope you enjoy this late summer postcard. You know where to find it..."
18) "Vultures," 2006
One of the classics the crowd goes wild for every damn time—not because of its honest depiction of Mayer coping with his rising fame, but simply for the memories it brings back while you were listening to it in the car with the windows down, feeling the soft breeze on your face.
17) "Shadow Days," 2012
Born and Raised was that album you loved to hate because it officially marked the birth of The New John Mayer™. He'd just moved to Montana, hadn't cut his hair in months, and wrote a song to represent his growth as a changed man. Mayer had to do so much convincing to his fans after his controversial interviews that he literally had to sing, "I'm a good man with a good heart." Sure, it may not be his most memorable piece of work, but it's still very good and we give him props for being so transparent.
16) "XO," 2014
The only thing better than a Beyoncé song is a John Mayer cover of a Beyoncé song. He put a warm touch on the pop song from Bey's fifth album with his harmonica, piano, and, of course, his acoustic guitar. It's romantic, soft, and could have very easily been a tragic f*ckup, but he killed it and it has become one of his best.
15) "Come Back to Bed," 2003
If a 26-year-old boy from Bridgeport, Connecticut, serenaded you with lyrics like, "You can be mad in the morning / I'll take back what I said / Just don't leave me alone here / It's cold, baby / Come back to bed," how would YOU feel?
14) "Waiting on the World to Change," 2006
*Extreme Spongebob narrator voice* 13. Years. Later. "Waiting on the World to Change" became a political anthem in a world we thought was "bad" before we experienced the reality of a racist and morally incompetent president. (Also, before we knew how good we would really have it with Mr. Obama.)
13) "Comfortable," 1999
My editor didn't talk to me for an entire day when she found out I didn't include "Comfortable" on the original list of best John Mayer songs of all time, but I'm happy to report I've taken some much-needed alone time and strongly reconsidered. In fact, it makes it all the way down to number 13 for the raw vulnerability Mayer pushes in his lyrics ("Can't remember what went wrong last September / Though I'm sure you'd remind me if you had to / Our love was comfortable and so broken in") when he was quite literally starting out in 1999 with his first EP, Inside Wants Out. Also, it's pretty beautiful.
12) "I'm Gonna Find Another You," 2006
No! Don't! This one really just pierces through your soul, and proves that John does jazz (new tour name?) really well. No further information needed.
11) "Daughters," 2003
It's a pretty bold move to sound like an entitled douchebag on your second album with lyrics like, "Now I'm starting to see / Maybe it's got nothing to do with me / Fathers be good to your daughters / Daughters will love like you do," but the song is still really good. Hence why this article exists.
10) "Your Body Is a Wonderland," 2001
For those of you who are thinking best song lists should start at 10, coming in hot (literally) at #10 is John Mayer in his prime, singing "Your Body Is a Wonderland." It's the second single that established his place in every girl's heart before the release of his first studio album, Room for Squares.
He apparently wrote the song for his first girlfriend at age 14, but when fans started to speculate the song was about his then-girlfriend Jennifer Love Hewitt, she simply denied the rumors by stating, "My body is far from a wonderland. My body is more like a pawnshop. There's a lot of interesting things put together, and if you look closely you'd probably be excited, but at first glance, not so much." Same.
9) "Stop This Train," 2006
When I think of once-wholesome John Mayer, I think of "Stop This Train" from his third studio album, Continuum. Really, we all just want life to slow down a bit.
8) "Gravity," 2006
Graaaaavity is definitely not workin' against him, considering John looks exactly the same as he did when he released this song on his 2006 album, Continuum. If you're fighting me on the number eight spot, reminder: This is that song with the golden lyrics, "Keep me where the light is," that myself and every other person on the planet (get it?) is planning to get tattooed on them...when the time is right!
7) "Why Georgia," 2001
"Why Georgia" is a highly underrated song from Mayer's very first album, Room for Squares, that reminds you of your "problems" before you actually had problems. Interestingly enough, the song foreshadows the "real problems" that Mayer embraces in "Shadow Days."
6) "In the Blood," 2017
Nobody knew what to expect from Mayer's most recent album, The Search for Everything. To much surprise, we received "In the Blood"—a mature, honest reflection of what life has come to after decades of fame and uncontrollable family circumstances. At the time the album was released, Mayer hadn't been in a public relationship with anyone for quite a while (gotta love those Andy Cohen dating rumors), but the song definitely emphasizes how much he does want to love.
5) "Say," 2007
As Kid Cudi so eloquently put it, this is the soundtrack to my life. Find yourself a more inspiring and impactful song than Mayer's "Say." (I'll wait.) Not only will it be used for every empowering ad campaign until the end of time, but it's so good that although it was originally written for the 2007 movie The Bucket List, it was added as a special re-release on Continuum.
4) "Free Fallin'," 2008
A controversial number four, yes, considering this one is a cover song from Tom Petty's 1989 album, Full Moon Fever. Oh, you didn't know it was a cover? Exactly. Also, just look at him.
3) "Heartbreak Warfare," 2009
Oh, look, the song I played on repeat last summer. "Heartbreak Warfare" sounds like it would be a part of Mayer's first or second album, but it actually comes from his fourth LP, Battle Studies, in which we learn he loves a good theme. The song was released during that time when everybody and their mother was obsessed with him, which would, of course, eventually get to his head and lead to his retreat to Montana.
2) "Slow Dancing in a Burning Room," 2006
If you haven't already decided that you should get out of your toxic relationship, one listen to this song should do it, which means John is really just out here doing God's work—putting "Slow Dancing" at number two. Not pictured: Me realizing 13 years later that this song is actually really depressing when you fully listen to the lyrics, but you get so wrapped up in the sounds of the guitar and voice of an angel it doesn't even matter.
1) "Edge of Desire," 2009
Goosebumps. They slowly creep up on you right after you hear "Don't say a word, just come over and lie here with me / 'Cause I'm just about to set fire to everything I see / I want you so bad I'll go back on the things I believe" faintly in a store or a restaurant. It's been years since you've played it from your own music library, but "there I just said it, I'm scared you'll forget about me" has become more relatable than ever, and suddenly you allow yourself to feel vulnerable again. The power of John Mayer, everybody.
Congratulations for successfully making it down this list, and cheers to another decade of the magnificence that is Mr. Mayer.
Download our "Best John Mayer Songs of All Time" Spotify playlist below:
RELATED STORIES
Celebrity news, beauty, fashion advice, and fascinating features, delivered straight to your inbox!
Rachel Epstein is a writer, editor, and content strategist based in New York City. Most recently, she was the Managing Editor at Coveteur, where she oversaw the site's day-to-day editorial operations. Previously, she was an editor at Marie Claire, where she wrote and edited culture, politics, and lifestyle stories ranging from op-eds to profiles to ambitious packages. She also launched and managed the site's virtual book club, #ReadWithMC. Offline, she's likely watching a Heat game or finding a new coffee shop.