Charmed, Sabrina, and the Return of the Dark Witch
Judging by the fall TV lineup mystical female rage is in.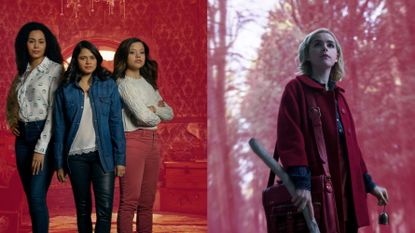 (Image credit: The CW/Netflix/Morgan McMullen)
The season of the witch kicked off after the 2016 election and hasn't gone away. Witches remain in as fashion serves up The Craft realness and the average 20-something integrates burning sage and reading her tarot cards (or looking at an app that does it) into her self-care routine. But there's been a tangible shift recently in the witch spirit, from benevolent good vibes distributor to vengeful ass-kicker. And now, mainstream pop culture is grabbing the broomstick and gifting us two new shows anchored by the modern, mighty witch this fall.
Well, not quite new. Like many things on TV these days, the offerings are actually reboots. Charmed is returning to the CW (the show's former home, back when it was called the WB) on October 14, featuring a different set of sororal sorcerers from the original. Sabrina the Teenage Witch is also making a comeback via Netflix on October 26, though now her show is called The Chilling Adventures of Sabrina. The tweaked title signifies more than just a change in target audience for the formerly kid-friendly T.G.I.F tentpole—it hints at the bigger sea-change happening in pop culture witchery: Magic isn't going to be cute anymore.
(It's worth mentioning that this fall also sees the return of the witches of American Horror Story: Coven—this time, in a season called Apocalypse—but since that show was already quite dark, let's focus on the newly-dark reboots.)
Promotional photos featuring Kiernan Shipka show a much grimmer Sabrina than Melissa Joan Hart's 90s characterization, and this time around there are no chatty cat puppets in sight. Yes, Sabrina is still grappling with growing up (with, you know, magical powers), but the press release implies she'll be dealing with more than romance and homework, describing the series as "a dark coming-of-age story that traffics in horror, the occult and, of course, witchcraft."
The show was originally meant to air on the CW, directly tied into the Riverdale universe. And Riverdale, for all its campiness, has never shied away from serious tension. The teens in that show are pissed, as Archie and his pals confront everything from sexual assault to planned gentrification. It used to be that teens had limited resources when it came to striking back against injustice, even as they were old enough to call it out. But a witch? A witch has power, and it's clear Sabrina will be exercising hers.
The trailer for Charmed also shows a darker world than its predecessor's, even as it follows a plot line fairly similar to the one laid out in the original 1998 pilot, "Something Wicca This Way Comes." One huge change this time around is that the witch killed early in the episode is the girls' mother, in the process of unbinding her daughters' powers. Before her death she reminds them: "Nothing is stronger than your sisterhood."
That's the underlying message of even the most banal Etsy altar-cloth or crystal collection. A coven is a group watching each other's backs, pooling their power, and demanding that the world acquiesce to their demands. It's no coincidence that signs have popped up at protests against the current Administration with sorceress-centered sentiments like, "We are the granddaughters of the witches you weren't able to burn."
Donald Trump and his cabinet of evangelical, right-wing billionaires have been enacting their anti-woman agenda on both a national and international stage for nearly two years, reinstituting the global gag rule on abortion, continuing their attacks on Planned Parenthood, and demonstrating on every front their contempt for women and children.
[pullquote align='left']There's been a shift in the witch spirit, from good vibes distributor to vengeful ass-kicker. [/pullquote]
All of which has brought the original identity of the witch into relief: Witches are protectors of women. In Barbara Ehrenreich's 1973 book Witches, Midwives, and Nurses (which remains as relevant as ever), she argues that the women most frequently persecuted as witches were often community health practitioners who provided essential services to women, including abortion. The next group accused of witchcraft were often widows or other single women, particularly those outside the power of a patriarchal figurehead. It makes sense that women watching their rights get chipped away on a state and federal level would find much to identify with in these witchy narratives.
(And yet, the term "witch hunt" has been resurrected in the wake of the #MeToo movement and Mueller investigation, this time in defense of the mostly male perpetrators of sexual violence and obstruction of justice. Incredible how much history is erased in the use of that phrase.)
In just a few short years, under these conditions, the pop culture witch has grown far more hostile. She's no longer here to cleanse auras and bow to the moon. As writer Lindy West joked in her New York Times op-ed, "Yes, this is a witch hunt. I'm a witch and I'm hunting you."
This Big Mood is already felt in Charmed, a show you'd expect to be goofy, nostalgic fun. We see witch Mel Vera get accused of being too angry, of alienating everyone around her by being obsessed with her mother's death. Later, her newly discovered sister Maty Vaughn smashes a beer bottle with her telekinetic powers after an outburst, anger coursing through her as much as magic. The youngest sister, Maddie Vera, kicks a monster in the body of a man across the room.
Though the development teams for these spinoffs and reboots are likely juggling the demands of advertisers, a possessive fanbase, and what you can legally show on TV, it's telling that the witches we're being offered now are consumed with rage. It's a dark world, and they're fighting back with their dark arts. Ding, dong the witch lives.

RELATED STORY
Marie Claire email subscribers get intel on fashion and beauty trends, hot-off-the-press celebrity news, and more. Sign up here.