How Fantastic Fest Turned a Scandal Into an Opportunity for Redemption
Because women like scary movies, too.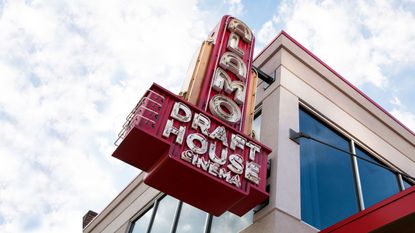 (Image credit: Amy Brothers)
In the weeks leading up to last year's edition of Fantastic Fest, one of the largest genre film festivals in North America, the movie-making community was rocked by controversy. Despite the boys' club reputation of sci-fi and horror fandoms, the festival has traditionally attracted a number of genre movie-loving women since its founding in 2005, a handful of whom make a point to faithfully return year after year. But then came 2017.
First, Alamo Drafthouse—the Austin-based theater chain hosting the week-long event—and its CEO, Tim League, came under fire for rehiring an ex-employee, Devin Faraci, who had been fired after he was accused of sexual assault. Then, a few days before the opening night screening of the 2017 Fantastic Fest, the company also parted ways with one of the founders of the festival, local film critic Harry Knowles, after multiple sexual harassment allegations against him surfaced (which Knowles denies).

According to people I spoke to who attended the 2017 Fest, which is held in Austin, Texas, the vibe felt out of sync from its raucous roots. Many regular attendees felt betrayed by the supposedly progressive company, which only months earlier faced a different kind of backlash for offering women-only screenings of Wonder Woman. But a strong community of women festival-goers had formed over the years, and many of them were not about to abandon their "festival family."
A number of those people returned for the 2018 edition, working behind the scenes as programmers or volunteering to set up events that were more intersectional. Instead of walking away from the Fest and considering it "cancelled" in light of the allegations, these women decided to spend a year fixing it—so that, they reasoned, the 2018 Fantastic Fest would be genuinely inclusive, and the festival would stay that way going forward.
Fantastic Fest was one of those film festivals I always wanted to check out but never had the time off or the means to go. But when the possibility opened up to attend this year, its controversies still gave me pause. I'd had a few negative run-ins with Faraci—including one instance in which he singled out my criticism of a comic book movie on Twitter, drawing the attention of trolls and forcing me to retreat from the social media platform for a few days—and I had decided to stop visiting my local Alamo Drafthouse until the company made significant strides to better protect its staff and customers.
But, out of curiosity, I decided to attend Alamo's Fantastic Fest this year to gauge for myself whether the changes organizers promised would not only be put into action, but feel meaningful to a first-time attendee.

The first event I attended was an all-women gathering where filmmakers, programmers, and fans mingled together, exchanging hugs, life updates, and movie recommendations in the humid Austin air. At the mixer, Amy Averett, the senior director for culture and community at the Drafthouse, made a point of discussing the company's new code of conduct. This year, every Fantastic Fest attendee had to agree to follow certain rules in order to receive an access badge. Break the rules, and you lose your entry to the festival. Smaller touches were added, too: After an attendee asked for a lactation room, one was provided for this year's festival.

These weren't the only adjustments made after last year's news. Longtime Drafthouse employee Kristen Bell (no relation to the actress of the same name) was promoted to the Executive Director spot, and brought other women programmers and staffers with her to the Fest's board. The fruits of their labor were clear: 2018's program featured over a dozen movies with women protagonists. Considering the sorry state of gender diversity in the industry—one study showed that only 4 percent of the top 100 grossing movies of the last 11 years were directed by women—that's a big deal.
Among the titles were the opening night selection of David Gordon Green's Halloween sequel, with Jamie Lee Curtis on hand for the post-screening Q&A, and a secret screening of Luca Guadagnino's Suspiria remake, which stars Dakota Johnson and Tilda Swinton. Independent women filmmakers were also well-represented, thanks in part to works like Emma Tammi's The Wind (a western horror thriller with sensational sound design work), Danishka Esterhazy's YA novel-esque thriller Level 16, and Sophie Lorain's bittersweet coming-of-age dramedy Slut in a Good Way.
The push for greater inclusivity was felt off-screen, too. Additional programs included film critic April Wolfe's live recording of her "Switchblade Sisters" podcast with Ladyworld director Amanda Kramer, and Australian author Alexandra Heller-Nicholas previewed some of her findings for her upcoming book on women in horror. After I participated in the Fantastic Fest version of Family Feud—Fantastic Feud, of course—somebody told me they were thrilled to see so many women onstage on each team.
Speaking to the friends and strangers in attendance, I sensed a cautious optimism that Fantastic Fest was on the right track. While some attendees who felt betrayed by the events of 2017 may never return to a Drafthouse or to Fantastic Fest after what happened—a valid and understandable response–many of the women who have been coming to the festival for years wanted the chance to reclaim their community from controversy.
As a friend of mine explained over lunch, the people she's met at Fantastic Fest felt like family, and she wanted to be there to help make things better. For attendees like my friend, the work of rebuilding a once-supportive community starts with supporting one another and advocating for a better festival experience.
Sometimes, it feels like the discussion of gender in Hollywood has become cynical or disheartened after years of seeing little-to-no change in the amount of opportunities for women. But for one week in Texas, at least, I could feel a little hopeful about the film world.
RELATED STORY
Celebrity news, beauty, fashion advice, and fascinating features, delivered straight to your inbox!