House of Cards Season 6: Everything You Need to Know
Claire Underwood is the President we deserve.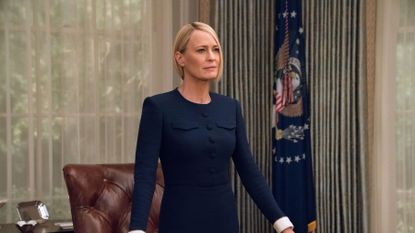 (Image credit: David Giesbrecht/Netflix)
Warning: The following article has spoilers for every season of House of Cards. Don't say we didn't warn you.
House of Cards has returned for an eight-episode sixth and final season, and I must say it'll be nice to watch some political machinations that don't impact my real life. When the show first premiered in 2013, Netflix was just dabbling in the realm of original series, with little idea of what was to come with their breakout hits. The shady dealings of Frank and Claire Underwood made for fantastic, enthralling television, and viewers were glued to their seats for five seasons straight.
Then Kevin Spacey was fired from House of Cards in the midst of filming its sixth season, after several harrowing allegations of sexual misconduct came to light. To which I say, "Boy, Bye." But rather than punishing everyone else involved with the show for the misdeeds of one man, the writers decided to scrap what they had of the the final season and make huge changes to the Underwood saga.
So what will the drama look like, sans its main character? Here's everything we know about what's to come in the final season of House of Cards:
The allegations against Kevin Spacey changed Season 6.
For a brief period of time, House of Cards looked like it might be straight-up cancelled. Last October, Rent and Star Trek: Discovery actor Anthony Rapp alleged in a Buzzfeed interview that Spacey had sexually assaulted him at the age of 14. After that story blew up, another report from CNN alleged that Spacey created a "toxic" environment on the set of House of Cards, and he was suspended from production indefinitely on November 3, 2017. (Spacey denies all allegations.) The producers then scrapped what they had already filmed of the new season and restarted from scratch.
Frank Underwood is dead.
It remained unclear how the show-runners intended to remove Frank Underwood from the House of Cards arena, but the writing team brainstormed "several options" for killing him off.
We know for a fact that Frank Underwood is dead, thanks to a promo released in September of President Claire Underwood talking to her dead husband's grave. Details of his death and fate will likely come in the season 6 premiere, though.

Robin Wright saved the day.
According to Patricia Clarkson, who plays Deputy Undersecretary of Commerce for International Trade Jane Davis, Robin Wright pushed hard for Netflix not to cancel the show outright, and instead give House of Cards the grand finale it deserved (saving hundreds of jobs in the process).
"It was truly the great Robin Wright rallying," Clarkson said on CBS's The Talk. "We have beautiful show-runners, Frank [Pugliese] and Melissa [James Gibson], and they killed themselves to rethink the whole show. Robin led all of this charge so that people would save their livelihoods, because when the show goes away some people don't get paid."
In an interview with Net-a-Porter, Wright explained how she went directly to Netflix executives to plead for the series' future: "I believed we should finish. I believed we should honor our commitment. To the people that loved the show, also. Why quit?"
She also had in mind the other people employed by the show. "They printed that it was 'only' 600 people out of work, but if you include security, cops, shooting on location in Baltimore—everything—2,500 people would have been out of a job. And that's not fair, to take that security away from those people…They didn't do anything [wrong]."
We've got some new faces...
Diane Lane! Greg Kinnear! Lane and Kinnear are playing Annette and Bill Shepard, sibling inheritors of Shepard Unlimited, a "leading industrial conglomerate." (Has the word "conglomerate" ever been used in a positive way?)
According to Netflix, they're a "powerful behind-the-scenes force in the American political landscape [who] share a vision for the future of America, as well as a complicated past with the Underwoods." Also, who doesn't have a complicated history with the Underwoods?
Cody Fern, who you may recognize from American Crime Story: Versace, will play Annette's "ambitious and devoted son, who represents the next generation of D.C. power players." Fern was originally cast to play a love interest of Spacey, reports say.
...and some faces you've seen before.
We know who survived season five: Doug Stamper (Michael Kelly), Catherine Durant (Jayne Atkinson), Jane Davis (Clarkson), Janine Skorsky (Constance Zimmer), Seth Grayson (Derek Cecil), Mark Usher (Campbell Scott), and Tom Hammerschmidt (Boris McGiver) are all set to return for season 6. Unfortunately, Reg E. Cathey's passing in February means he won't return, and neither will Neve Campbell as LeeAnn Harvey, who, you know, was driven off of the road to her presumed death in the Season 5 finale.
The show returns just in time for the midterm elections.
The series's sixth season was expected to arrive as an early-summer release, but production was suspended after the Spacey allegations, leaving the show's future up in the air until December 2017, when Netflix announced the show's shorter (8 episodes, rather than the standard 13) and Spacey-free return. Production resumed after the holidays in January, and Netflix confirmed in August the show would return on Friday, November 2. That's four days before the midterm elections on Tuesday, November 6. I see what you did there, Netflix.
With the announcement, we also got new promotional materials for the upcoming season.
We have the first trailer for season 6.
In March, the House of Cards twitter account released the first look trailer for the series:
We're just getting started. pic.twitter.com/h2XafRynewMarch 5, 2018
See more
The show will stay focused on the presidency.
Well, season five ended with Claire becoming President of the United States. She broke the fourth wall, looked us dead-ass in the eye, and said, "My turn." I'm still shook, and it's been nearly two years. Frank believed his power was better suited for the private sector, but now the show is shifting focus and staying in the White House with Claire. "The show has always been about the pursuit of power and usually was towards the White House or the presidency," show-runner Frank Pugliese told The Hollywood Reporter in June 2017.
He also pointed out Claire's ambition was more of a force to reckon with than Frank's ambition: "Now that she's become more ambitious, or actually just more pronounced with her ambitions, [her] complicity is going to be different than Francis' complicity."
Wright herself told The Hollywood Reporter that she would "personally like [Claire] to be the greatest president we've ever had," reminding us that Claire is just as legacy-obsessed as her deceased husband. "How she gets there and achieves that is a whole other thing regarding the opera of the show."
It's a new dawn, it's a new day in the new Underwood administration.
The latest teaser trailer has the newly-elected President Claire Underwood delivering a speech to the U.S. Armed Forces after Frank's death, and declaring everything he told the American public was lie. Comin' out strong right off the bat, aren't we?
We also catch a quick glimpse at Lane and Kinnear's Annette and Bill Shepard, a definitive declaration that "Francis is dead," and what looks to be an attempt to assassinate Claire. Oh no. Check the 51-second mark if you don't know what I'm referring to.
Not everyone is happy with Claire Underwood.
Oooh, the drama is real. As seen in the first full trailer for the upcoming season, Claire is already handling criticism, with one on-air personality even implying she's "the worst thing that has ever happened to this country." But it's not just the pundits coming for Claire: She's going up against Doug Stamper and, it appears, our newest sibling lobbyists, Annette and Bill Shepherd. But as usual, Claire refuses to back down: "The first female president of the United States is not going to keep her mouth shut."
GET 'EM, CLAIRE.
This might not be the official end for House of Cards.
While season six is going to be the last foray into House of Cards, it may not be the last time we enter the House of Cards universe. Last October, Variety reported that Netflix was looking into at least three spin-off ideas for the political drama. One concept revolved around Michael Kelly's Doug Stamper, the curmudgeonly-yet-loveable political aide to the Underwoods, written by executive producer Eric Roth. At least two others are being explored, but details are mum so far.
We know how Frank Underwood died... or do we?
In the first moments of the show's sixth season premiere, viewers learn that Frank Underwood died in his sleep from a heart attack in bed next to Claire, and we see photos of Claire mourning at his funeral. After declining his phone call in the Season 5 finale, Claire mentions to the camera that was the last time they spoke. Because, you know, she refused to pardon him for all of the gnarly stuff he did over the course of the series.
Two months later, Frank storms into the White House in anger over Claire's refusal to pardon him (even though she said she would). Claire locked herself in her room in fear, and the next morning, Frank was dead. The public believes they were in the bed together, put privately, Claire believes Frank was murdered, an idea that begins to hold weight when an autopsy reveals he died from an overdose from his liver medication.
RELATED STORY
Celebrity news, beauty, fashion advice, and fascinating features, delivered straight to your inbox!
Amanda Mitchell is a writer and podcaster with bylines at Marie Claire, OprahMag, Allure, Byrdie, Stylecaster, Bon Appetit, and more. Her work exists at the apex of beauty, pop culture, and absurdity. A human Funfetti cake, she watches too much television, and her favorite season is awards season. You can read more of her work at amandaelizabethmitchell.com or follow her on Instagram and Twitter @lochnessmanda.