Christiane Amanpour Reveals Her Hope for Rory's Career on 'Gilmore Girls'
"Oh, Rory! Say it ain't so!"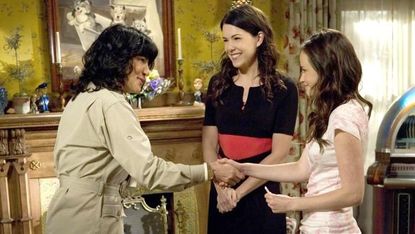 (Image credit: The CW)
If you're a Gilmore Girls fan, you've probably had November 25 marked on your calendar for a while now. You may have dissected each new trailer, binged old episodes, debated Rory's exes with friends, and made viewing plans for the long holiday weekend (perhaps with your mother). But it turns out at least one fan is woefully unprepared for the impending special on Netflix: Christiane Amanpour.
"Are these the new ones? Really?!" exclaims the otherwise poised CNN correspondent at the International Press Freedom Awards (she's just been informed that new episodes arrive on Friday). "Oh my god, I love Gilmore Girls. I'm excited about Gilmore Girls' return."
Of course, she's not just any fan—Amanpour was a very real person in the otherwise fictional world of Stars Hollow, serving as a guiding light and idol for protagonist Rory Gilmore, who dreams of being a journalist. Rory tells her school principal that she wants to be Amanpour in the second episode of the series, and the Peabody award-winning broadcaster even made a cameo in the series finale in 2007—though she now says that she finds herself "gormless" in the scene. (That's "awkward" or "goofy" for those not up on their British insults.)
While plot developments for the impending revamp are hard to determine from the initial trailers, it seems possible that Rory's given up on her journalism dream: She complains aloud that she doesn't have a job and is seen (maybe) teaching at her high school. Amanpour is bummed at the prospect.
"Oh, Rory! Say it isn't so!" she cries at the news, before offering another (completely amazing) suggestion for what Rory could do with her life. "I'm going to tell Rory to aspire even higher. How about first female president of the United States?"
Amanpour says she was flattered by the way Gilmore Girls framed her career, but her obsession went beyond that: "You know, the show was so smart. The mother and daughter were smart, the guys in it were smart. It was rapid-fire, intelligent conversation, with really intelligent aspirations. It just shows that smart actually does win sometimes."
Since Amanpour didn't know new episodes were dropping this Friday (!!!), she has some plans to rearrange. "It's on Netflix?" she asks. "I'll be in London. I'll watch from there. Great!"
Great, indeed.
Follow Marie Claire on Facebook for the latest celeb news, beauty tips, fascinating reads, livestream video, and more.
Celebrity news, beauty, fashion advice, and fascinating features, delivered straight to your inbox!