The Best Artists of 2016
The breakout stars and most promising acts of this year.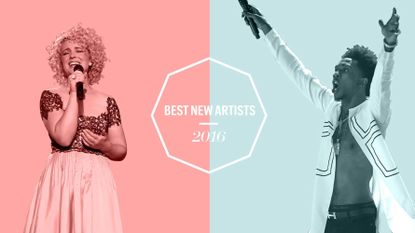 (Image credit: Design by Perri Tomkiewicz/Betsy Farrell)
While 2016 proved to be a slow year for new talent (though a great year for comeback albums from your faves), there were several bright, shiny new artists that broke the mold. Below, our favorite new acts of the past year, from the lucky ones who broke the big time (hello, Grammys!) to the under-the-radar artists that are destined for far greater things.
1. Desiigner
It's hard to believe that this Brooklyn rapper was only 19 when he released the mile-a-minute track that blasted from every stereo in his native city this summer, "Panda" (sadly, about a BMW X6 Sportscar and not, in fact, the cuddly Chinese bear). Consider him blessed: the youngster got the opportunity of a lifetime when his dark trap anthem caught the attention of Kanye (who cameoed as his driver in the video and also sampled the song on The Life of Pablo) .
2. Lucy Dacus
Lucy Dacus has the origin story that indie acts only dream of. Her debut single "I Don't Want to Be Funny Anymore," took off shortly after its release on The Fader this year and soon the 21-year old from Richmond, VA was being courted by 20 different record labels. (She eventually signed with Matador Records.) Similar to one-woman acts like Mitski and Courtney Barnett that have set the stage for a new era of relatable female rockers, Lucy Dacus' songs are confessional and intimate, but it's the wry humor and the way she neatly captures emotions—self-pity! grief! lovesickness! —that keep you coming back.
3. Dua Lipa
Like her fellow Brit Troye Sivan (who she'll tour the U.S. with next year), U.K.-based singer Dua Lipa is expected to become a household name across the pond when her album drops this February. With a handful of chart-topping singles like the kiss-off track "Blow Your Mind (Mwah)" that could easily soundtrack any pre-game party, a closet fit for an off-duty model, and a spunky "hear me roar" attitude, she'll slay 2017 in no time.
4. Mothers
Mothers is without a doubt the most promising recent talent to break out of the crowded college music scene of Athens, GA (and this editor's alma mater). The band had a truly banner year in 2016, widely praised by major music blogs and publications when their album When You Walk a Long Distance You Are Tired first released. Much credit is due to the haunting vocals and songwriting of front-woman Kristine Leschper, who sounds like a long-lost relative of Angel Olsen. Her songs capture all the alienation and pain of self-doubt and failed relationships, with a maturity well beyond her years.
5. Cam
Though she technically released her first full-length album late last year, 2016 was a big year for this Grammy nominee. Cam hails from California which is maybe where the sunny pop that influences her country songs comes from. Comparable to breakout country artists like Kacey Musgraves, those able to expand their fan base beyond the Nashville crowd are rare, but Cam is poised to bridge the gap into the mainstream. And this first album Untamed maybe exactly what it takes: it's brave, candid, and the catchy melodies are tough to shake from your head once you hear them (not that you would want to).
6. Hinds
The foursome from Spain who make up the girl group Hinds are one of the most refreshing things to happen to rock-and-roll in recent years. A loud, brash, and in-your-face embodiment of teenage rebellion (in one video, they dance on tables in Chuck Taylors and sing into hairbrushes; in another frame, a single spray-painted middle finger emerges from the dark), it's the kind of music you want to turn up to 11 and then slam the door behind you.
7. dvsn
It's not the *worst* to start your music career represented by Drake's label OVO Sounds, and it makes sense why Drake tapped the Canadian R&B duo in the first place. Sounding like the smooth lovechild of Usher and Miguel, dvsn is here with the lusty jams to round out all your sex playlists. The falsettos are pitch perfect, the hooks are tight, and the soulful melodies are set to become chart-toppers in the not-so-distant future.
8. Hazel English
The first time I heard Hazel English's single "Fix," I shared it with pretty much everyone I knew. Plenty of artists have peddled summery indie pop, but there's something about the hazy vocals, almost as if warped by sun and time, that sound like pure nostalgia (it's fitting that she chooses sepia tones for her album artwork). The twenty-something from Oakland, California just released her first EP, Never Going Home, and it feels like a time machine to warmer days on the beach.
9. Japanese Breakfast
For all of the dark themes that Japanese Breakfast's first album Psychopomp covers, you'd almost never know it from the dreamy, whimsical pop music that comprises the record. Singer and guitarist Michelle Zauner started Japanese Breakfast as a side project (she also fronts the band Little Big League) to channel her grief following her mother's death. And the songs themselves are gems, from the sing-song "Everyone Wants to Love You" to the churning "In Heaven."
10. Margaret Glaspy
When Margaret Glaspy opens her mouth, you never really want her to stop singing. The Berklee-educated singer's warbling, gravelly voice is unlike anything I've ever heard before since folk singer Karen Dalton: it can go from timid to punchy and snarling in zero seconds flat (like in the track "Black and Blue"). And her new album Emotions and Math is one of those "never a dull moment" kind of eclectic collections that will establish her as a very promising new voice on the rise.
Follow Marie Claire on Facebook for the latest celeb news, beauty tips, fascinating reads, livestream video, and more.
Celebrity news, beauty, fashion advice, and fascinating features, delivered straight to your inbox!