100 Sex Songs That Won't Make You Cringe
Dim the lights and hit play on this sex songs — the perfect playlist of songs to have sex to.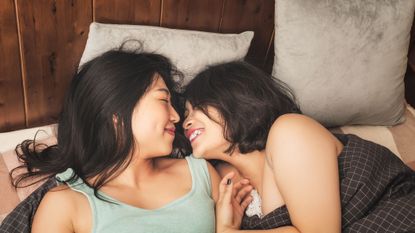 (Image credit: XUANYU HAN / GETTY IMAGES)
There are two types of people in this world: those who have sex to music (opens in new tab), and those who have never tried it. To ease the fears of the latter group (What if the next song is bad? Will I have to tell them to stop? Does the playlist have enough songs to last the whole time? Is it too much?), we've curated an essential 100-track sex playlist, below, that will inspire you to call the shots (opens in new tab) inside and outside of the bedroom.
Some of these tracks will inspire you to grab your partner of choice for some sexy time, while others will motivate you to make the most of your next solo sex sesh. (opens in new tab) Whether focused on getting it on with another human, getting to know yourself in the biblical sense, or just sexiness as a general concept, these songs are sure to get the blood flowing below the belt.
You can also listen to the entire playlist on Spotify, (opens in new tab) or with the embedded playlist below.
1. "Between Us" - dvsn feat. Snoh Aalegra
2. "Sweat" - ZAYN
3. "Cold Sweat" - Tinashe
4. "No Sleeep" - Janet Jackson feat. J. Cole
5. "Crush" - Yuna feat. Usher
6. "Do Not Disturb" - Teyana Taylor feat. Chris Brown
7. "Keep On" - Kehlani
8. "Collide" - Justine Skye feat. Tyga
9. "Go All Night (Let Me Roll)" - Kelela
10. "Meet Me in the Middle" - Jessie Ware
11. "Body Say" - Demi Lovato
12. "Undiscovered" - Laura Welsh
13. "Hotter than Hell" - Dua Lipa
14. "Sacrifices" - Tinashe
15. "Criminal" - Fiona Apple
16. "Good for You" - Selena Gomez feat. A$AP Rocky
17. "All the Way Down" - Kelela
18. "Kiss it Better" - Rihanna
19. "Body Party" - Ciara
20. "Two Weeks" - FKA Twigs
21. "Leisure Suite" - Feist
22. "Skin" - Rihanna
23. "Primetime" - Janelle Monáe feat. Miguel
24. "Motivation" - Kelly Rowland feat. Lil Wayne
25. "Toxic" - Britney Spears
26. "Bartier Cardi" - Cardi B. feat. 21 Savage
27. "Dangerous Woman" - Ariana Grande
28. "Sex With Me" - Rihanna
29. "Feeling Myself" - Nicki Minaj feat. Beyoncé
30. "Hands To Myself" - Selena Gomez
31. "Did It On 'Em" - Nicki Minaj
32. "Work It" - Missy Elliot
33. "Drunk in Love" - Beyoncé
34. "Faded Love" - Tinashe feat. Future
35. "Never Be the Same" - Camila Cabello
36. "Adore You" - Miley Cyrus
37. "Burning Desire" - Lana Del Rey
38. "Thru Your Phone" - Cardi B
39. "R.E.M." - Ariana Grande
40. "Yeah, I Said It" - Rihanna
41. "Could've Been" - H.E.R. ft. Bryson Tiller
42. "Pynk" - Janelle Monáe
43. "Coming Down" - Halsey
44. "I'm a Slave for You" - Britney Spears
45. "Be Be Your Love" - Rachel Yamagata
46. "Naughty Girl" - Beyoncé
47. "God Is a Woman" - Ariana Grande
48. "Doves in the Wind" - SZA ft. Kendrick Lamar
49. "Work from Home" - Fifth Harmony ft. Ty Dolla $ign
50. "Expectations" - Lauren Jauregui
51. "Sexy Dirty Love" - Demi Lovato
52. "Come and Get It" - Selena Gomez
53. "M.I.L.F. $" - Fergie
54. "Ready (Part III - 90s Bedroom Mix)" - Mya
55. "Slower" - Brandy
56. "One in a Million" - Aaliyah
57. "Mad Love" - Jojo
58. "Dance for You" - Beyoncé
59. "Big Ole Freak" - Megan thee Stallion
60. "Pipe" Christina Aguilera ft. XNDA
61. "So Good" - Marsha Ambrosius
62. "Lingerie" - Lizzo
63. "Sex on the Ceiling" - Sevyn Streeter
64. "Feels So Good" - Xscape
65. "Touch of My Hand" - Britney Spears
66. "Sexxx Dreams" - Lady Gaga
67. "You're Makin' Me High" - Toni Braxton
68. "I Touch Myself" - Divinyls
69. "Love Me Harder" - Ariana Grande ft. The Weeknd
70. "Me & U" - Cassie
71. "Sexual Feelings" - La Toya Jackson
72. "S&M" - Rihanna
73. "F*ck and Run" - Liz Phair
74. "Ride" - Ciara ft. Ludacris
75. "Push It" - Salt-N-Peppa
76. "Slow Hand" - The Pointer Sisters
77. "Lady Marmalade" - Labelle
78. "Pillow Talk" - Sylvia
79. "Milkshake" - Kelis
80. "Side to Side" - Ariana Grande ft. Nicki Minaj
81. "I Want Your (Hands on Me)" - Sinead O'Connor
82. "Earned It" - The Weeknd
83. "Slow Motion" - Juvenile
84. "Physical" - Dua Lipa
85. "WAP" by Cardi B featuring Megan Thee Stallion
86. "Neighbors Known My Name" - Trey Songz
87. "Often" - The Weeknd
88. "Sex on Fire" - Kings of Leon
89. "Ribs" - Lorde
90. "Sexual Healing" - Marvin Gaye
91. "Your Body Is a Wonderland" - John Mayer
92. "Dress" - Taylor Swift
93. "Nice & Slow" - Usher
94. "Wait" (The Whisper Song) - Ying Yang Twins
95. "Rock the Boat" - Aaliyah
96. "Thinkin Bout You" - Frank Ocean
97. "Papi Pacify" - FKA Twigs
98. "Love on the Brain" - Rihanna
99. "I Want Your Sex" - George Michael
100. "High for This" - The Weeknd