13 Best Movies Based on True Stories of 2018
From RBG to Mary Queen of Scots, these movies pay tribute to bad-ass, real-life women.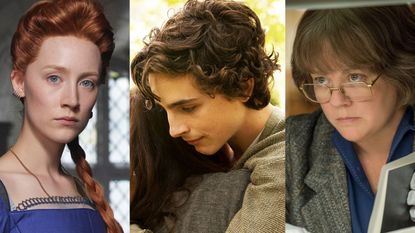 (Image credit: Focus Features/Amazon/Fox Searchlight)
Sometimes real-life really can be stranger—and sadder and more riveting—than fiction. The year 2018 saw a plethora of true-story movies that were, incredibly, based on what happened IRL. Women factor heavily in many of them, with films that shine a light on how history has rewritten their experiences. Whether these stories inspire you, move you, or just plain piss you off, they're worth watching. These were the best movies based on true stories to come out in 2018.
Adrift
Starring: Shailene Woodley, Sam Claflin
What to Know: This is the true story of a woman and her boyfriend (here played by Woodley and Claflin, respectively) who are hired to sail a boat and end up hitting a storm. He gets badly injured and she has to figure out how to get them both out of there alive. It's...not a happy story.
First Man
Starring: Ryan Gosling, Claire Foy, Kyle Chandler, Corey Stoll
What to Know: Damien Chazelle, the director behind La La Land, tells the story of Neil Armstrong's trip to the moon and the years at NASA leading up to that one small step for man, one giant leap for mankind.
Tag
Starring: Jeremy Renner, Jon Hamm, Jake Johnson, Ed Helms, Isla Fisher
What to Know: The somehow true story of a group of friends who kept one very competitive game of tag going for years. It wasn't necessarily an instant-classic, but it's worth seeing for the "I can't believe this is a real-thing" factor.
Chappaquiddick
Starring: Jason Clarke, Kate Mara, Ed Helms, Jim Gaffigan, Bruce Dern
What to Know: In July of 1968, a car accident left one woman dead. Behind the wheel? Senator Ted Kennedy, who became the center of a mysterious scandal that may have cost this once shoo-in for president the office and changed the course of American history. If you like political intrigue, you'll like this film.
Beautiful Boy
Starring: Steve Carrell, Timothée Chalamet
What to Know: Based on two memoirs by the father-son duo of David and Nic Sheff, this harrowing and heartwarming story shows how addiction can rend families apart, and what it takes to bring them back together.
Can You Ever Forgive Me?
Starring: Melissa McCarthy, Richard E. Grant
What to Know: McCarthy—in one of her best roles ever—plays real-life writer Lee Israel, a celebrity profiler whose books stopped selling. Rather than retire, Israel starts a lucrative business forging the letters of famous people. It's funny and tragic in equal measure.
Colette
Starring: Keira Knightley, Dominic West, Eleanor Tomlinson
What to Know: In the early 1900s, Sidonie-Gabrielle Colette married a famous author in a bit of a rut. To help him out, she ghostwrites a story for him about her school days that ends up being "the toast of Paris." Unfortunately, her husband isn't so willing to give her the credit she deserves. Of course, it's Keira Knightley in period costume so even if it weren't based on a true story, we'd be rushing to see it anyway.
The Happy Prince
Starring: Rupert Everett, Colin Firth, Emily Watson
What to Know: Oscar Wilde may be known as one of the cleverest minds in literary history, but his later years were tragic. Convicted of the then-crime of homosexuality, he was sentenced to years in prison and hard labor camps that brought about the end of his life. This portrait of him by actor Everett—who also directs—is stirring, witty, tragic, and ultimately redemptive.
Bohemian Rhapsody
Starring: Rami Malek, Mike Myers, Tom Hollander
What to Know: This take on the story of Freddie Mercury, famed lead singer of legendary rock band Queen, almost wasn't: Production was chaotic, with scandal-plagued director Bryan Singer even walking off set at one point. But Mercury was a larger than life musical genius, and we'll take any chance we can get to remember him for a few hours.
Mary Queen of Scots
Starring: Margot Robbie, Saoirse Ronan, Joe Alwyn, Gemma Chan
What to Know: A dramatic look at the rival kingdoms of Queen Elizabeth's England and Queen Mary's Scotland. If you remember anything from history class, you might recall how this one shakes out, but watching Robbie's gnarled Elizabeth fight with Ronan's angelic Mary is the kind of period drama we crave.
My Dinner with Hervé
Starring: Peter Dinklage, Jamie Dornan, Andy Garcia
What to Know: This HBO original tells the story of a wild night out between Hervé Villechaize—the little person actor famed for his iconic '70s roles in The Man With the Golden Gun and Fantasy Island—and the young journalist sent to interview him.
Welcome to Marwen
Starring: Steve Carrell, Janelle Monae, Diane Kruger, Leslie Mann
What to Know: When artist Mark Hogencamp (Carrell) was attacked by neo-Nazis, it left him without a memory and barely able to function. But he made miraculous strides in his recovery, creating a small town out of miniature figures—part therapy, part fantasy—where the real-life women in his life defend him and help him be a hero. Get ready to cry.
On the Basis of Sex
Starring: Felicity Jones, Armie Hammer, Ruth Bader Ginsberg
What to Know: The life and times of the Notorious RBG—legendary Supreme Court Justice Ruth Bader Ginsberg, champion of women's rights, voice of reason on an increasingly male-dominated and right-wing court, and groundbreaking feminist icon. Hitting theaters on Christmas Day, this is exactly the kind of hopeful movie you want to watch after an often-disheartening year like this one.
RELATED STORY
Cady Drell is a writer, editor, researcher and pet enthusiast from Brooklyn.