The 43 Best Bollywood Movies of All Time
Spoiler alert: There's a lot of Shah Rukh Khan.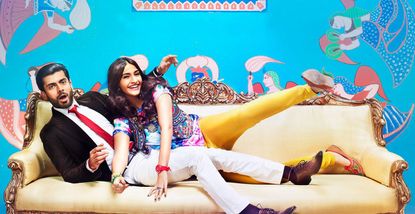 (Image credit: UTV Motion Pictures)
Named "Bollywood" by movie enthusiasts, the Hindi-language film industry accounts for a major portion of the global film space and continues to grow with each title it pumps out. Bollywood beats out Nigeria's Nollywood as well as America's Hollywood to be the world's largest film industry in terms of output and reach, with its content appealing to moviegoers in every corner of the world. But what is it exactly that makes Bollywood so epic, its films so special? Some argue that there's a tried-and-true formula to any quality Bollywood film: swoon-worthy romance, swelling soundtracks, ridiculously attractive lead characters, and plot twists that you can see coming from a mile away. Others say that Bollywood's secret is far simpler—it's just a damn good time from beginning to end.
Either way, these must-watch movies are well worth the two-plus hours you'll probably have to block off in your day to watch them (Bollywood movies are famously long). Whether you're a fan of romance, tragedy, or comedy, there's definitely a film for you in this colorful world. Below, a list of Bollywood staples that you need to add to your watch list, from epic historical dramas to kickass action movies.
Classic Bollywood Movies
'Mother India' (1957)
This epic drama focuses on an impoverished woman who is forced to care for her two sons alone while surviving threats from a nefarious money-lender when her husband leaves the family in disgrace. At the time it was made, Mother India was one of the most expensive Hindi movies ever made and is considered one of the most revered movies in Bollywood history.
Dil Chahta Hai (2001)
This movie has it all. It's a romantic comedy. It's a drama. It's a heartfelt coming-of-age movie. Dil Chahta Hai, which won the National Film Award for Best Feature Film in Hindi, tells the stories of three college friends as they try to navigate life and love after graduation.
Sholay (1975)
This action-adventure Bollywood offering is a classic. The plot revolves around a retired police chief who sets out to catch a dastardly thief—with the help of two lesser criminals.
You can't talk about Bollywood without mentioning Dilwale Dulhania Le Jayenge. The 1995 classic is widely considered the gold standard for Bollywood rom-coms, featuring a cheeky Shah Rukh Khan and starlet Kajol (and her signature unibrow) as two young people who fall in love on a backpacking trip across Europe.
Pyaasa (1957)
This 1957 musical romance is a classic. The story follows Vijay, an unsuccessful poet who is mistakenly assumed dead when a homeless man he gave his coat to is murdered. After his "death," Vijay's poems are published—and wildly popular.
Mughal-e-Azam (1960)
Loosely based on actual historical events, Mughal-e-Azam tells the story of how 16th-century Mughal Emperor Akbar's disapproval of his son Prince Salim's choice of love interest turned into a full-blown war. The movie—which at the time boasted the highest budget of any Indian film by far—took its inspiration from a 1922 stage play and, in a full-circle moment, has since been turned into a Broadway-style musical that debuted in 2016 and toured North America this year.
Best Bollywood Drama Movies
Saina (2021)
We STAN an inspiring, goose-bump-inducing female-led sports flick. This biopic, starring Parineeti Chopra, dives into the life of Saina Nehwal an Indian professional badminton player who is a former world number 1.
Queen (2014)
When shy Rani Mehra gets left at the altar on her wedding day, she shocks her conservative family and friends by turning what was supposed to be a romantic honeymoon for two into an ambitious solo trip.
The Lunchbox (2013)
The Lunchbox is one of those beautifully touching movies that tells a story you didn't know you desperately needed until you've seen it. In the movie, a woman named Ila tries to rekindle the spark in her marriage by preparing a special lunch for her (not-so-great) husband. The plan goes awry, however, and the lunch ends up in front of an antisocial widower instead. When her husband doesn't mention his special meal, Ila adds a note to the next lunch she prepares (which also goes to said widower) and an unlikely friendship is born.
3 Idiots (2019)
This coming-of-age dramedy follows three engineering students' trials and tribulations, offering a tongue-in-cheek critique of the state of the Indian education system and the stress it creates.
Lagaan (2001)
"Lagaan" translates to "Agricultural Tax," but don't let that put you off. Only within the genius that is Bollywood could a movie about a town outraged by an unprecedented tax increase also be this genuinely engrossing and earn an Oscar nom. It doesn't hurt that the villagers end up playing a game of cricket against the British army officers for the right not to pay it.
Panga (2020)
This inspirational sports movie takes place in the world of Kabbadi, a popular contact sport in India. The movie follows Jaya Nigam, a former Kabbadi champion who quit the sport after the birth of her son, but regrets walking away. With help and support from her now seven-year-old son and a former teammate, Jaya trains, gets back into shape, makes her comeback, and eventually wins the Kabaddi cup for team India.
Hichki (2018)
There's only been one thing challenging aspiring teacher Naina's dream of landing a job at the high school she once attended: her Tourette's syndrome. And even when Naina is able to finally become a teacher, her troublemaking class presents a new issue, making her wonder if her dreams really are within reach.
Insaf Ka Tarazu (1980)
Insaf Ka Tarazu translates to "the balance (or scale) of justice" and the movie dives deep into what justice is and how to strike that balance. In this intense drama, a wealthy man named Ramesh meets a beauty queen named Bharti, who he invites onto his yacht. Afterwards, Bharti accuses Ramesh of sexually assaulting her, but he's exonerated. When he's murdered two years later, Bharti is arrested for the crime and put on trial herself.
The Dirty Picture (2013)
This musical drama, loosely based on the life of Silk Smitha, an Indian actress known for erotic roles, is equal parts bold and wildly entertaining. Actress Vidya Balan was critically praised for her work in the lead role.
Mary Kom (2014)
Priyanka Chopra stars in this inspirational sports film as the real-life boxing icon Chungneijang Mary Kom Hmangte, who went from farming the fields of Manipur to fighting in the ring. Eventually, she became a six-time World Amateur Boxing champion.
Kabhi Khushi Kabhie Gham (2001)
What do you get when you take some of Bollywood's most prolific actors (Amitabh Bachchan, Shah Rukh Khan, Hrithik Roshan, Kajol, and Kareena Kapoor) and put them all in one movie about a well-off, prominent family in Delhi struggling to maintain its legacy? Kabhi Khushi Kabhie Gham, that's what. The family drama is a heartbreaking story about the ties that bind us but can also break us. And it's so, so, so good.
Dangal (2016)
Nearly a decade after its release, Dangal remains India's highest-grossing film of all time. The blockbuster biopic follows sisters Geeta and Babita Phogat, both wrestlers, on the road to the 2010 Commonwealth Games, where—historical spoiler alert!—Geeta would ultimately go on to become the first-ever Indian woman to win a gold medal for wrestling.
Secret Superstar (2017)
Part poignant coming-of-age story, part ode to a mother's love, Secret Superstar is a certified tearjerker that shows 15-year-old Insia's meteoric rise to fame as an anonymous YouTube sensation. With help from her mom, she'll have to decide whether to follow her dreams or go along with her abusive father's very different plan for her future.
Best Romantic Bollywood Movies
Love Aaj Kal (2020)
It's appropriate that this romantic movie was released on Valentine's Day. The drama follows a young couple named Zoe and Veer who meet in a bar and have an instant connection but struggle to move forward in their relationship as their careers and life plans keep pulling them apart.
Main Prem Ki Diwani Hoon (2003)
A case of mistaken identity leads to love in this romantic comedy starring Bollywood heavyweights Hrthrik Roshan and Kareena Kapoor. (Note: Pay no attention to the animated talking parrot that shows up from time to time—2003 was a whole different mood.)
Bajirao Mastani (2015)
When Peshwa Bajirao (Ranveer Singh) falls for Mastani (Deepika Padukone), the daughter of a Rajput king, despite already being married to Kashibai (Priyanka Chopra) an ill-fated love triangle forms altering the very course of their lives. Fun fact: Bajirao Mastani also marks Singh and Padukone's second onscreen romance after starring together in Ram Leela in 2013; the two actors tied the knot IRL in 2018!
Devdas (2002)
Shah Rukh Khan (told you he'd appear on this list a lot) takes on the titular role of Devdas, a man who returns to India after previously leaving the country to study law in England. His forbidden love leads him to a battle with alcoholism that impacts the lives of the people who he loves most.
Veer-Zaara (2004)
This 2004 period drama tells the story of star-crossed lovers Veer, an Indian Air Force officer, and Zaara, the daughter of a Pakistani politician. Their 22-year love story is full of courage, sacrifice, and, of course, lots of edge-of-your-seat drama.
Barfi! (2012)
Ready to cry, laugh, and then cry a little more? Barfi! is about the misadventures of a happy-go-lucky man who makes the most of life. The film stars Bollywood favorites Ranbir Kapoor as Barfi and Priyanka Chopra as his love interest Jhilmil, a young woman on the autism spectrum.
Lust Stories (2018)
Much sexier than many of the other titles on this list and within Bollywood in general, Lust Stories is an anthology film about four vastly different sexual situations, including an inappropriate student-teacher interaction, a maid's secret desire, the broken trust between a married couple, and one woman's awkward experience with a vibrator. Stream the steamy film on Netflix today.
Jab We Met (2007)
If you love a good quirky-girls-saves-a-guy rom-com, then Jab We Met deserves a spot on your watchlist. The movie tells the story of heartbroken businessman Aditya who meets spirited woman Geet on a train and ends up sucked into her whirlwind of a life, including a trip to meet her family and the chance to tag along for her elopement with her secret boyfriend.
Khoobsurat (2014)
A career-driven but socially awkward physical therapist gets the opportunity of a lifetime when she's hired by the Rajasthan royal family to nurse the king back to health. However, she gets thrown off her game by the presence of the family's extremely hot prince and his snobbish mother. Romantic shenanigans and misunderstandings ensue, and honestly, what else would we expect from a Disney movie?
Jodhaa Akbar (2008)
Hrthrik Roshan and Aishwarya Rai lead this 2008 romance film about the marriage of convenience turned passionate love affair between a Rajput princess and a Mughal king that is jeopardized by the threat of a looming religious war. Jodhaa Akbar will make you believe in love again—trust me.
Kuch Kuch Hota Hai (1998)
Shah Rukh Khan makes the list again, this time for a '90s rom-com that features not one but two love triangles set about a decade apart. KKHH's own director has since criticized the gender politics at play in the film, but it remains a beloved entry in the Bollywood canon for its sweet story and unforgettable style.
Best Thriller and Horror Bollywood Movies
Mrs. Serial Killer (2020)
If you like your crime dramas dark and twisty, then Mrs. Serial Killer is for you. The premise: A a man is arrested (and possibly framed) for a series of brutal murders. His pregnant wife decides to prove he's innocent by committing a copycat crime while he's in custody. Foolproof, right?
Fanaa (2006)
For a thriller with more romance, try 2006's Fanaa, about a flirtatious tour guide named Rehan who meets and starts a relationship with a blind (but very independent) Kashmiri woman named Zooni. The twist: This isn't the first time Rehan and Zooni have met...or dated. Turns out, Rehan is an insurgent behind a series of terrorist attacks, including one seven years prior that he used to fake his own death and leave Zooni the first.
Zindagi Na Milegi Dobara (2011)
Lifelong best friends Imran, Arjun, and Kabir finally make good on their pact to travel to Spain, but interpersonal conflict threatens to upend their vacation and their friendship.
Haider (2014)